Using YouGov's brand perception tool, BrandIndex, we have looked into the impact of the horsemeat scandal on three of the major implicated brands. It is interesting to note the remarkable recovery the brands have made to their Buzz score, which is an overall measure of whether people have heard anything positive or negative about the brand through the media, advertising or word of mouth.
For Tesco and Iceland, the horsemeat scandal hit the press on 15 January, with reports that some burgers being sold contained significant traces of horsemeat. On the day of this revelation, Iceland had a Buzz score of 4.5, while Tesco had a Buzz score of -0.1. Unsurprisingly, both Tesco and Iceland's Buzz scores immediately fell, reaching a low for Tesco of -43 on 4 March ( -42.9 decline) and a low of -14.2 on the same day for Iceland (a -18.7 decline).
Although both brands suffered a significant hit, Tesco suffered far more. Analysis from YouGov CEO Stephan Shakespeare demonstrated that Tesco quickly became the official face of the scandal in the media, which perhaps explains the heavier loss to its Buzz score.
Ikea became implicated in the horsemeat scandal at a much later date. On 25 February, Ikea hit the news after traces of horsemeat were found in some of its meatballs. Ikea's Buzz score on this day stood at a healthy 15, before it immediately began to fall, reaching a low of 0.55 on 25 March.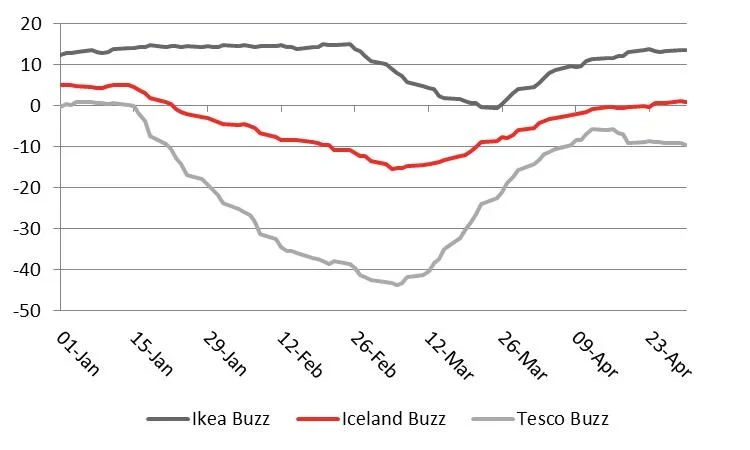 However, all three brands have since made strong recoveries. Tesco has regained an impressive 33.4 points since hitting its lowest point, with a current Buzz score of -9.6, while Iceland has climbed 14.9 points since hitting its lowest point, with a current Buzz score of 0.7.
Despite being implicated at a later stage, Ikea has also made a strong recovery with a current Buzz score of 13.5.
While these brands took significant hits to their Buzz scores, it is interesting to note that this didn't fully translate into declining overall Index scores (a composite of six key image attributes). Ikea's Index score remained unaffected throughout the horsemeat scandal and although Iceland's and Tesco's Index scores both declined, the losses where nevertheless moderate.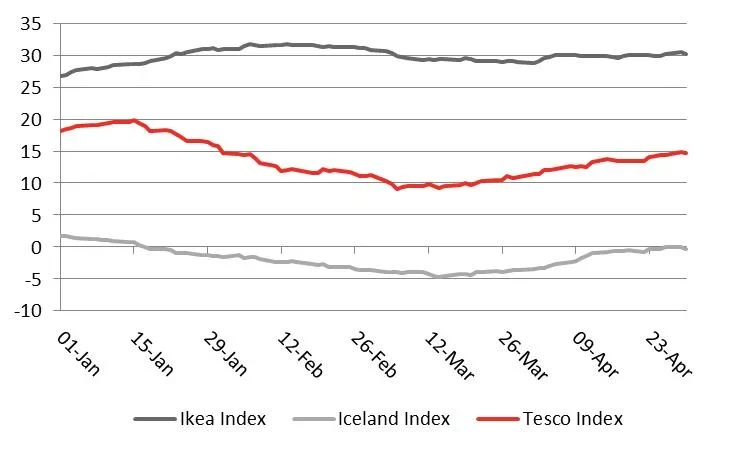 While consumers indicated that they had heard something negative about these brands, this negative coverage has not translated into declining perception of the brands overall.
This is confirmed by research conducted by YouGov and Sky News in February, in which 81% of respondents said that they had not changed their own shopping habits as a result of the recent horsemeat scandal.
By looking at the impact of the horsemeat scandal on three of the major implicated brands, we can see that they have each made a strong recovery to their Buzz score. Furthermore we can see that despite significant declines to Buzz, overall Index scores have been largely unaffected by the scandal. This is because consumers have not subsequently altered their perception or behaviour toward these brands.