Greggs, the highstreet bakery, has issued a surprising profits warning for the year following a decline in sales.
The chain said that like-for-like sales were down 4.4% for the year so far, which has underpinned its warning that profits will be lower than expected. The chain blamed bad weather and "under pressure" consumers for the fall in sales.
Looking at YouGov's BrandIndex we can measure consumer perception of the brand for the previous year to see if Greggs has any other issues that could be responsible for its recent troubles.
If we start at the broadest level – the UK-wide index score (a composite of six key image attributes) – we can see that although Greggs still has a strong Index score of +12.2, it has nevertheless declined by 3.5 points throughout the previous year.
By looking at the six key image attributes that comprise the Index score (quality, satisfaction, recommendation, value, general impression and corporate reputation), we can see that Greggs has declined the most in terms of quality. The brand's quality score has fallen from 10.4 to 5.5 throughout the course of the year, which has subsequently dragged down the brand's overall Index score.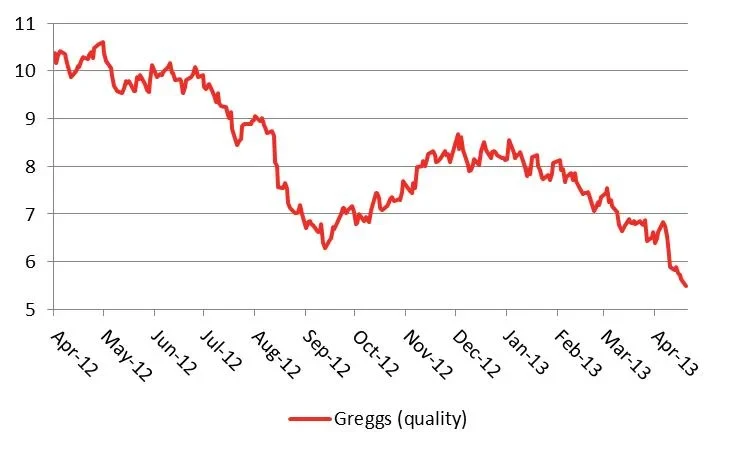 This indicates that Greggs is under performing amongst consumers around the quality of its product and stores, which could be another explanation for the brand's recent woes.
Although Greggs cannot control the bad weather or reduce the number of cash-strapped consumers, our analysis suggests that it could potentially address its declining sales by focusing on improving the quality of its products. Furthermore the 150 stores that Greggs upgraded last year are outperforming the older stores. As well as focussing on the quality of its products in the coming year, Greggs should also focus on improving the quality of its stores.