UK opinion formers believe the Labour Party conference was the most successful of the three main party conferences, and Labour MPs are the most positive about their party's conference
A majority (69%) of UK opinion formers, who are influential Britons drawn from politics, business, media, academia, NGOs and the public sector, believe that the Labour Party conference (held in October) was successful. In comparison, less than half (46%) say the Conservative Party conference was successful, and less than a quarter (22%) think the same about the Lib Dem conference.
MPs' opinions
Our October ThinkTank survey also reveals that Labour MPs are far more positive about their own conference than Conservative and Lib Dem MPs are about theirs.
Just over one in ten (12%) Conservative MPs think their party conference was very successful, compared to over two-thirds (69%) who believe it was quite successful and one in six (17%) who considered it unsuccessful
A majority (54%) of Labour MPs think the Labour Party conference was very successful and 44% say it was somewhat successful
All Lib Dem MPs surveyed say the Liberal Democrat Party conference was somewhat successful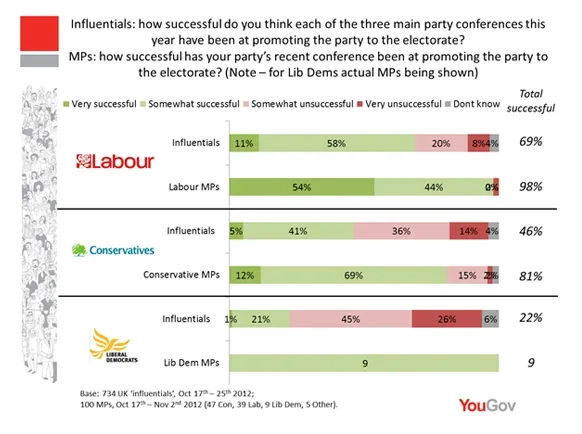 After-effects of party conference season
Following party conference season, opinion formers' approval of David Cameron has decreased. Cameron is the only leader of a major party who did not experience a lift in approval ratings since September, with his net approval (the percentage of those who think he is doing a good job minus those who think he is doing a poor job) dropping from -7 in September to -22 in October.
In contrast, Ed Miliband's approval rating reached its highest level ever amongst UK opinion formers following the party conference season, leaping from -32 in September to -7. Public opinion of the Labour Party leader also reflected this, as the number of people who thought Miliband provided an effective opposition to government and would be up to the job of prime minister after his party conference speech increased by 6% since the end of September. There was also a 12% increase in those who said Miliband made it clear what he stands for during the same time.
Nick Clegg's approval rating has also improved slightly, but he still remains at a -53 net score.
Just over a quarter (26%) of UK opinion formers think David Cameron is doing a good job as Prime Minister, compared to nearly half (47%) who say he is doing a poor job
One third (33%) believe Ed Miliband is doing a good job as Leader of the Opposition while four in ten (40%) opinion formers disagree
Only 12% say Nick Clegg is doing well as Deputy Prime Minister and almost two-thirds (65%) think he is doing a poor job