Britons are divided on whether most asylum seekers are actually fleeing persecution
Recently, the number of people travelling to Britain across the English Channel from France to claim asylum here has been increasing. New YouGov data sheds some light on Britons views of immigration in general, and those seeking asylum in the UK.
'Immigration and asylum' is a top issue for nearly a quarter of Britons, and most believe the government is handling it badly
Immigration and asylum is one of the most important issues facing the country for 37% of Britons, up from 24% last week. However, when it comes to the government's handling of immigration, a large majority (87%) believe they are doing badly, including 62% who think they are doing "very" badly.
Amongst those who believe the government is doing a bad job, the top reason given is a failure to stop migrants crossing the channel (52%), with 46% also believing the government doesn't take a strong enough stance on illegal immigration and 41% believing there to be too much immigration to the UK. Many also believe the government's policy on immigration is confusing and inconsistent (45%).
Britons' views of immigration levels have soured over the last few months
The number of Britons who thought the level of immigration has been mostly good or mostly bad for Britain stood at 29% apiece in August. Since then, however, the number saying it has been mostly bad has increased to 33%, while the number saying it has been mostly good has decreased to 23%.
Just short of a third (32%) take a more balanced view, believing it to have been equally good and bad for Britain – a figure that has remained consistent over the same time period.
Those crossing the Channel are particularly unpopular with Britons when compared to other migrants
Britons tend to hold a positive view of some types of immigration. By 39% to 30% the public have a positive view of those moving to the UK looking for work, while by 38% to 24% they have a favourable opinion of those relocating from other countries to settle here with their families.
However, when it comes to those refugees taking the perilous journey across the Channel, a majority (55%) hold a negative view, with fewer than one in five (19%) holding a positive view. Conservative voters are by far the most damning of this group, with 85% holding a negative view compared to a third of Labour voters (33%).
Britons are divided on whether asylum seekers really need to come to the UK at all
Many Britons with a negative view of those crossing the Channel may do so because they believe they are not legitimately trying to escape their home countries for fear of their lives. Britons are divided when it comes to the legitimacy of asylum claims, with 37% believing that most people seeking asylum in the UK would not genuinely be at risk if they stayed in their home country, and 36% instead believing that they would genuinely be at risk in their home country. Many others are unsure (27%).
Britons are split along party lines, with 65% of Conservative voters believing that most would not be at risk at home, and 61% of Labour voters instead believing they would be genuinely at risk at home.
Where do Britons think those seeking asylum are coming from?
There has been a recent upsurge in the number of Albanian migrants amongst those crossing the Channel, with 12,000 arriving since the beginning of 2022, the most represented country amongst those crossing the Channel. The coverage of this trend has not gone unnoticed by Britons, and when asked from where asylum seekers are coming from people are most likely to say Albania (31%). This was followed by Syria (28%), Ukraine (22%), and Afghanistan (22%).
The recently reported Albanian figures are more up to date than the statistics for all nationalities. In the year from July 2021 to June 2022, the most asylum applications came from Iran (11,824), followed by Iraq (9,150) – only 17% of Britons cited these countries in their answer, putting them both joint fifth overall. Albania came third during this time period, at 7,743. It is worth noting however that Ukrainians fleeing the war in Russia generally came to the UK on a separate classification, and as many as 115,000 had entered the UK under this scheme by mid-August.
Many Britons have misconceptions about refugees in the UK
Once asylum seekers have reached the UK, they must wait for a decision from the Home Office on whether they will be allowed to remain in the UK as a refugee – called 'leave to remain'. During this time, asylum seekers are not as standard allowed to seek employment in the UK, leaving them dependent on asylum support payments of £40 per person, per week.
It seems there is a misconception among many Britons about how much asylum seekers are entitled to however, with over a quarter of Britons (26%) believing asylum seekers are entitled to the same state benefits as UK citizens, with many unsure whether this is true or not (32%). A plurality, however, do know that this is untrue (42%).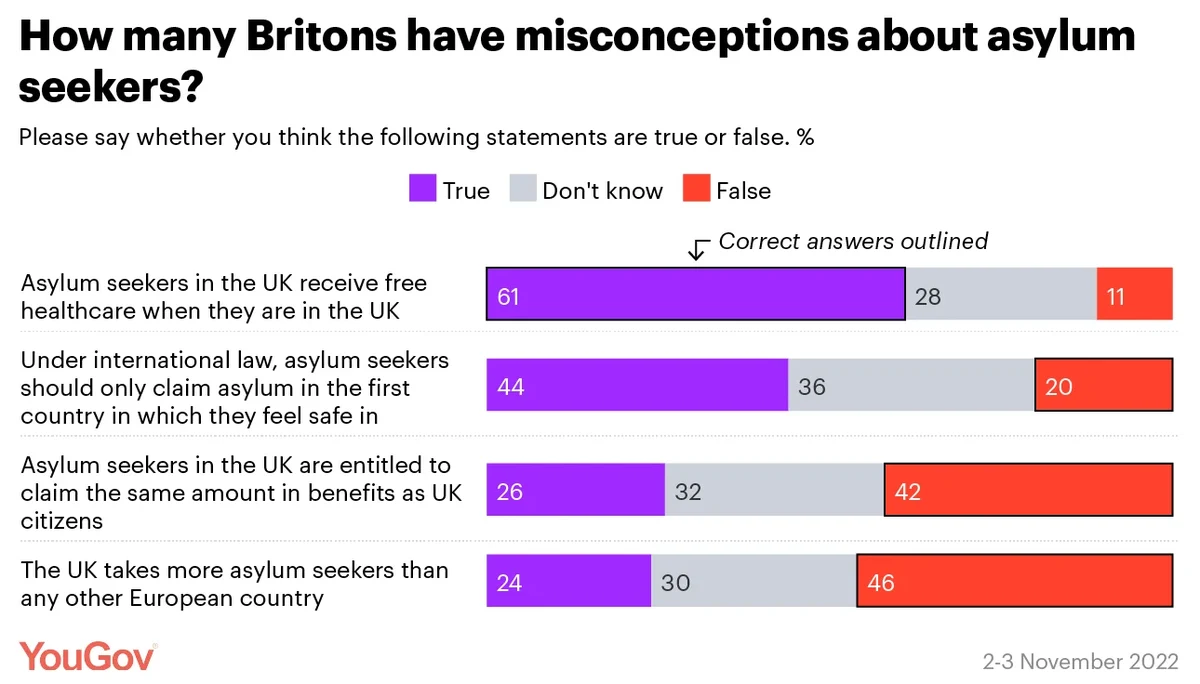 More than four in ten Britons (44%) also believe that asylum seekers are supposed to claim asylum in the first country in which they feel safe. However, this is not the case. One in five correctly (20%) identified this as being false, including a greater proportion of Conservative (62%) than Labour (36%) voters, with 36% overall unsure.
See the full results here and here
Photo: Getty