The prime minister's popularity is plummeting following a dramatic week in Westminster
Liz Truss is now less popular than Boris Johnson ever was.
The prime minister's popularity has plummeted following a tumultuous week in politics, leaving her less well-liked than other former party leaders at their lowest ebb.
Just 14% of the public say they have a favourable impression of Truss in a YouGov survey conducted between 1-2 October, compared to more than a quarter (26%) who said so in the previous survey on 21-22 September.
Nearly three quarters (73%) now see the prime minister in an unfavourable light, including more than half (55%) who see her very unfavourably.
Truss's net favourability score has fallen by 28 points to -59 in less than a fortnight – in comparison, Boris Johnson's net favourability was -53 when it dropped to its lowest in early July, while Jeremy Corbyn's lowest ever score was -55.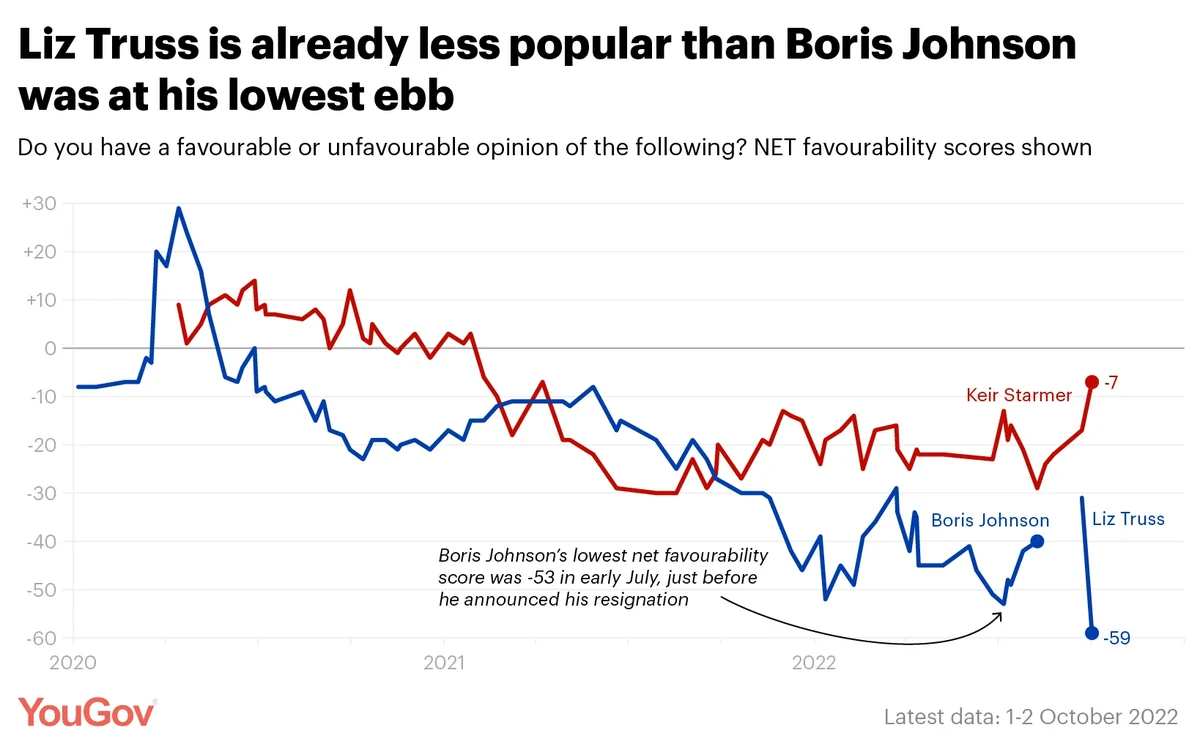 After just weeks in the job, Truss is also less popular than the Conservative party as a whole, which has a net favourability score of -50, down from -33 in September's poll.
The party is viewed as favourable by 20% of the public, down from 28% in September.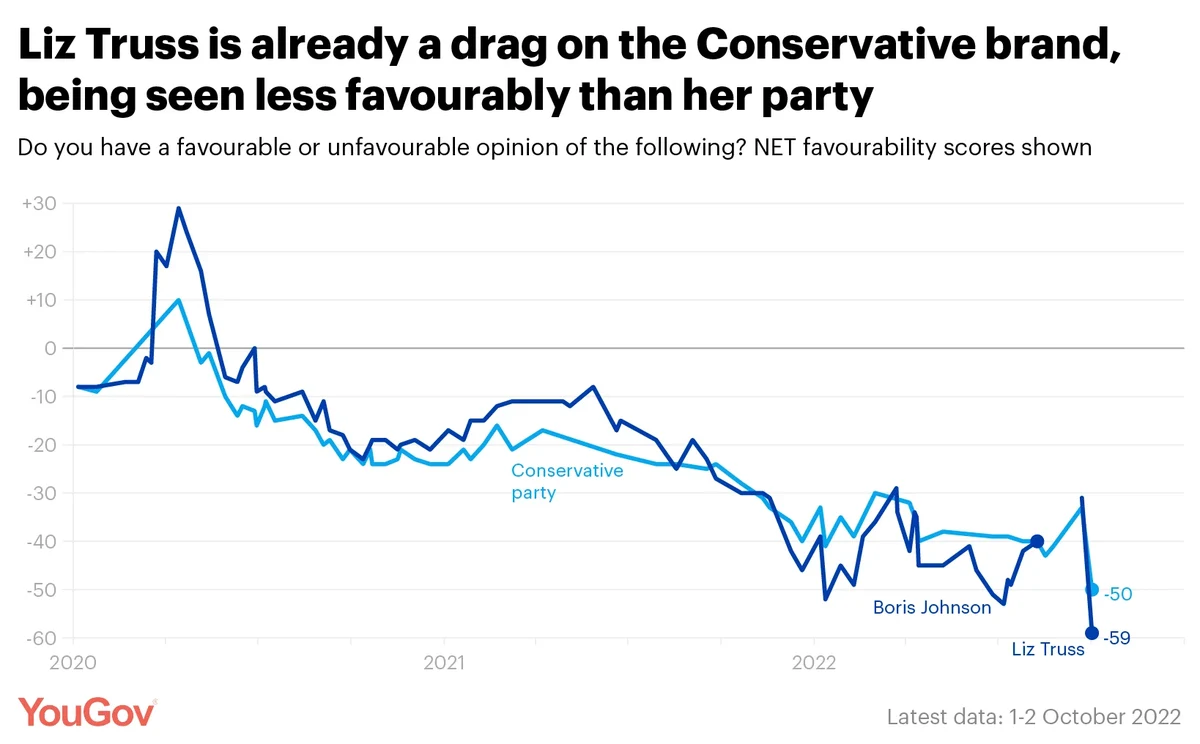 Conservative voters are now twice as likely to have an unfavourable view of the new prime minister (60%) as a positive one (30%).
On 21-22 September, around a fortnight after she was appointed prime minister, most Conservative voters (55%) had a positive view of Truss, with only 32% regarding her unfavourably.
While the popularity of Truss and her party has fallen amidst turmoil in Westminster, support for Labour has been growing.
The poll shows 44% of the public have a favourable view of Labour (up from 37%) while Keir Starmer is much less unpopular than his Conservative rival, being liked by 40% of people (up from 34%).
Starmer's net favourability score is now -7, up from -17, while Labour stands at -2, up from -12.
The latest poll results come after a week in politics defined by the announcement of Kwasi Kwarteng's contentious 'mini-budget', with the chancellor recently being forced to row back on his plans to abolish the 45p tax rate for high earners.
But the U-turn did not come soon enough to prevent a drop in popularity for Kwarteng, who emerges from the poll liked by just 11% of the public.
Nearly two-thirds (65%) have an unfavourable view of the chancellor, including 47% who have a "very" unfavourable view.
His net favourability rating has fallen from -20 in September to -54, though around a quarter of the public (24%) say they still didn't know enough about Kwarteng to provide an opinion.