No good news for Rishi Sunak
With the number of candidates for the next Conservative party leader to be whittled down to three this afternoon, the latest YouGov poll of party members shows that there has been a marked change in members' views.
Our previous survey had Penny Mordaunt as the firm members' favourite, beating all comers by wide margins. Mordaunt's lead has since been lost, with the trade minister now finding herself on 42% to Liz Truss's 48%, and on 43% to Kemi Badenoch's 48%. Both of these head to head results are within the margin of error, but this will come as little comfort to a candidate who last week was at least 15pts ahead of her nearest rival.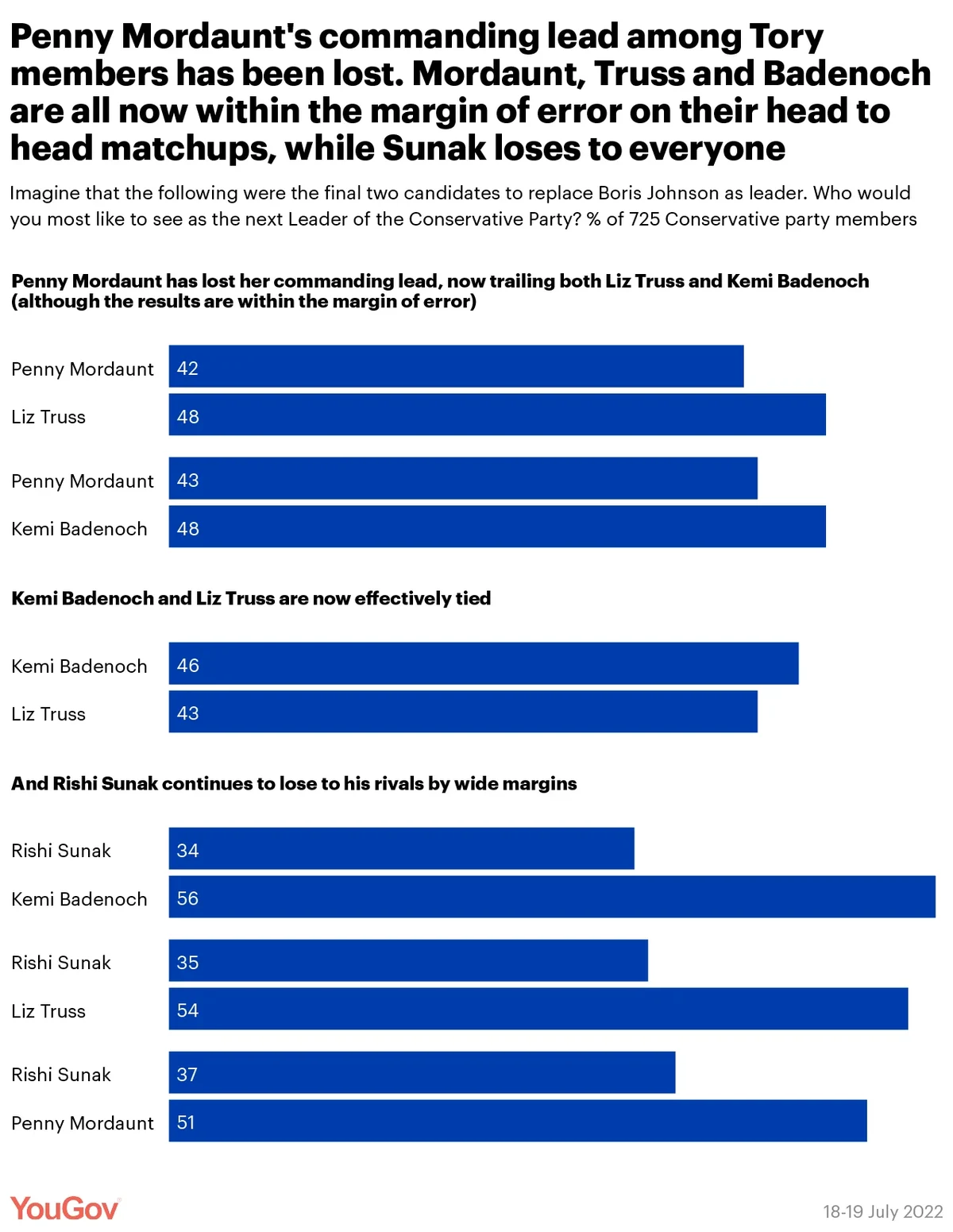 With Kemi Badenoch widely expected to be eliminated in this afternoon's proceedings, the Truss camp will be breathing a sigh of relief. The latest results show that Badenoch is Truss's closest competitor, winning 46% of members' preferences to the foreign secretary's 43% in their head to head. This is also sufficiently close to be within the margin of error, and therefore effectively a tie.
The results continue to be bad news for Rishi Sunak. Although almost certain to make the run-off, Sunak loses against his three potential opponents by wide margins under current figures. While he has made ground against Mordaunt, whom he lost by 67% to 28% in the prior poll, he still has a 14pt deficit against the trade minister.
Against Truss, he has made little improvement. His own score remains unchanged at 35%, although Truss's vote share has fallen five points from 59% to 54%, with the movement to the "don't know" column.
Although unlikely to be a problem if she is eliminated today, Sunak's score against Badenoch has actively declined. His 40% in the prior poll has fallen to 34% now, while her previous 49% now stands at 56%.