Mordaunt holds a strong lead in both the single choice question and head to head match ups
A new YouGov snap poll of Conservative party members – put into field yesterday immediately following the announcement of the final candidates – shows that Penny Mordaunt is the new favourite for leader among members, with the previous preferred choice Ben Wallace having declined to stand.
When members are asked to choose one candidate from the field for their preferred leader, Mordaunt convincingly tops the list, at 27%. Kemi Badenoch comes a distant second at 15%, followed by Rishi Sunak and Liz Truss on 13% each.
On this question, Mordaunt is the favoured candidate among members who voted Leave in 2016 (29%), and the second favourite among those who voted Remain (20%, to Rishi Sunak's 25%).
Pairing off the candidates in head to head contests – as will happen at the final members' vote – shows Mordaunt beating all comers.
Her closest competitor is Liz Truss, who she nevertheless convincingly beats by 55% to 37%. She likewise firmly sees off Kemi Badenoch by 59% to 30%, and Rishi Sunak by 67% to 28%.
Mordaunt takes the majority of the Leave vote in all of her head to heads, and either takes the Remain vote too, or closely splits it (she takes 44% against Sunak's 50%, and 45% to Tugendhat's 47%).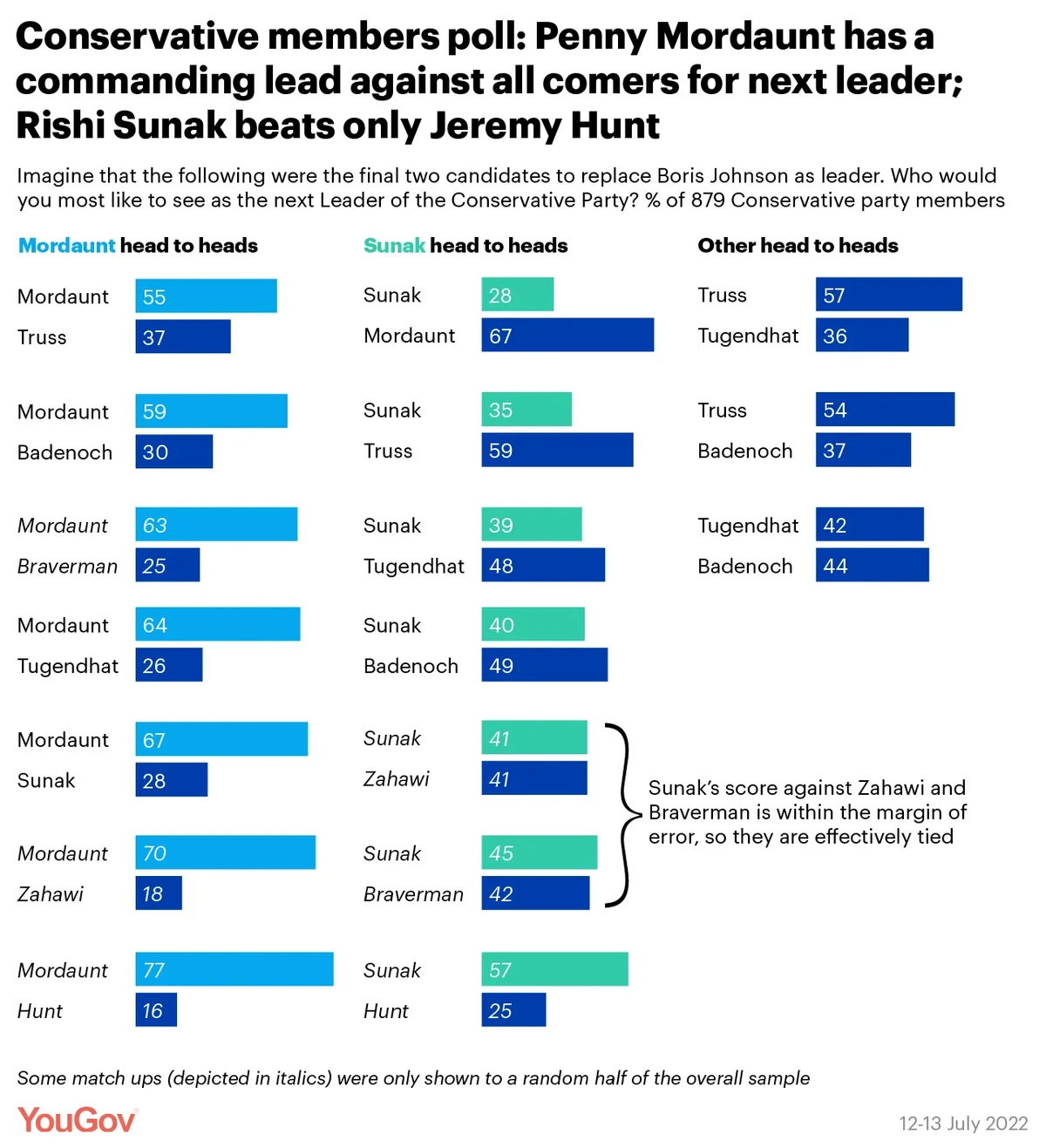 While Rishi Sunak appears to have the most support among Tory MPs at the nominations stage, he performs poorly in the head to heads.
The only candidate the former chancellor definitely seems to be beating at this stage is Jeremy Hunt, by 57% to 25%. He is effectively tied (within the margin of error) against Suella Braverman (his 45% to her 42%) and Nadhim Zahawi (both 41%).
Sunak loses to Badenoch, Tugendhat, Truss, and the aforementioned Mordaunt, the latter two by very wide margins.
Additional head to head matchups show Liz Truss convincingly beating both Tom Tugendhat (by 57% to 36%) and Kemi Badenoch (by 54% to 37%). In a Tugendhat vs Badenoch face-off, there is an effective tie, with the former on 42% and the latter on 44%.