Harry and Meghan see their favourability hit new lows ahead of the jubilee
As the nation begins to celebrate 70 years of Queen Elizabeth II on the throne, new YouGov royal favourability data shows the Queen remains the most popular royal.
Overall, eight in ten people (81%) hold a positive opinion of the Queen, versus 12% who see her negatively – giving the monarch a net score of +69.
Elizabeth II holds a positive net favourability across all age groups, including the youngest adults (who are the least likely to want the UK to remain a monarchy). Some 60% of people aged 18 to 24 have a positive view of the Queen, while 18% hold a negative opinion, for a net score of +42. It is among those 65+ who hold the Queen in the highest regard, however (+92). The Queen also has a significantly higher favourability score among women (+70) than men (+57).
Over the last ten years of YouGov tracking, the Queen has maintained a strongly positive view among the public. She has consistently been the most popular member of the family since early 2021. However, before then she was narrowly beaten to the title to her grandson Prince William on several occasions.
While now pipped to the post by his grandmother, Prince William is still the second most positively viewed Windsor at +59, with 75% holding a positive opinion of him and 16% with a negative view. Catherine, the Duchess of Cambridge, follows closely behind her husband. Seven in ten people (70%) say they have a positive impression of her, compared to 15% who have a negative one, giving her a net score of +55.
Prince Charles and his wife Camila, the Duchess of Cornwall, hold net scores of +19 and +9 respectively. A small majority of people hold a positive view of the future king (54%), while 35% have a poor opinion. For Camilla, 47% see her positively and 38% negatively.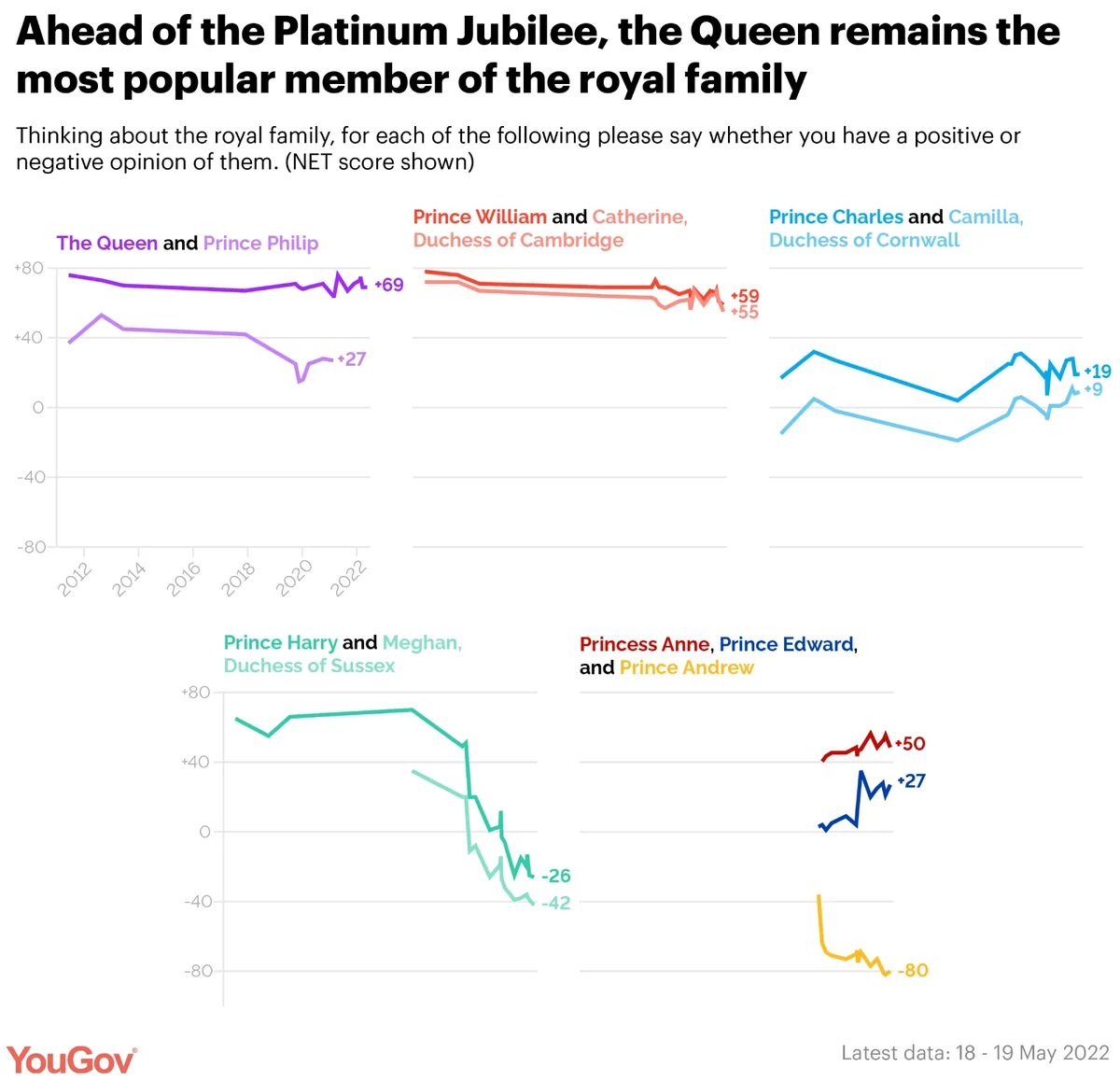 It is a different story for the Duke and Duchess of Sussex, however. In this latest round of figures, Harry and Meghan's popularity has hit new lows.
Harry now holds a net score of -26 among the British public, compared to -25 from the previous survey on 16-17 March. Now, just one in three (32%) see Harry in a positive light compared to over half (58%) who think of him negatively.
Likewise, Meghan Markle is also at her lowest ever favourability score, at -42. Only 23% of the public hold a positive opinion of the Duchess of Sussex, while approaching two in three (63%) have a negative view.
The Sussexes remain positively seen among the young, but by a narrow margin. Four in ten of those aged 18 to 24 (42%) see Harry positively, and 33% see him negatively - a net score of +9. This young age group are more closely split over Meghan with a net score of +2, as 38% view her positively and 36% negatively.
Harry and Meghan are both seen poorly by older generations. Their popularity diminishes progressively with each older age group, reaching a low of -65 and -79 respectively among those Britons aged 65 and over.