August UK household activity tracker finds pessimism about household finances but job security on the up

The latest YouGov UK Household Economic Activity Tracker (HEAT) has found that household activity has dropped back in August amid intensifying pessimism about household finances and the property market, while Britons' feelings on job security actually continue to improve.

The YouGov UK HEAT index dropped two points to 94 in August, from 96, partly giving back its July gain ‒ nevertheless, the index remains slightly above its long-run average of 93 (Chart 1)
August's decline reflects households' gloomier outlook for their financial situation, combined with increased pessimism about the state of the housing market, but it is not all bad news, with fears over job security continuing to abate
A majority of households (67%) consider their financial situation to be stable, though a quarter report that their finances deteriorated in August
Chart 1: UK HEAT Index (100 = neutral)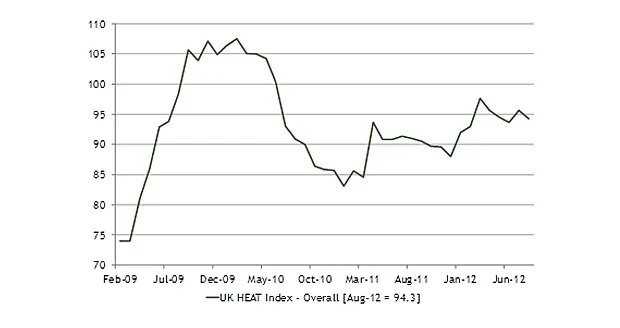 The YouGov HEAT index, which tracks UK household economic activity, deteriorated to 94.3 in August. While below its neutral level of 100, it is slightly above its long-run average.
However, the general trend over the last few months remains one of improvement.
When asked about how much cash they have available to spend, households became much less negative in August
Although 28% suggest they have less money to spend than a month ago, 40% had answered this way in early 2011 (Chart 2), suggesting that the lower level of inflation in the economy is supporting the purchasing power of the British consumer
Chart 2: How much cash do you have available for spending?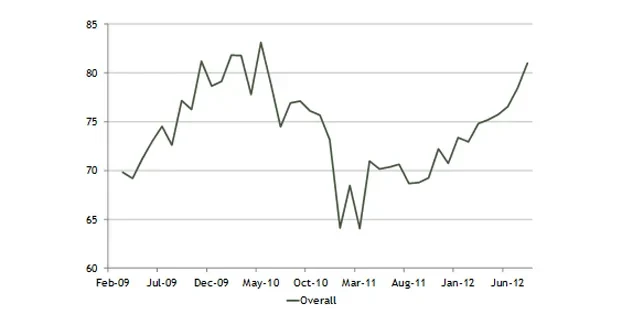 August's decline reflected a gloomier outlook for household finances, combined with increased housing market pessimism. But the index reflecting cash available for spending showed continued improvement this month.

Still, consumers are not confident this improvement will last; 40% of survey respondents expect things to get worse again over the next 12 months
Job security was a bright spot in this month's survey; the trend of improvement remains intact.
Only 16% of people consider their job to be less secure than in July, with 76% reporting no change and 8% saying they are in a more comfortable situation
The labour market improvement is borne out in the official data, which shows the economy added almost 6,000 jobs in July. Encouragingly, the youngest survey respondents (aged 18-34) report the most improvement (Chart 3). And for the first time since the survey began, the net balance of those reporting improved job security is positive.
Chart 3: Current assessment of job security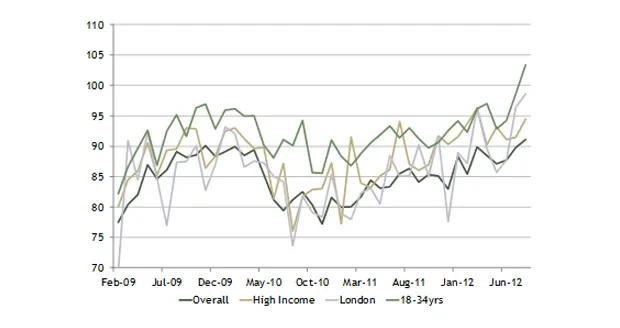 Job security was a bright spot in this month's survey; the trend of improvement remains intact. Encouragingly, the youngest survey respondents reported the most improvement. More said their job security had improved than the number saying they felt less secure.
Improving job prospects likely reflect a pick-up in business activity.
23% of employees indicate that activity at their work place is higher than in July, versus 17% who say it is lower
Moreover, 32% see further improvement over the coming year, while just 15% predict a deterioration
Fears about property values continue to weigh on consumer sentiment.
28% of those surveyed estimate that their house is worth less than a month ago
Some people are optimistic about a rebound in the housing market, with 23% saying they expect house prices to rise over the next year, but more (27%) say the opposite
London seems largely immune to these problems: 21% of homeowners say their property has increased in value from last month (versus 8% lower), and 44% see further increases to come over the next 12 months
See further information on YouGov's Household Economic Activity Tracker