Eight in ten now back further sanctions on the Russian Federation
As the invasion of Ukraine enters its seventh day, frustrated Russian forces are upping the intensity of their fighting. The increasing use of allegedly indiscriminate aerial bombing and artillery fire has led to a surge in civilian causalities – particularly in the second city Kharkiv. Dmytro Kuleba, the foreign minister of Ukraine, said the world must do more in response to the "barbaric" attack.
YouGov's latest polling shows increasing support for action against Russia. Eight in ten people (83%) now favour further sanctions – up from 78% in the previous survey (24-25 February) and from 69% in our research just prior to the invasion began.
An additional three quarters (76%) back sending weaponry to Ukraine, despite threats against doing so from the Kremlin – up from 64% in the last survey.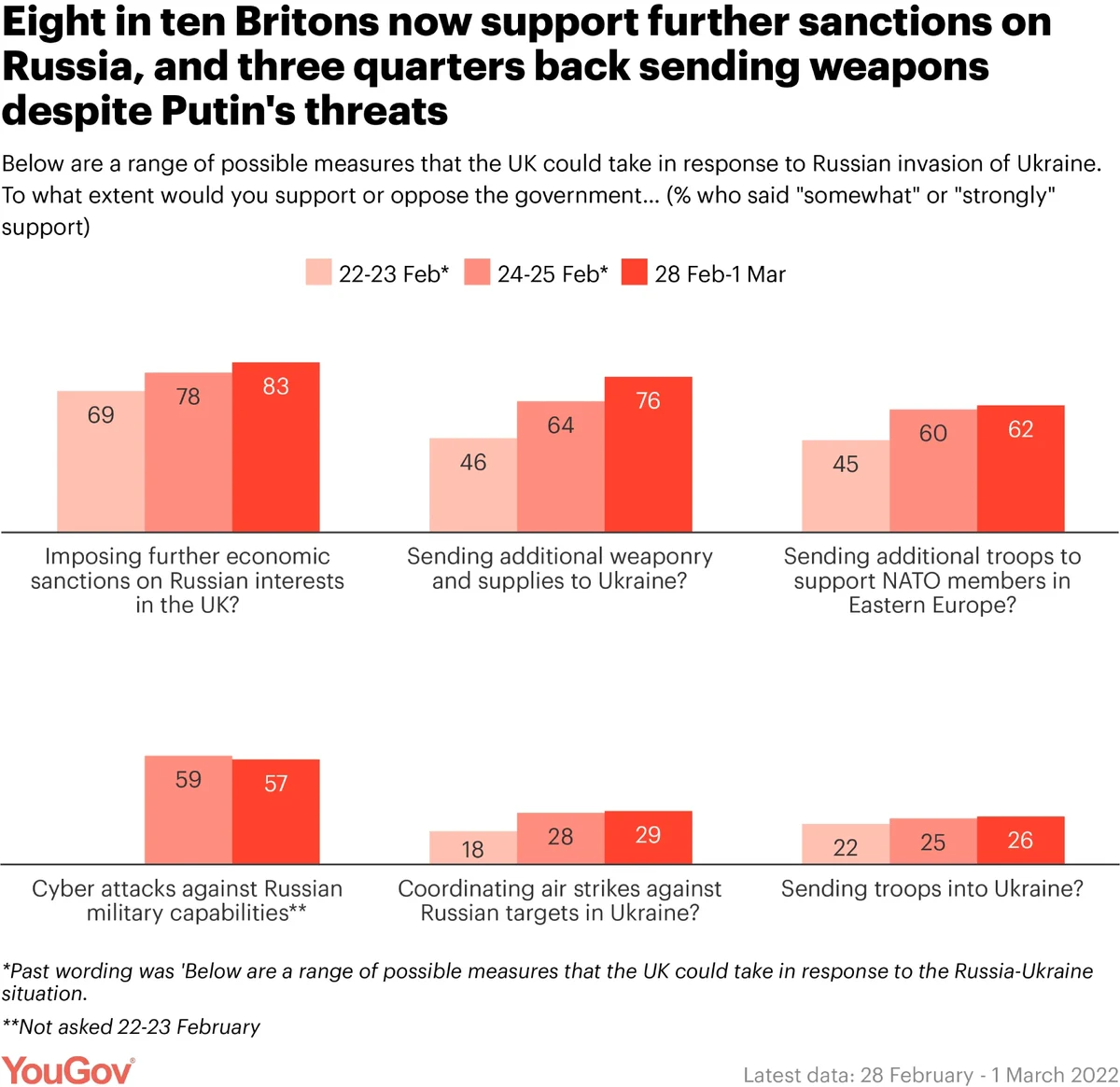 Support for other possible reactions to the invasion remains consistent with our previous research. Six in ten remain in favour of sending additional British troops to NATO allies in Eastern Europe (62%, +2). Over half of people continue to say they would support the use of cyber warfare against Russian military targets in Ukraine (57%, -2pts). Approaching three in ten would support airstrikes against Russian targets in Ukraine (29%, +1) while a quarter (26%, +1) back sending troops to reinforce the Ukrainian army.
Britons are increasingly willing to bear the brunt of sanctions themselves
The Russian rouble continues to plummet in value as Western sanctions chip away at the Russian economy. However, it is only a matter of time before the sanctions have tangible effects on the nations imposing them. Given that Russia and Ukraine are among the biggest global exporters of wheat, food prices could rise.
Britons are increasingly willing to stomach such costs to implement further sanctions. Some 46% now say they would support sanctions causing a significant increase in energy costs, up four points from 24-25 February.
Another 47% would accept a tax increase to cover a bigger defence budget, also up four points. Some 48% are willing to cope with oil and gas shortages maintain sanctions against Russia.
Finally, 50% would support turning up the dial on sanctions against Russia even if it increased the overall cost of living – a rise of four points on the previous survey.