The prime minister is now more unpopular than Theresa May ever was during her premiership
The ongoing revelations about a number of parties held in Downing Street during a time of strict Covid-19 rules, dubbed 'Partygate', have plagued Boris Johnson since the beginning of December and continue to cause public outcry. Prime Minister's Question Time on Wednesday was dominated by calls for the prime minister to resign.
New YouGov polling reveals that Johnson's net favourability has dropped to another all-time low since he became prime minister in July 2019, surpassing the previous low of -42 a month ago. Having recovered slightly over the Christmas break, when the stories briefly disappeared from the news, it now stands at -52, with nearly three-quarters (72%) of the British public now having an unfavourable opinion of the prime minister.
Around half (52%) of Conservative voters have an unfavourable opinion of Johnson, compared to 20% who have a favourable opinion of him.
Public opinion of the Conservative Party has also taken a significant hit, dropping from -36 on 8-9 December to -41 now, although this is still 11 points higher than the prime minister's net favourability.
How does the prime minister compare to other unpopular politicians?
Boris Johnson is now more unpopular among the British public than Theresa May was at any point during her time as prime minister. May reached a low of -49 points on 14-15 May 2019, with 70% of the public having an unfavourable view of her at the time.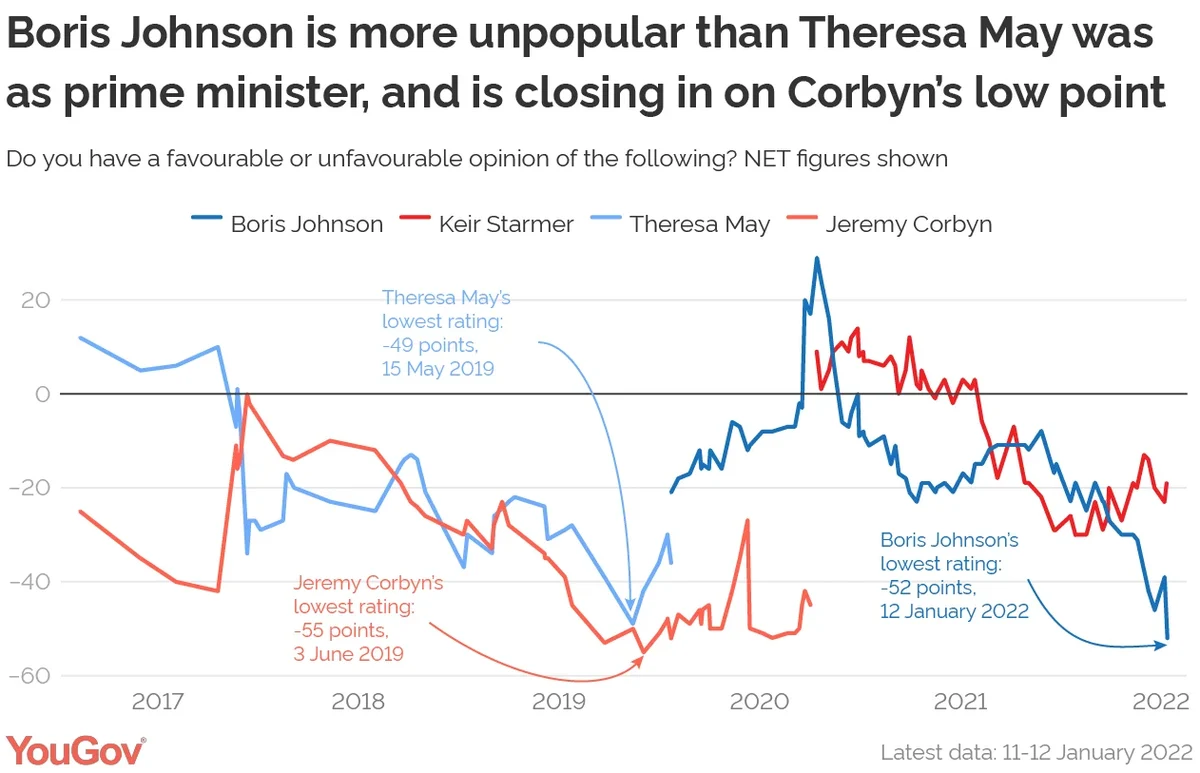 In fact, Johnson is approaching Jeremy Corbyn's personal nadir. The former Labour leader reached his lowest score since YouGov started tracking in August 2016 of -55 points in June 2019.
Similarly, the prime minister's ratings are also closing in on those of home secretary Priti Patel, whose net favourability currently sits at -55 points.
Opposition leader Keir Starmer, whose favourability had been falling steadily since the beginning of December, has managed to make some gains in the wake of Johnson's popularity plummeting, with his net favourability rising five points – from -24 on 7 January to -19 now.