With just days to go before the COP26 climate change conference kicks off in Glasgow, the latest YouGov polling finds that just 49% of Brits are have heard much about the forthcoming event. Perhaps unsurprisingly, given where the conference is being held, awareness is highest amongst Scots, of whom three quarters (73%) have heard a great deal or fair amount about it.
Awareness has slowly grown over the last few months in the build-up to the event, with just a quarter (23%) saying they had heard a great deal or a fair amount about it in August, but with the conference due to start on Monday, the government may be worried this lack of awareness.
The conference aims to bring together decision makers from around the world, including world leaders, high-profile activists and business leaders to agree action on climate change, but the public are pessimistic about what COP26 can achieve. Two thirds (67%) say that it is unlikely that COP26 will result in significant action being taken to tackle climate change.
This opinion appears to be driven by genuine concern over the conference format itself, rather than a lack of public interest in tackling climate change. The environment is an important issue in the UK, regularly sitting third in YouGov's most important issues tracker, with around a third ranking environment as one of the three most important issues facing the country today. For 18-24 year olds the environment is currently the top issue – alongside health – with 45% ranking it in the top three.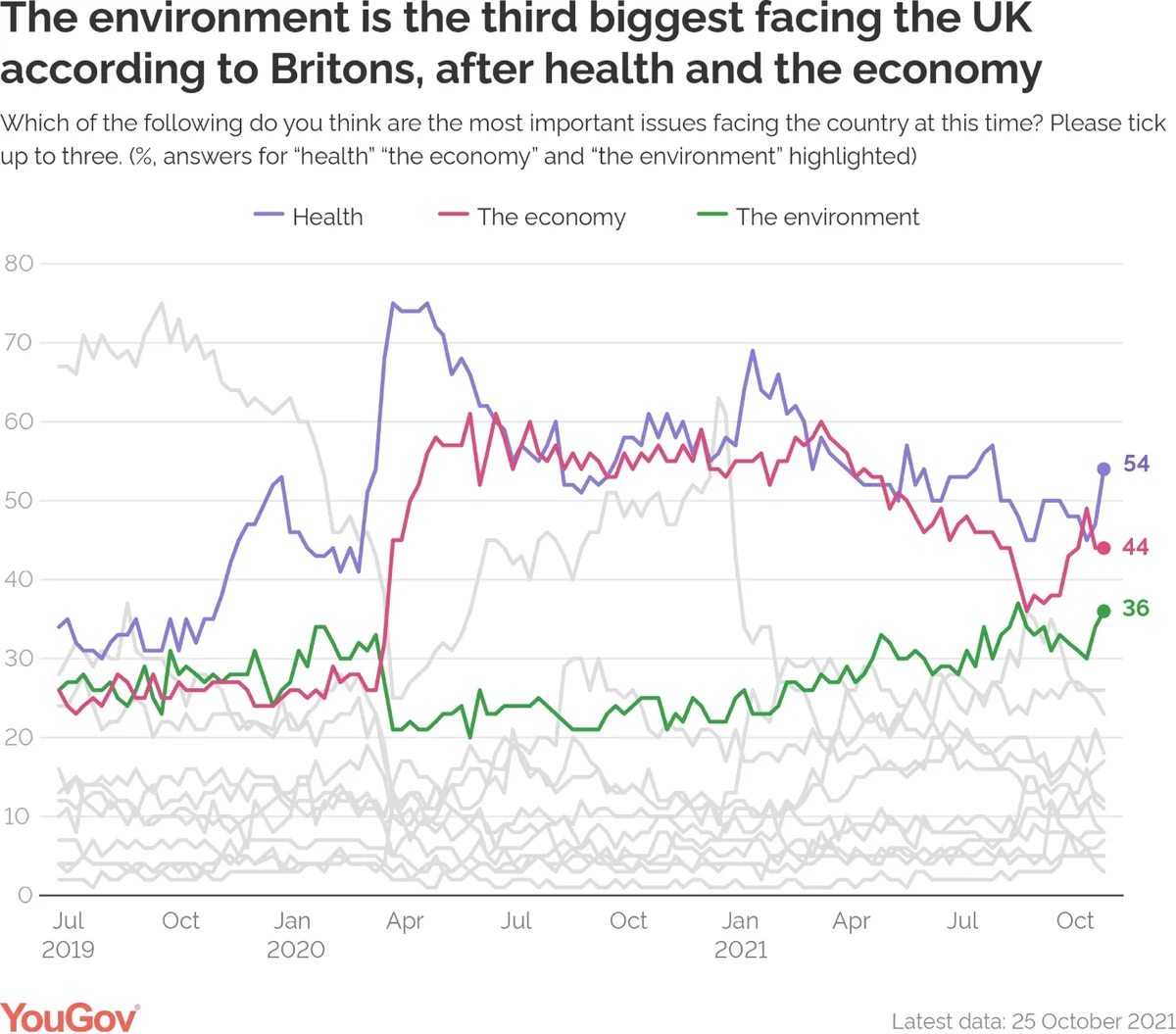 However, its not an issue that the British public think is being handled well by the government.
Each week YouGov asks how well or badly the government is handling various issues, including the environment. Although Brits have generally thought that the government has done a poor job of managing the environment over time, this feeling has become stronger recently. Despite the government releasing their green plan last week, most Britons (57%) say the government is currently handling this issue badly, up 10 points from the start of the year. Just 29% think they are currently doing well.
See the full results here