Poll reveals gaps in public awareness of male trafficking victims as Salvation Army continues support
Our survey of English and Welsh adults carried out for The Salvation Army shows that public perceptions of human trafficking are that, on average, respondents think just 29% of all trafficked victims in England and Wales are male.
However, a briefing released by The Salvation Army highlights the gap between perception and reality, as actually, 41% of those supported are men trafficked for labour exploitation.
The results come in light of the organisation's first six months of delivering on a contract to support adult victims of human trafficking in England and Wales.
The poll of 1,828 English and Welsh adults found that on average, respondents thought 72% of human trafficking victims were female, compared to 29% male
Respondents also thought that, on average, 68% of all trafficked victims are sexually exploited
However, as well as showing the percentage of men who have been given the charity's support due to their experience of trafficking, The Salvation Army's briefing states that of those supported by the new contract, 45% were forced into sexual exploitation, 43% were involved in labour exploitation and 8% were trafficked into domestic servitude.
The Salvation Army also dealt with its first case of human trafficking for organ removal within this period.
'Giving the support they need'
Major Anne Read, The Salvation Army's Anti-Trafficking Response Co-ordinator, said: "Male or female, no matter where the victim is in England and Wales or the reason that they are trafficked, we are helping all people caught up in all types of trafficking to get them the support they need, when they need it.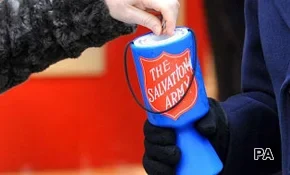 "The Salvation Army has a strong track record of supporting victims of human trafficking and we are working with a wide range of experts in delivering the contract to ensure that specialist, individually tailored support is available to every victim. This includes gender-specific services and support for victims with disabilities and mental health needs."
Minister for Justice, Crispin Blunt, said: "Human trafficking is often seen as predominantly affecting women- meaning that male victims are often overlooked and are forced to go without the support they so desperately need.
The support The Salvation Army offer to trafficking victims, regardless of gender, was a key reason why they were awarded the contract. In the first six months of providing this service, The Salvation Army has shown that they are able to offer a high quality, tailored system of support to some of the most vulnerable victims, regardless of their country of origin, religion or gender."
See the survey details and full results here
Last year The Salvation Army was awarded the contract from the Ministry of Justice to provide specialist support for adult victims of human trafficking in England and Wales, including safe accommodation, counselling, medical care, translation services and legal counselling. Victims seeking help have been trafficked to or within England and Wales and are referred to the service through a dedicated referral line 0300 303 8151 available 24 hours a day, seven days a week.
The briefing from The Salvation Army reveals that most victims referred to them are from the police (44%), with the South East of England (54%) accounting for the majority of referrals. The victims helped have come from all over the world, including 58% from Eastern Europe, 25% from Africa, 12% from Asia and 4% are trafficked from within the UK.
The Salvation Army is an international Christian church and registered charity working in 124 countries worldwide and is one of the largest, most diverse providers of social welfare in the world.