Poll: 43% young women in London have experienced public sexual harassment in past year
Our survey for the End Violence Against Women Coalition published today reveals that over two in five young women in London aged 18 to 34 have experienced sexual harassment in public spaces over the last year.
The poll of 1,047 London adults, including 523 women, asked female Londoners about their experience, if any, of unwanted contact or attention ‒ such as, for example, wolf whistling, sexual comments, staring, exposure ‒ of a sexual nature in public spaces over the last year.
42% of women aged 18-34 have experienced unwanted sexual attention of some kind over the past year
21% of all women have experienced unwanted sexual attention
4% of all women have experienced unwanted sexual touching
The survey also asked female Londoners the same questions about their experience when on public transport in London and again found alarmingly high levels of sexual harassment.
31% of women aged 18 to 24 have experienced unwanted sexual attention while on public transport
24% of women aged 25 to 34 have experienced unwanted sexual attention
14% of all women aged 18 and over have experienced unwanted sexual attention in the past year
5% of all women have experienced unwanted sexual touching
EVAW Coalition Co-Chair Professor Liz Kelly commented on the findings, saying: "Our survey shows that sexual harassment in London is extremely common. Some survey respondents also said that this behaviour makes them feel uncomfortable and unsafe and makes them change their behaviour and decisions about when and where to travel.
"Despite this high prevalence and impact however, public sexual harassment is a form of abuse which generally goes unchallenged, creating an unsafe and unequal environment for women.
"We need investment in public campaigns on transport and elsewhere saying this behaviour is unacceptable, and training for transport staff about how to respond to it."
A small selection of comments made by female survey respondents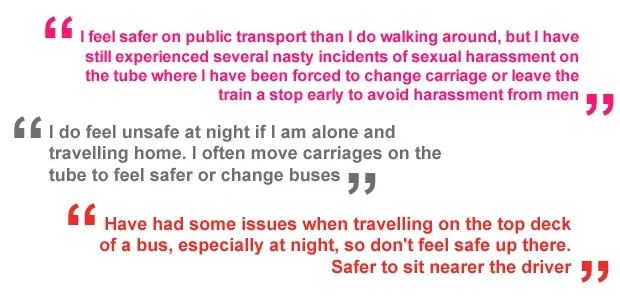 Call for awareness, training and 'bystander intervention'
Although often dismissed as trivial or as something women and girls should just ignore, separate research shows that the regular experience of sexual harassment increases women's fear of crime, makes women feel that their choices are limited, and even feeds into how women feel about their bodies and their sexuality.*
The EVAW Coalition has written to Transport for London with the survey findings and setting out its recommendations which are that there should be a public awareness campaign indicating that sexual harassment can be a crime and is not acceptable.
EVAW is also calling for training for police and transport staff in dealing with sexual harassment when it is reported. It is hoped that a combination of measures such as these will contribute to a longer term culture change where this behaviour becomes less socially acceptable and where bystanders for example are more likely to intervene when it occurs (some survey respondents reported incidents of sexual harassment and assault where onlookers did nothing).
Feeling safe on public transport
Publication of these new survey results follows the publication during the London Mayoral election campaign of other findings from the same YouGov poll that almost twice as many women in London as men say they do not feel safe using London public transport at all times of day and night (28% of women as to 15% of men).
Of women in the survey who chose to comment further on their feelings about safety when travelling in London
The highest number said they wanted to see action on transport staffing – including wanting more staff, better training for staff, and staff to be more visible
After staffing, the next most commonly expressed desires were for more visible policing on the transport system
And better lighting on buses and trains, at stops and stations and beyond
An alarming number of women said that they did not feel safe when travelling at night with some avoiding doing so because of safety fears. When asked for comments, some women reported that they had personal experience of, or a friend or family member had experience of, sexual harassment or sexual assault when travelling in London.
Council approaches
Vicky Simister, Founding Director of the UK Anti Street Harassment Campaign, said: "In order to address this, local councils and the police need to convey a strong message that this behaviour will not be tolerated by perpetrators. A good example was the 'Flirt/Harass: Real Men Know the Difference' poster campaign by Lambeth council in partnership with the Metropolitan Police, which conveyed a no-tolerance message. More councils need to adopt approaches like this.
"It is important to note that [unwanted sexual harassment] is not a London-only problem...We hope that London can lead the way in addressing this issue - particularly in light of the impending Olympics and international perceptions of our nation's attitude to women's safety."
See the survey details and full results here
The End Violence Against Women Coalition is the UK's largest coalition of organisations working to eradicate violence against women and girls; members include Eaves, Fawcett Society, Forward, Imkaan, Jewish Women's Aid, Newham Asian Women's Project, Rape Crisis England and Wales, Standing Together, Women in Prison, WRC, The Women's Institute, Amnesty International UK and the TUC.
www.endviolenceagainstwomen.org.uk
---------
A 2010 poll of 788 16-18-year-olds around the UK conducted by YouGov for the EVAW Coalition found that almost a third (29%) of 16-18-year-old girls say they have been subjected to unwanted sexual touching at school
Nearly three-quarters (71%) of all 16-18-year-olds (ie boys and girls) say they hear sexual name-calling with terms such as "slut" or "slag" used towards girls at schools on a daily basis or a few times a week
*EVAW highlights research from North America that indicates that the repeated experience of sexual harassment by male strangers makes women limit their own choices regarding for examples dress and decisions about travel. It also increases women's fear of violent crime, for themselves and women and girls that they know, and encourages them to restrict their own and loved ones' movement in public spaces.
Of the 523 women who undertook the YouGov survey, 262 submitted answers to an open type question asking, 'Are there any comments about safety or harassment when travelling around London that you would like to make?' Their individual responses are available on request from EVAW.