April's rainfall reached record levels – how have you been affected?
With news that the downpours of last few weeks have brought an end to the drought in some areas across the UK, we wanted to know how you have been affected by the unpredictable weather.
We all know that April showers are to be expected on our exposed little island, but it is unlikely that anyone could have predicted the wettest April since 1910, following on from one of the longest dry periods in recent history.
We asked participants how they had been affected by the recent weather – had their personal property been damaged, or had there been any problems in their local area?
The majority of participants said that, in truth, they had not been affected, but many of them expressed annoyance at the rain, explaining that it had affected their mood and behaviour, if not their property.
A few participants were actually quite positive about the rain, noting that their gardens were looking healthy, and it was nice to see some rain after the long dry period.
A number of participants also pointed out that Britain often experiences rather eccentric weather patterns, and that we should be used to it by now!
Below we look at participants' wet weather accounts – from those who don't see what the fuss is about, to those who have 'moats' in their front gardens, those who are relieved to see the rainfall, and those who are fed up with the downpours.

Has the record rainfall affected you? And what do you make of the recent weather?
Share your experiences below.

How have you been affected?
Here's what some of our Labs participants had to say...
"It's just like it used to be when I was younger, I don't see what all the fuss is about. This is typical British weather, sunny today, monsoon tomorrow. Periods of rain followed by more rain then dry periods" Ian H, Greater London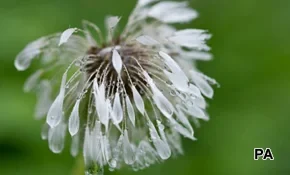 "We as a country need the rainfall to help with the drought that is in effect. I think things like the weather are all cyclical and it comes and goes" Anon
"I do think that the levels of rainfall are surprisingly high in some areas of the country, however the rainfall in my area is nothing out of the ordinary and nothing the locals can't handle" Jane O, Wales
"We had a dry winter so we should expect and hope for the rainfall to make up for this to ensure we do not experience a drought – although I would like to have more chance to do some gardening!" Jules, Poole
"People need to remember t
hey cannot have all sunshine and no rain as that will lead to hose pipe bans,
etc. However we should
take the good with the bad
and remember the weather will always be the weather and there is nothing we can do about it"
Anon
"I work outside as a meter-reader and it's been a miserable few weeks getting soaked several days each week" Anon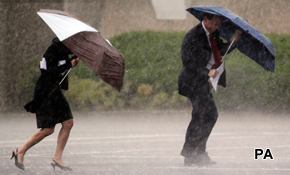 "The weather has been very changeable: go out in sunshine and then get drenched (and I'm afraid that I am a wimp and don't like getting wet!)" Lesley G, Yorkshire
"Fed up with being wet going to and from work – also travelling around site everything is just damp. We can't have the doors open at home to let the air in" Anon
"The rain affects people with arthritis as the cold and damp weather does affect the pain" Tess, Cheshire
"I am disappointed that it's supposed to be spring, we're supposed to be heading for summer and all the excitement it brings but all we've had is what feels like 4 weeks of rain" JE, Oxford
"I hate grey skies, having to wear waterproofs, commuting to work, ruining my make-up and hair, cancelled plans and so on" Anon
"
It affects how you feel and what you can do
. A recent break in Norfolk was spoiled by not being able to go out and enjoy the local scenery and attractions. It also
affects spending patterns
while on holiday"
Paul H, Matlock
"I tried to get a train through Hampshire and West Sussex to London – every train seemed to have been swept into a miry bog, and it took over an hour to eventually get onto a train heading vaguely towards London" Anon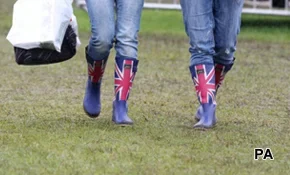 "The local roads blocked and the local river overflowed but only onto fields and gardens" Clive B, York
"Increased coastal erosion – just what I, and others who collect fossils, have been waiting for. A case of every cloud has a silver lining!" Anon
"Our garden is waterlogged and our local campsite has been evacuated. We need the water, so it will have to get a lot worse before it upsets me" Anon
"These things happen but the water authorities should be doing more to store the overflow. I live near several rivers and all are fit to burst their banks yet we are being told there could be water shortages in the summer" Anon, Derbyshire
"The main route from our village to nearest town has been closed for several days due to flooding" Kazi, Somerset
"Only my driveway and garden have been affected, but I believe that it was avoidable and could have been prevented. Most of the fields in my area have been landbanked and abandoned for more than ten years. Field drainage is blocked and land owners have no incentive or repercussions for doing nothing" Mark, Fife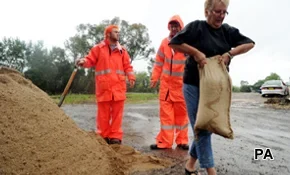 "The roof is leaking where the extension attaches to the house, water coming through onto lighting/appliances, I was worried about fuses blowing" Grant, Southport
"There is surface water on my property again" Anon
"My front garden has a moat! My border is flooded and the very large grass square in front of my house now has a big pond. This is the worst it's been in 25 years and it's making me miserable" Dot R, Wirral
"The hallway was flooded, the foundations had to be re-dug and the garden was near washed away" Anon

Has the record rainfall affected you? And what do you make of the recent weather?
Share your experiences below.