Romeo and Juliet tops poll as Britons' favourite Bard play as World Shakespeare Festival continues
Timeless tragedy Romeo and Juliet has been voted Britons' favourite Shakespeare play according to our poll on the famous playwright.
The results coincide with the current World Shakespeare Festival which kicked off on 23rd April (traditionally seen as Shakespeare's birthday and the anniversary of his death) and runs until September this year.
Ahead of the rest
The much-loved tale of 'two star-crossed lovers' won out over other Shakespearian masterpieces, such as 'Scottish play' Macbeth and dream-sequence fantasy A Midsummer Night's Dream, while sharing fourth place were comedy Twelfth Night, moralistic drama The Merchant of Venice and tale of two sisters The Taming of the Shrew.
Of Britons who had watched or read at least one Shakespeare play (three quarters of those asked) 24% said that Romeo and Juliet was their favourite
Magical tale Macbeth came next on 19%
Famous fairy story A Midsummer Night's Dream came in third with 18% of votes
9% apiece picked Twelfth Night, The Merchant of Venice and Taming of the Shrew
While 8% thought Hamlet, 7% The Tempest and 6% Much Ado About Nothing
Least popular were Two Gentlemen of Verona, Richard II, Henry VIII, Measure for Measure, Love's Labour's Lost, All's Well that Ends Well and Coriolanus (1% apiece)
Adaptations of the much-loved tale
Romeo and Juliet – the tale of two ultimately doomed young lovers from rival Verona families ‒ is famous for its combination of tragedy, comedy, conflict and romance.
One of Shakespeare's most well-known plays, the classic love story has inspired countless adaptations on both stage and screen, most popularly Australian film director Baz Luhrmann's modern 1997 movie starring Leonardo DiCaprio and Clare Danes, and Stephen Sondheim's 1957 updated musical version, West Side Story, which sees the feuding families transformed into rival New York gangs and which was famously shot for the silver screen in 1961.
World Shakespeare Festival 2012
This year, however, the famous Globe Theatre in London is hosting a celebration called 'Globe 2 Globe' as part of the World Shakespeare Festival, bringing together acting companies from all over the world to perform Shakespeare's plays in their own language.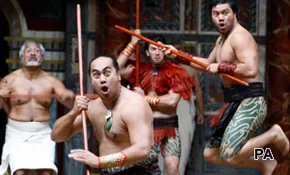 Playing within The Globe's 'authentic' setting – the theatre was constructed in Elizabethan style very near to where the original building once stood ‒ the programme showcases no fewer than 37 plays in as many languages, including Arabic, Urdu, French, Lithuanian, Swahili, several types of Spanish, Hindi, Maori (pictured) and British Sign Language, to name but a few.
On a similar note, The Royal Shakespeare Company (based in the bard's birthplace of Stratford-Upon-Avon) is also presenting alternative views of the bard's most-loved plays as part of the World Festival, notably reimagining our young lovers as 'Romeo and Juliet in Baghdad'.
The Iraqi Theatre Company, which will perform the nation's favourite Shakespeare show in subtitled Arabic, reportedly plans to set the story against Iraq's rich history of conflict, ritual, poetry and music.
See the survey details and full results here