Many Britons feel that their fellow countrymen aren't taking this lockdown as seriously as the first one
A new YouGov survey, conducted for the Sun on Sunday, has looked at attitudes towards the national lockdown, including how seriously people are taking it, whether the rules should change, and when restrictions will finally come to an end.
How seriously are Britons taking this lockdown compared to the first one?
Two thirds of Britons people (69%) say they are taking this latest lockdown just as seriously as the first, but the vast majority (76%) think that other people are not.
The numbers of people saying they are taking this lockdown as seriously as the first is fairly consistent across all social groups. However, among those who are not, there is a generational difference.
Young people are more likely to say they are taking this latest set of restrictions less seriously (28%) than more seriously (8%), whereas the opposite is true for older Britons. Among those aged 65 and above, just 8% are taking thing less seriously, while a quarter (23%) are being more cautious this time around.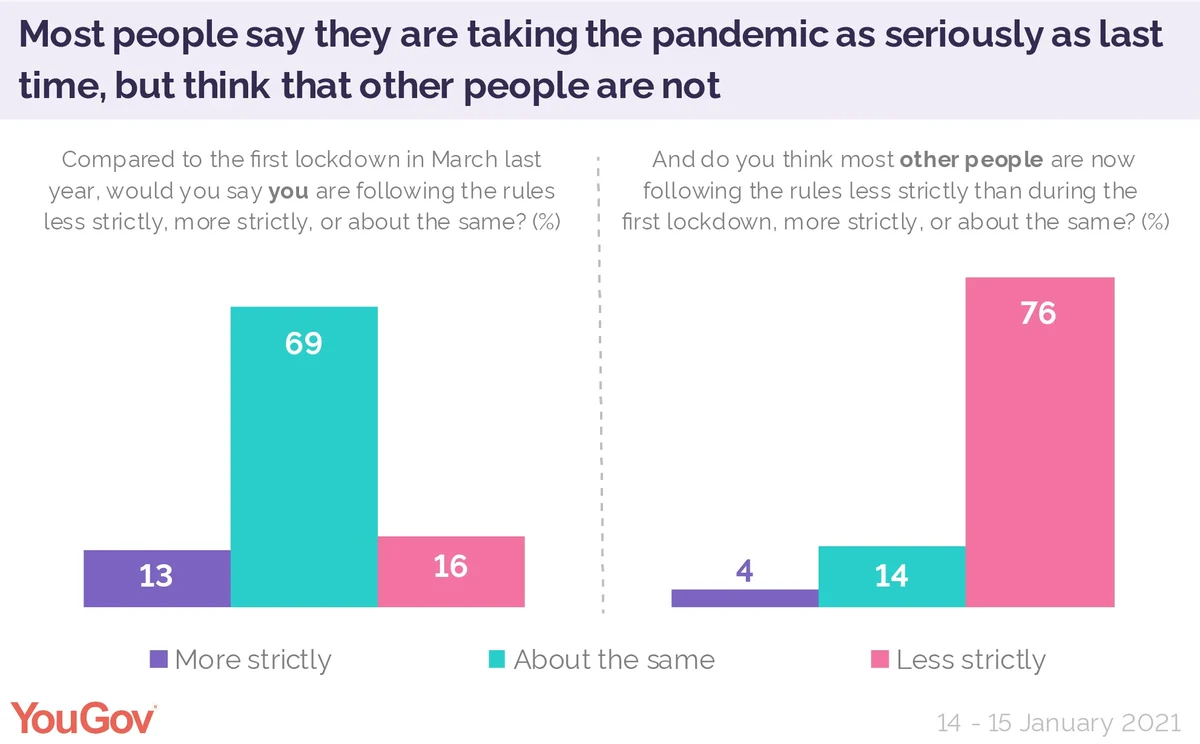 Despite this self-confessed difference, the proportions of people who think that others are not taking the restrictions as seriously is consistent across age groups, as well as most the other demographic breaks including the age brackets.
How do Britons want lockdown to change in 2021?
As our research has shown throughout the pandemic, people continue to support stricter lockdown measures, and oppose most of the measures suggested that would loosen restrictions. This continues to be the case in this survey.
Of the potential changes to lockdown we asked about, the one that gathered most support is a requirement for people to wear facemasks at all times in public, at 69%. Only 27% are opposed to such a rule.
Further to this, 57% of people would support closing garden centres, and in England and Wales 52% would also support the closure of nurseries (they are already closed in Scotland). Around a third of people (36%) would be opposed to closing childcare nurseries.
There are several changes to the rules that most Britons don't want to see made, however.
Ending support bubbles, which allow certain individuals to mix with people from one other household, is opposed by the majority of Britons (54%). Only one in three (36%) are in favour of such a move.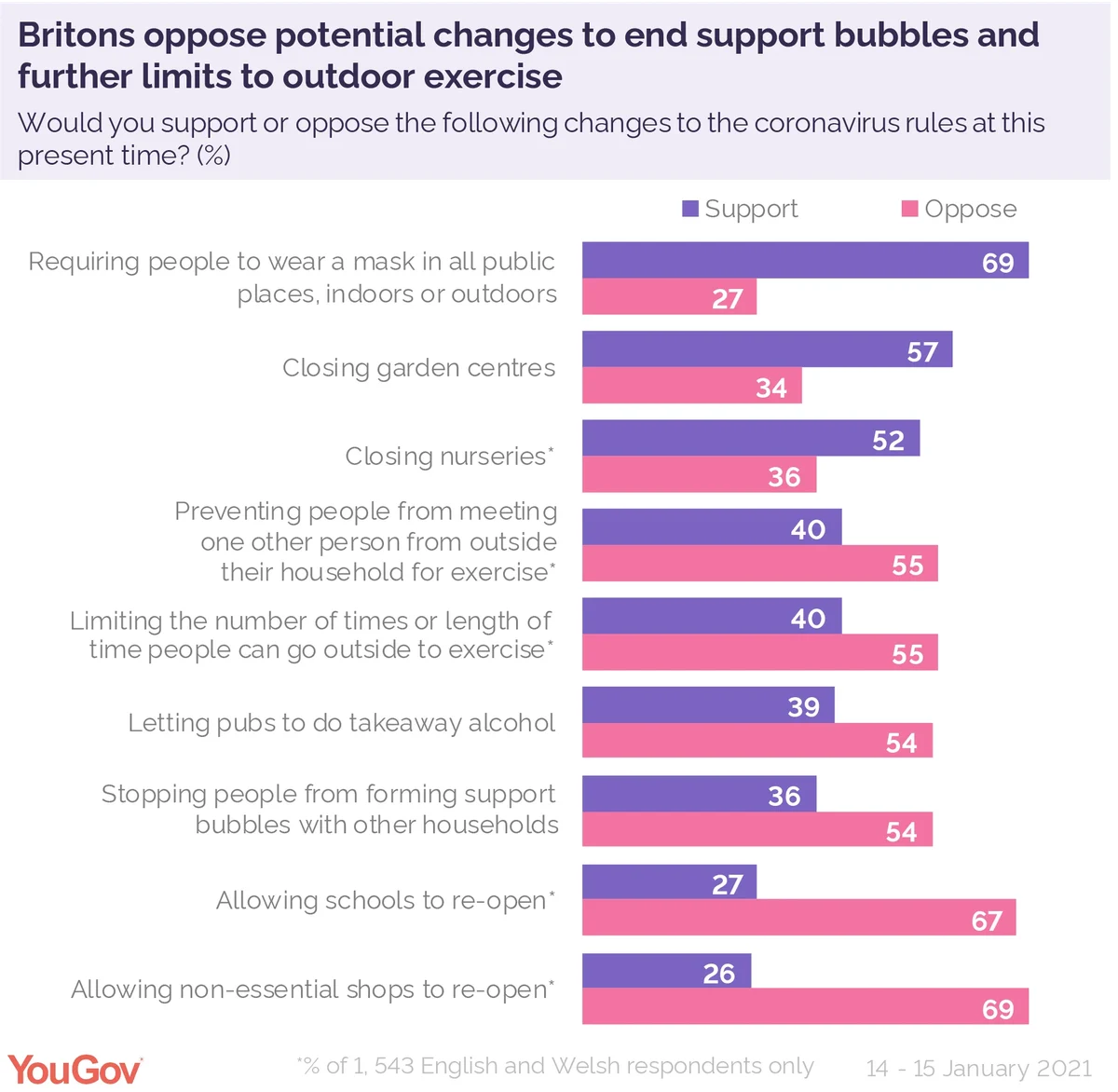 People are also not so keen on more rigorous rules around exercise. For example, 55% of people in England and Wales would be opposed to a ban on two people from different households meeting for exercise, with the same proportion rejecting calls to limit how long or how often people can go outside to exercise. In both cases, 40% of English and Welsh people would support tightening the rules in this way.
When it comes to relaxing rules, opposition is typically high. Half of Britons (54%) would be opposed to allowing pubs to resume offering takeaway alcohol, 67% oppose school reopening, and 69% don't want non-essential retail to reopen at the present time.
Do people think the lockdown rules are clear?
While ministers have consistently come in for criticism in the media for failing to provide clarity on coronavirus rules, most people think the rules of lockdown are clear.
Britons are most confident they understand the rules around face masks – 86% of Britons consider them clear, compared to 13% who say they are not.
Eight in ten people who say the rules on when people are allowed to leave home are clear (79%) as do seven in ten for restrictions on which shops and services are allowed to remain open (72%).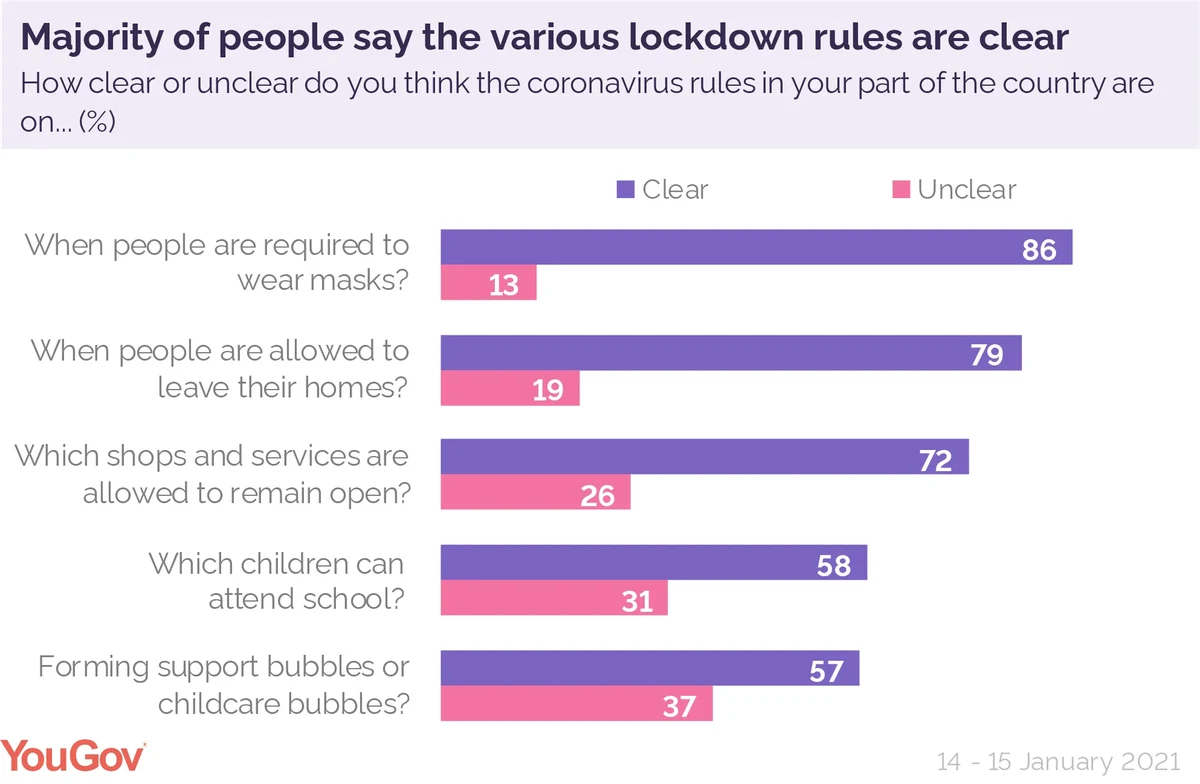 Britons are most confused over the rules surrounding support bubbles. While a majority do say the rules are clear on this (57%), a third say the rules here are unclear (37%) including one in ten people who think these rules are "very unclear".
How much longer will the UK have COVID-19 restrictions?
With the vaccine rollout underway, it is reasonable to think an end to lockdown might be in sight, and for an optimistic few it is – 3% of Britons think the last restrictions will be suspended within 2 months.
Overall the majority of Britons (54%) expect that COVID-19 restrictions will end within the next 12 months. A third of Brits (35%) expect it to take longer still, however.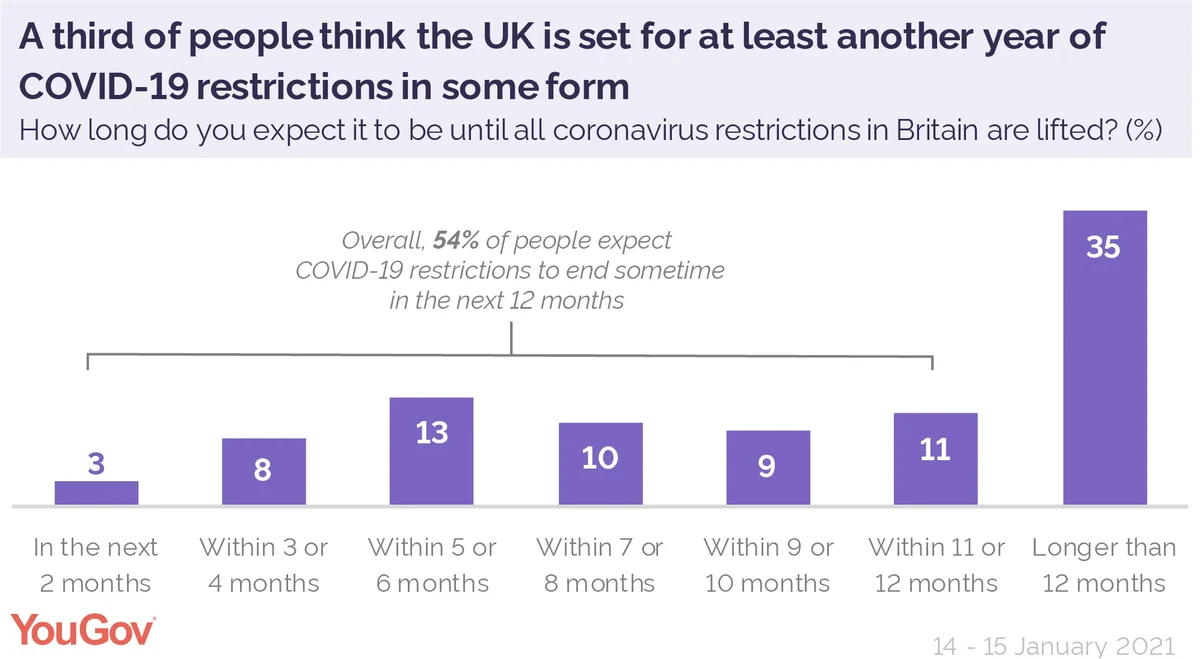 Britons aged 18 to 24 are the most optimistic, with a total of 29% predicting an end to restrictions in six months, compared to 20% of the over 65s.
See full results here