Research shows that standard mobile phones are on the wane, but smartphone take-up is slow
Latest research from YouGov's Technology and Telecoms team reveals that standard mobile phone ownership is on the wane as over a third of all standard mobile owners (42%) plan to get a smartphone next time they replace their handset. The SMIX (Smartphone Mobile Internet eXperience) study, conducted quarterly, has seen smartphone penetration rates more than double in the two years since the study began in December 2009.
However, though penetration rates look healthy amongst standard mobile owners, current take-up of smartphones remains slow; over a one year period (March 2011 – March 2012), just 42% of standard mobile owners will convert to a smartphone, an increase of just 6% in one year. The slow speed of this conversion is an indication that smartphone manufacturers and retailers need to do more in order to shift perception and remedy concerns about rejection amongst standard mobile owners.
Over half of all standard mobile phone users (55%) cited 'being happy with their regular mobile phone' as the reason for not owing/getting a smartphone. Other key reasons include: 'having no need for a smartphone' (47%), 'smartphones are too expensive' (32%) and 'tariffs are too expensive' (30%). The perception of smartphones being 'complex' also featured with 16% of respondents stating this as a reason.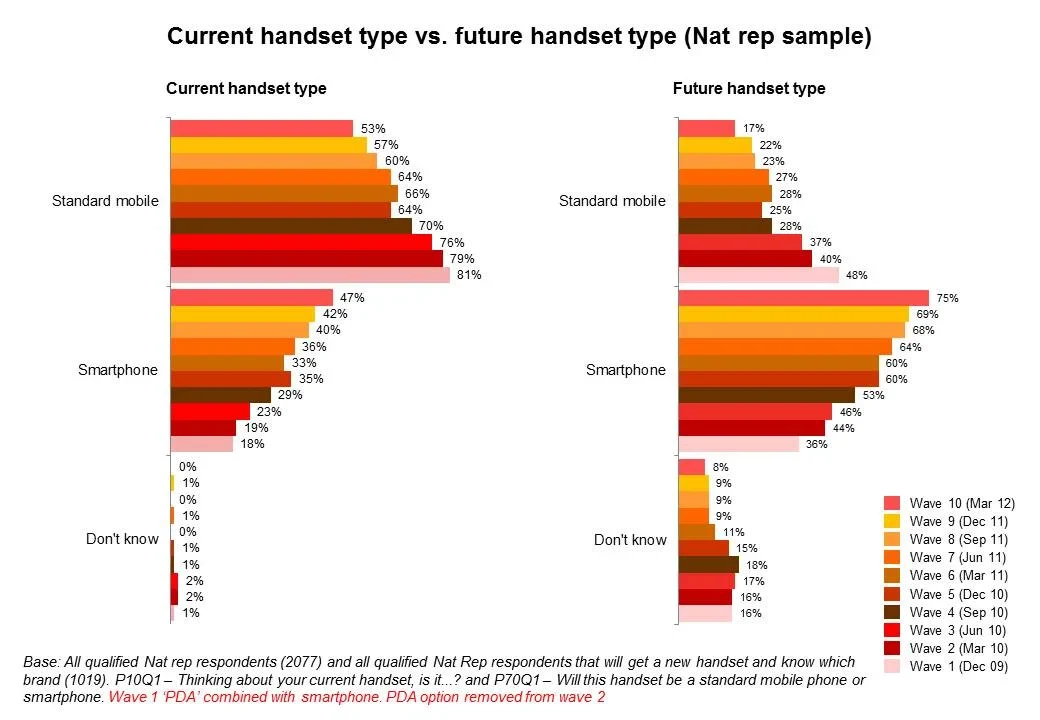 Rising popularity with older age groups
The gender of standard mobile phone owners remains unchanged, since the study began two years ago, with users of this group predominantly female (56%). However, the proportion of users aged 55 years+ has risen from 38% (two years ago) to 51%, indicating that smartphone take-up for older age groups has increased. Interestingly, previous YouGov qualitative research suggests that Google Maps is the key driver that would persuade standard mobile users of older age groups to switch to smartphones. The majority of standard mobile phone owners are on PAYG (64%) with contract penetration declining (28%), wave on wave and year on year.
Smart phone acquisition
Purchasing habits differ between the two groups; the majority of standard mobile phone users purchased their handset from non-operator retailers, reflecting the PAYG make-up of the group. Prominent channels for the purchase of standard mobiles include hand-me-downs from friends and family (12%), Tesco (10%), and Argos (4%). Just under a third of standard mobile users (28%) purchased their handset directly from the operator compared to over half of all smartphone users (55%).
Russell Feldman, Associate Director in YouGov's Technology and Telecom's team says: "There is certainly an opportunity for standard mobile phone owners to take advantage of several low-end smartphones currently on the market. Manufacturers such as HTC and Samsung, as well as OEM handsets, are successful at attracting low-end smartphone users and could potentially help convert standard mobile users – especially as there is an increase of PAYG in the smartphone market."
Feldman continues, "The 'one size fits all' approach does not work in this instance and customer service needs to be tailored to suit the requirements of the customer. The groups that are rejecting smartphones do not usually find empathetic sales staff in the retailers they frequent. This is a matter of salesforce training for operators and retailers."
Total sample size was 2,066 nationally representative British adults and 2,077 targetted smartphone owners.

See the full details and original press release here

For more information please contact the press office via email or call on +44(0)20 7012 6015