Britons want the rich to fund coronavirus recovery
As the coronavirus crisis subsides, the UK will have to reckon with the enormous economic cost that safeguarding the population's jobs and lives has racked up.
The government borrowed more money in April of this year than it did at any time during the 2009 financial crisis. The Bank of England has said that the economy could shrink by 14% as a result of the crisis, and that unemployment rates could double to 9%. The OECD expects the British economy to be the hardest hit of all major Western countries.
Clearly the government is going to have to find extra money from somewhere in order to fix the damage to the public finances. So what are Britons willing to support in order to do so?
The most popular measure for helping bring the public finances back to health is increasing income tax for higher earning Britons. Two thirds of Britons (67%) would back such a move, compared to only 17% who oppose.
When it comes to contributing to easing the burden themselves, however, Britons are far more reluctant. Just 25% would back an income tax increase for everyone, compared to 55% who oppose. Across all social groups half of people or more are opposed, with the exception of those aged 65+ (who are of course much less likely to pay income tax themselves).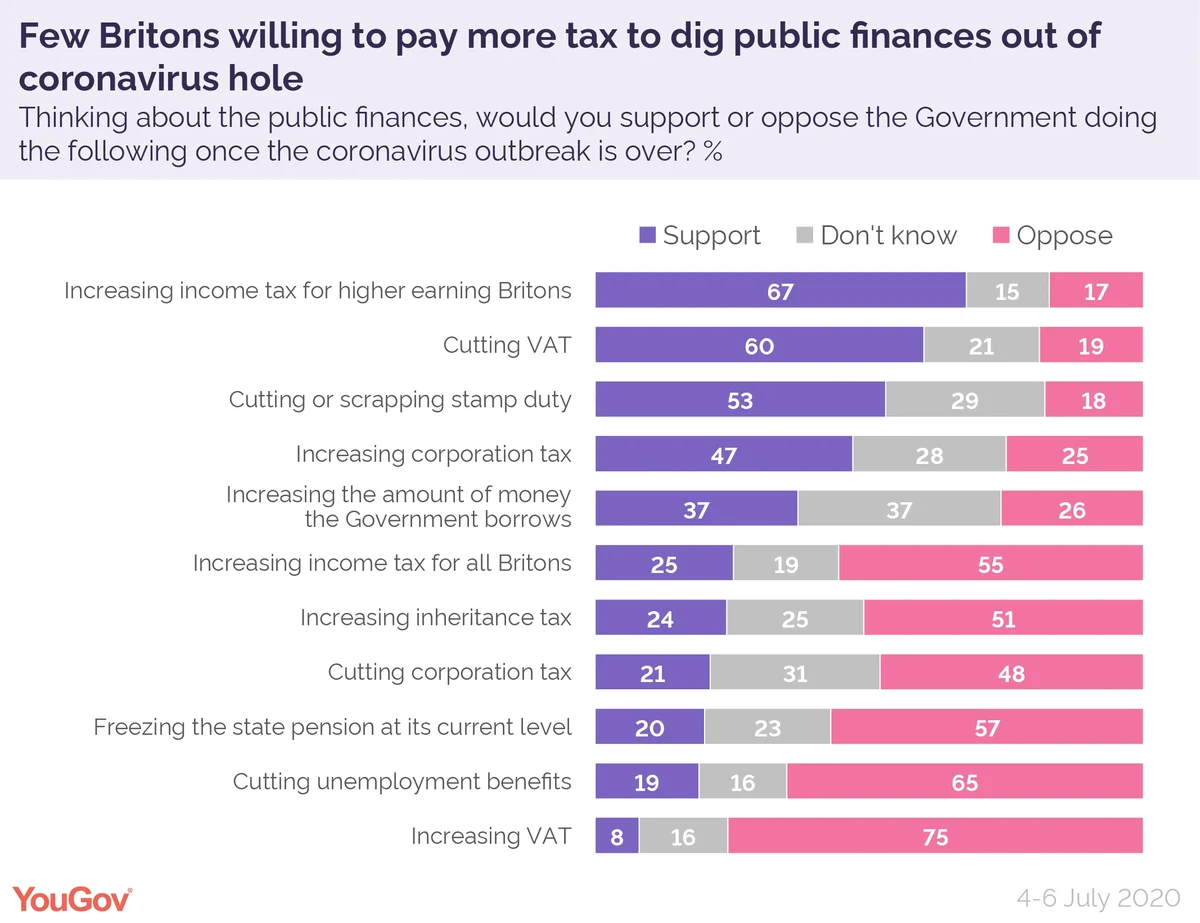 There has been some debate as to whether the triple lock on pension increases will need to be scrapped, as the unique economic circumstances would entitle pensioners to a big increase at a time when working Britons will have to tighten their belts.
It seems, however, that touching the state pension could prove unpopular. Freezing the state pension is backed by a mere 20% of Britons, whilst opposed by 57%. Among those aged 65 and above fully 83% are opposed. Britons aged 25-49 are still opposed, but by the much lower rate of 43% to 29%. (Most of the youngest Britons – those aged 18-24 – responded "don't know" to this and indeed many of the other questions).
The government has already announced cuts to stamp duty and VAT, which the survey found would be supported by 53% and 60% respectively.
Britons also tend to support an increase in corporation tax (by 47% to 25%) and increasing borrowing (by 37% to 26%).