YouGov research explores how the weekly Clap for Carers event is viewed and whether it is being used for ulterior motives
Every Thursday evening for the past ten weeks we have heard clapping and cheering on our streets as the British public recognised those working on the front line during the coronavirus crisis.
However, despite the campaign's original intention to bring attention to NHS workers, one in three (33%) now think it was hijacked for political gain, with Labour voters (41%) most likely to consider it politicised, more so than Conservatives (29%) and Lib Dems (33%). A further 11% of Brits think it always was and still is a 'political' issue.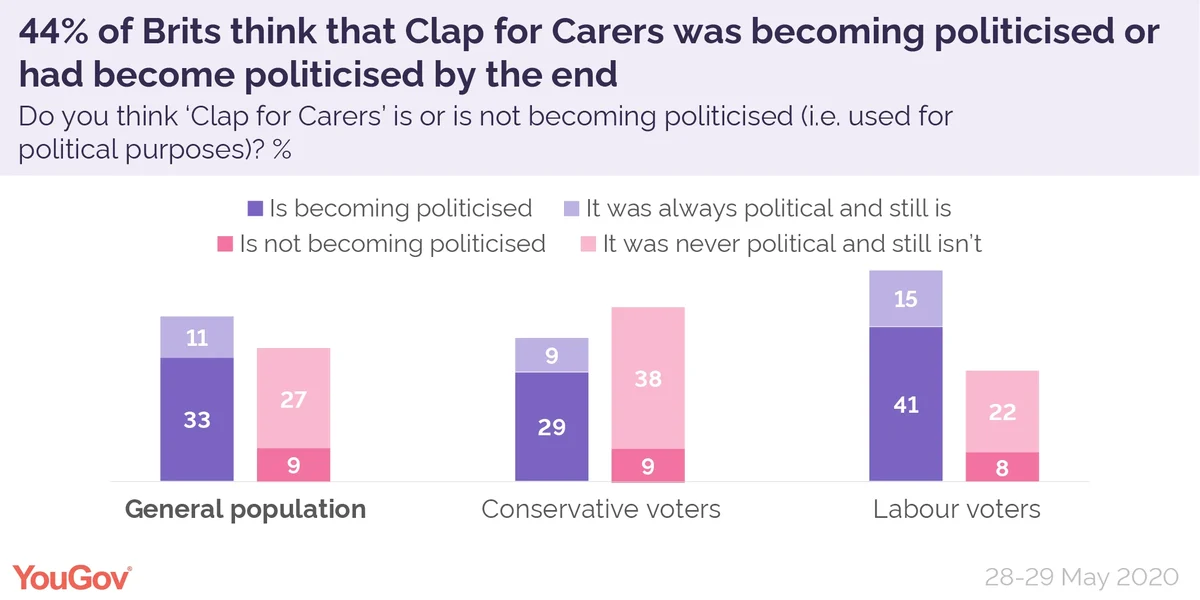 When asked about party leaders, a third (32%) believe Boris Johnson has not been sincere in his participation of Clap for Carers, almost double the proportion who think similarly about Keir Starmer (17%).
However, three quarters of Tory voters back the Prime Minister's sincerity (77%) compared to just over half of Labour voters for Keir Starmer (55%).
What will the neighbours think?
Clap for Carers provided a rare opportunity to see who lives down the road or in the same building. But Britons needn't have felt pressured into making an appearance, as only 8% think negatively of neighbours who didn't participate. Most are indifferent (51%) and 24% say they have always had a positive opinion of their neighbours.
Scepticism towards the intentions of those participating is present to some degree as 17% think people partake more to show that they are a good person, whilst 43% think people take part more to show their support. One in four think it is a mix of both of these (25%).
Despite this, on a broader level, three in four are satisfied their neighbours and the general public are being sincere (73% each) when participating.
Three in ten say they have never joined Clap for Carers
The vast majority of Brits (69%) say they have taken part, with 29% doing so weekly. The older a person is, the more likely they have participated; two in three of those aged over 65 (66%) have partaken, compared to 44% of those aged 18 to 24.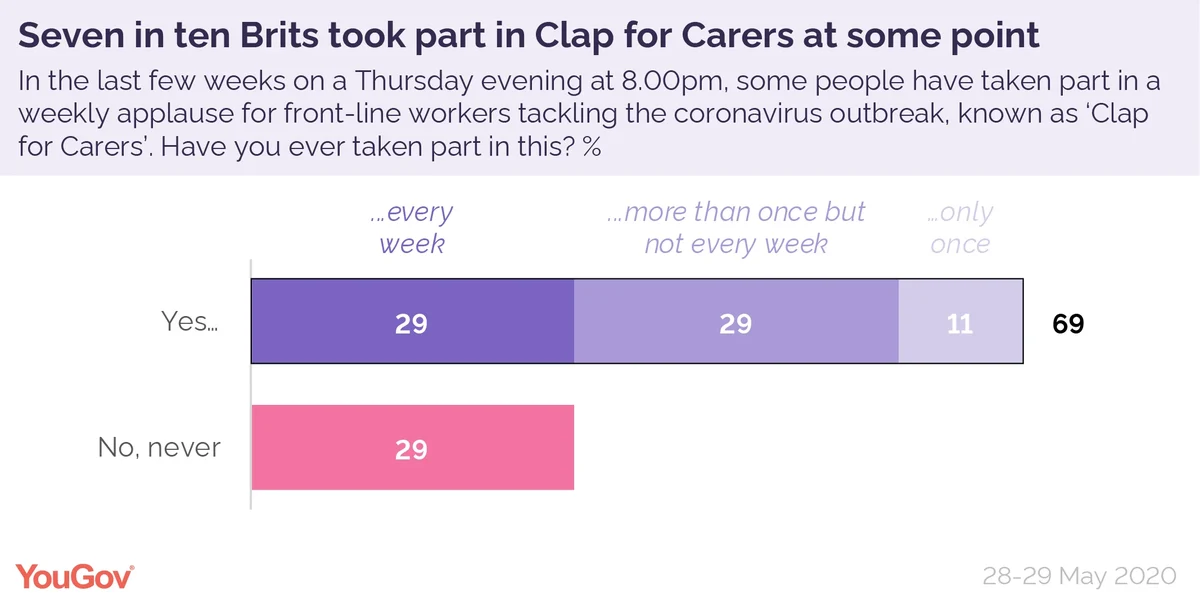 Three in ten (29%) Brits have never participated, with men more likely than women to be absent (35% compared to 24% of women).
Regardless of participation levels, 73% think the tribute has been a positive occurrence overall with older people being more enthusiastic than younger Britons (83% positive for those aged over 65, versus 54% amongst 18 to 24 year olds).
Will there be future tributes?
With half (50%) saying it has become less meaningful over time, it is perhaps appropriate that last Thursday was considered the final official Clap for Carers. In line with founder Annemarie Plas's sentiments, 63% agree it should have ended in its tenth week, whilst two in five think it should continue in some way either for the foreseeable future (9%) or with another end date (10%).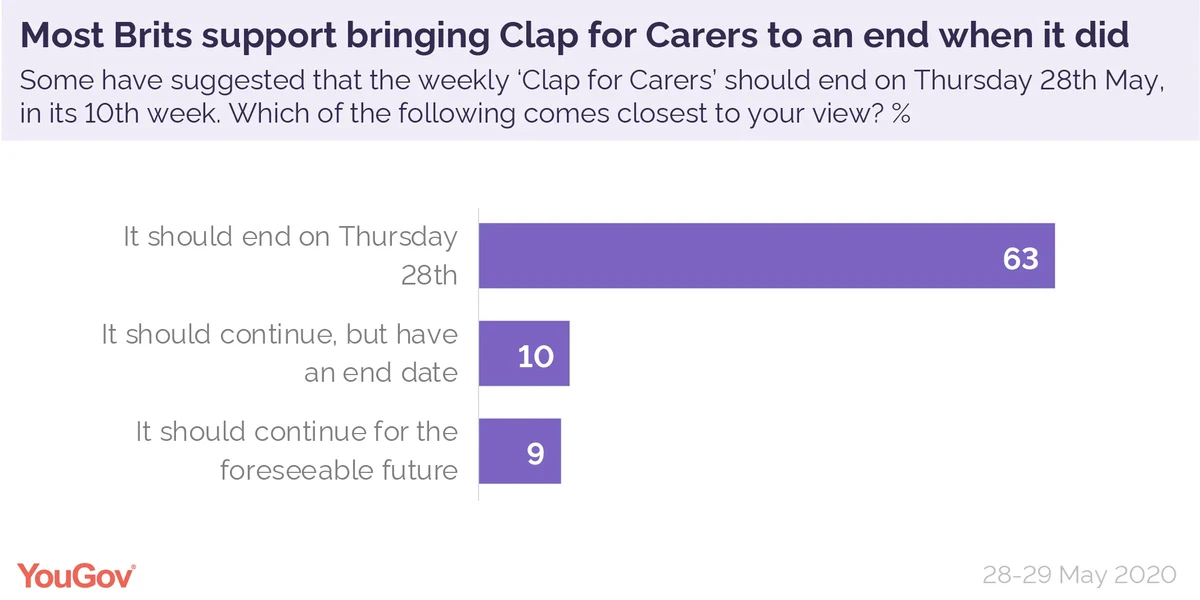 Opinion is less clear-cut when asked about commemorating the event on an annual basis; 43% say it should be marked yearly, but a third disagree (33%).