Three quarters are happy for MPs to be able to vote remotely, at least for the duration of the outbreak
Reports have emerged that business minister Alok Sharma has been tested for COVID-19, having begun to feel unwell during a speech in the House of Commons earlier today.
The government's decision to force MPs to once again be present in Parliament in order to vote, following a brief period of allowing remote voting, has been the subject of significant criticism and prompted a sizeable rebellion among Conservative backbenchers.
New YouGov research finds that just 12% of Britons think that MPs should be required to be physically present in the House of Commons to vote while the COVID-19 pandemic is ongoing.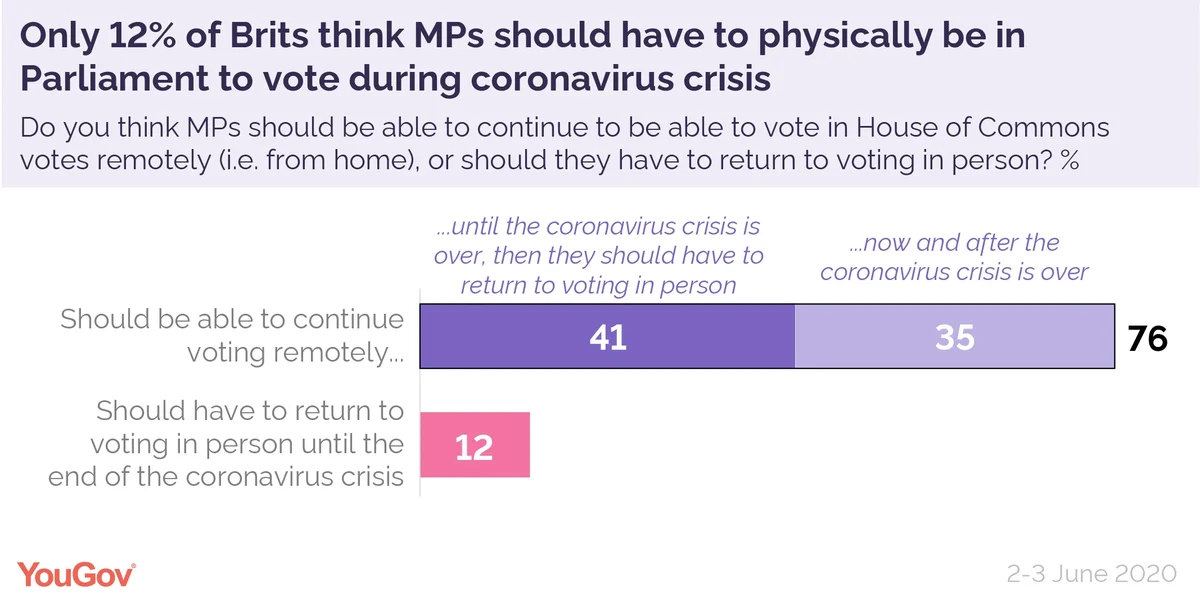 Fully three quarters of the public (76%) say that MPs should be able to return to remote voting, including 35% who would be happy for them to keep doing so even after the coronavirus crisis is over.
Leave and Conservative voters are the most likely to think MPs should be in Westminster in order to cast their ballots. However, this is still only a minority opinion among these groups, with just 20% of Brexit-backers and 17% of Tories thinking so, compared to 72% and 77% respectively who would let MPs vote from wherever in the country they find themselves.
Just 9% of Labour voters want MPs in Parliament during the crisis, as do 6% of Remain voters and a mere 3% of Lib Dem voters.