51% say racism not a problem in football; 71% say Suarez was wrong to not shake Evra's hand

Over half of Britons believe that while racism exists in UK football, it is not that much of a problem, our poll shows. Just over a third say that racism in football is a big problem.
However, when it comes to the latest row between Liverpool's Luis Suarez and Manchester United's Patrice Evra, the majority of football fans believe that it was wrong of Suarez to not shake hands with Evra before last week's Premier League game at Old Trafford.
Suarez's not acknowledging the Senegal-born Evra sparked anger in the football community, and was seen by some as an effort to reignite the feud between the teams after the Uruguayan was found guilty by an independent panel appointed by the FA of racially abusing Evra earlier in the season.
However, 51% say racism does exist in football in the UK but it is not a very big problem
36% say racism does exist in football in the UK and it is a big problem
But just 4% say that racism does not exist in football in the UK
71% say Luis Suarez refusing to shake Patrice Evra's hand was wrong
Only 7% say that Suarez's snub was right
22% think Suarez should not receive a punishment for refusing to shake Evra's hand, whereas 53% advocate some sort of further punishment for the Uruguayan
But 16% say he should not be allowed to play for Liverpool again
13% say he should be fined
9% say he should receive a three game ban and another 9% say he should be banned for longer than three games
6% say he should receive a one game ban
Suarez, who was widely criticised following 'Handshake-gate', recently issued a public apology for his behaviour on the Liverpool website after team manager, Kenny Dalglish, expressed his disappointment in Suarez's lack of sportsmanship.
'I have spoken with the manager (Dalglish) since the game at Old Trafford and I realise I got things wrong,' Suarez said. 'I've not only let him down, but also the club and what it stands for... I should have shaken Patrice Evra's hand before the game and I want to apologise for my actions."
However, Uruguayan captain, Diego Lugano, has defended Suarez, claiming that racism had "nothing to do with what happened with what happened" between Suarez and Evra.
"Everyone in football knows it is a big circus," he stated. "It's a football argument, and many false moralists and hypocrites have profited, and Luis is the only innocent party in this situation."
The President of Uruguay, Jose Mujica, has also lent his support to Suarez, arguing that the striker "does not merit the media pressure to which they have submitted him to, because we know that he is clearly not racist, that he never has been and that he never will be".
The handshake row: How did they handle it?
When it comes to how the players and clubs involved handled the furore, however, more than half of British football fans believe that Suarez handled the situation badly, while 1 in 4 say Evra handled the situation well.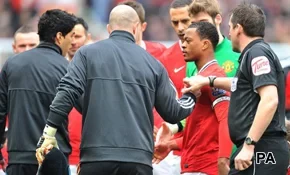 53% say Luis Suarez handled the situation badly, 6% say he handled it well
Opinion is split over Evra's behaviour, with 25% saying he handled the situation well and 23% say he handled it badly
35% say the Football Association handled the situation well, 21% say badly
39% say the Liverpool Football Club handled it badly, 13% say well
38% say Liverpool manager Kenny Dalglish handled it badly, 14% say he handled it well
27% say Manchester United handled the situation well, 18% say badly
26% say Manchester United manager sir Alex Ferguson handled the situation well, 18% badly
The always-contentious issue of racism in football has been under renewed spotlight in recent months: in addition to the Suarez affair, which was dealt with by the FA, John Terry, former England and current Chelsea captain, is currently awaiting trial for an alleged racial slur directed at QPR defender, Anton Ferdinand. He lost the England over the row, which also saw Fabio Capello step down from his position as manager.