37% Brits think legal time limit should be reduced; 34% think current time limit 24 weeks is fine
The British public is largely split over whether the legal abortion time limit in the UK should be reduced, our poll has found.
Just over a third think the limit (in the case of non-medical emergencies) should be reduced to below 20 weeks, compared to a similar number who feel that the limit should stay at the current 24- week cap.
Our poll also shows that nearly one in five would reduce the time limit to below 20 weeks, with just 5% wanting to increase the limit to higher than it is now.
37% of the British public feel that the legal time limit for abortion should be reduced, including 17% who would put the limit to below 20 weeks, and 12% who would reduce it to 20 weeks exactly
34% believe that the current time limit of 24 weeks should be kept
Just 5% would prefer to increase the time limit above 24 weeks
Only 6% want to ban abortions altogether
There is a clear gender divide on this delicate issue, with women more likely to want to reduce the time limit; 49% of women say that the time limit should be reduced, compared to 24% of men who agree. 30% of women would leave the time limit at 24 weeks, compared to 39% of men who think the same.
A notable difference of opinion emerges across the age groups as well, with 43% of the youngest group (18-24s) wanting to reduce the limit, compared to 35% of the over 60s. 27% of this younger group would keep the limit as it is, compared to 37% of the elder generation.
Abortion debate
The findings come in response to recent debates on the issue, including discussion surrounding proposals by Tory MP and former nurse Nadine Dorries (pictured).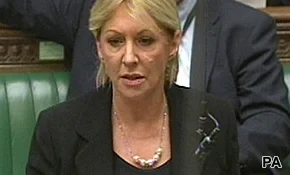 In 2008, a proposal by Dorries to reduce the abortion limit to 20 weeks failed to generate enough support, and in more recent months her suggestion that abortion providers should no longer be able to give counselling to women considering abortions on the basis that they were not sufficiently 'independent' was also rejected by the House.
Dorries has argued that she simply wants to protect the baby's 'chance of life', and has no wish to return to 'back street abortions', amid claims that medical science and new technology have made it easier for premature babies born at 22 – 24 weeks to survive.
However, chief executive of the Family Planning Association (FPA) Julie Bentley expressed her belief to the BBC that the vote was actually being pushed by cynical anti-abortion campaigners to reduce access to safe, legal abortion, while Shadow Health Minister Diane Abbott stated that Dorries' counselling suggestions were 'an attempt to import American sensationalism, confrontation and politicisation into these issues in a way that will be of no benefit to ordinary women'.
Regarding the suggestion to cut time limits, Bentley added that reduced it 'even by a few weeks, would have directly contradicted medical and scientific evidence about foetal viability and would only have exacerbated the desperation of the small percentage of women needing later abortion.'