In the autumn of 2016, after Jeremy Corbyn second landslide victory among the Labour party membership, there was a real worry from many Labour party insiders about the future of the party.
The politics of the membership, so the argument went, is so different from the rest of the country, and the members are so unwilling to compromise on their beliefs, that they would never again elect a leader whose politics can appeal to the wider electorate.
The first part of that argument is definitely true. Our polling over the past four years has consistently shown how the membership is out of step with the rest of the country. Whether it is voting overwhelmingly for Remain in the EU Referendum, being in favour freedom of movement, opposing Britain's nuclear deterrent, or supporting abolishing the monarchy, there are countless examples of how the views of the membership differ wildly from the wider public.
But it is the second part of that argument that is now being called into question, with Keir Starmer leading in our leadership election polls, despite Rebecca Long-Bailey being considered "continuity Corbyn" candidate.
Actually, polling has shown that members are more willing to compromise than many in the party thought. In our most recent poll, just 14% said they were completely unwilling to compromise on any Labour values in order to win, with the majority of members saying they were willing to make at least small compromises if it made the party more electable.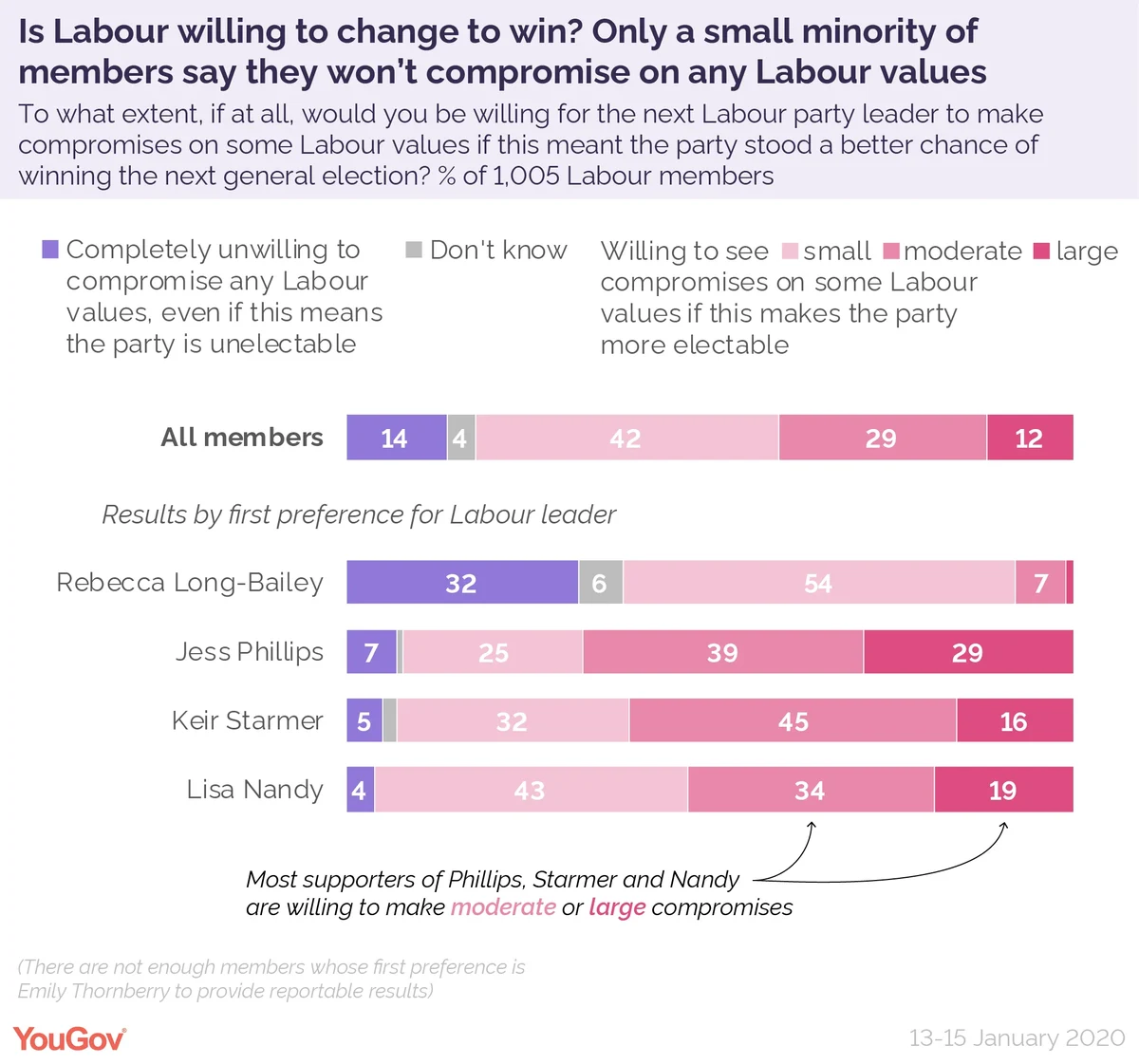 Digging into our polling in the past leadership elections, it is clear that the issue for those opposed to Corbyn has not been that members weren't prepared to compromise, but that there wasn't a candidate they were willing to compromise for. For example, in the 2016 Labour leadership election, it is true that members didn't see Corbyn as an election winning force, and just 33% said it was one of his key qualities, and just 38% thinking he was a strong leader.
However just 12% and 14% respectively thought those things of Owen Smith, so they broke for the candidate they thought was closer to them politically.
The picture this time around is significantly different. While members are slightly more likely to associate Rebecca Long Bailey than Keir Starmer as sharing their political outlook, by 37% to 32%, Keir holds a comfortable lead when it comes to those other election winning leadership qualities.
Over seven in ten (73%) members associate him with competence, compared to just 38% who say the same of Rebecca Long Bailey. He is also more likely to be perceived as strong (49% to 26%), and likely to lead Labour to victory at the next general election (by 43% to 16%).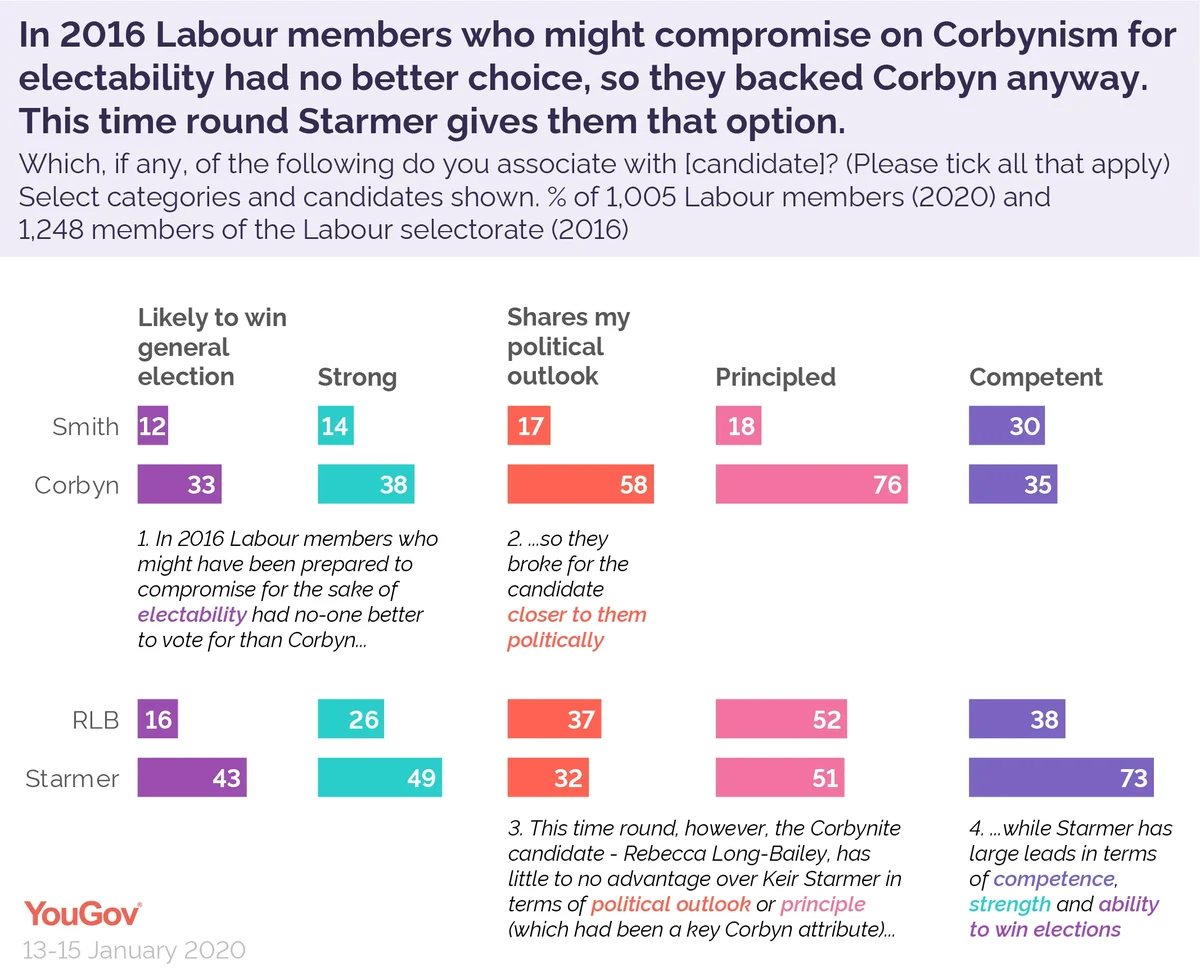 And perhaps more importantly still is the desire for a leader who is principled, even if those principles don't line up exactly with the memberships overall outlook. In recent polling for Queen Mary's University, a leader with "strong political convictions" was seen the quality ranked as being most important among the membership.
And it is in this regard that Starmer is similar to Corbyn. It was one of the key drivers of support for Corbyn among the membership, with 76% associating the quality with him in 2016, compared to just 18% who said the same of Owen Smith. But Keir Starmer has closed the gap on this front against his challenger from the left, with the majority of members (51%) thinking he is principled, as well as Rebecca Long-Bailey (52%).
So Keir Starmer has succeeded in pulling ahead of the "Corbynite" candidate in a way that many within the party never thought would be possible. Of course that lead could disappear over the coming weeks, but the fact that he has sold himself as a principled politican who members are willing to compromise for stands him in good stead.
Photo: Getty