A snap YouGov survey of 1,646 viewers conducted immediately after the debate shows a close split, with 51% of viewers saying that Boris Johnson performed best, once "don't know" responses were removed, and 49% backing Jeremy Corbyn.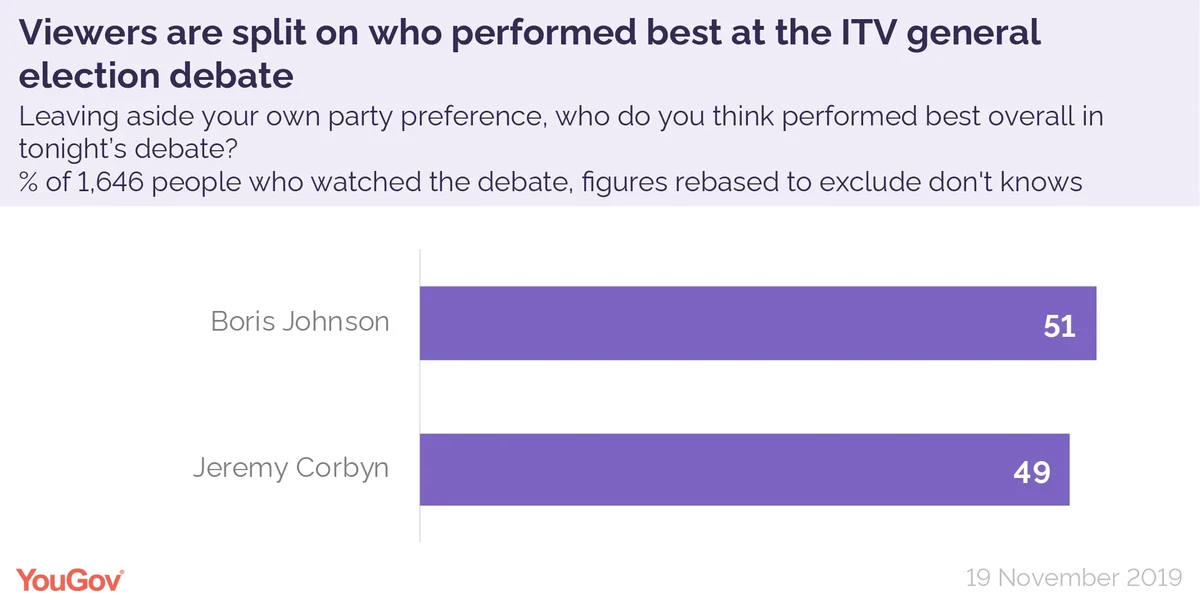 Most viewers think both leaders performed well, with two thirds (67%) saying so of Corbyn and almost six in ten saying likewise of Johnson (59%).
Looking at how viewers voted in 2017 shows, unsurprisingly, that Conservative voters are more likely to back Boris (88%) and Labour voters much more likely to think Corbyn did well (86%).
Nevertheless, almost half of 2017 Tory voters (48%) think the Labour leader did well, and one third (33%) of those who opted for Corbyn's party at the last election think the Prime Minister made a decent show of it.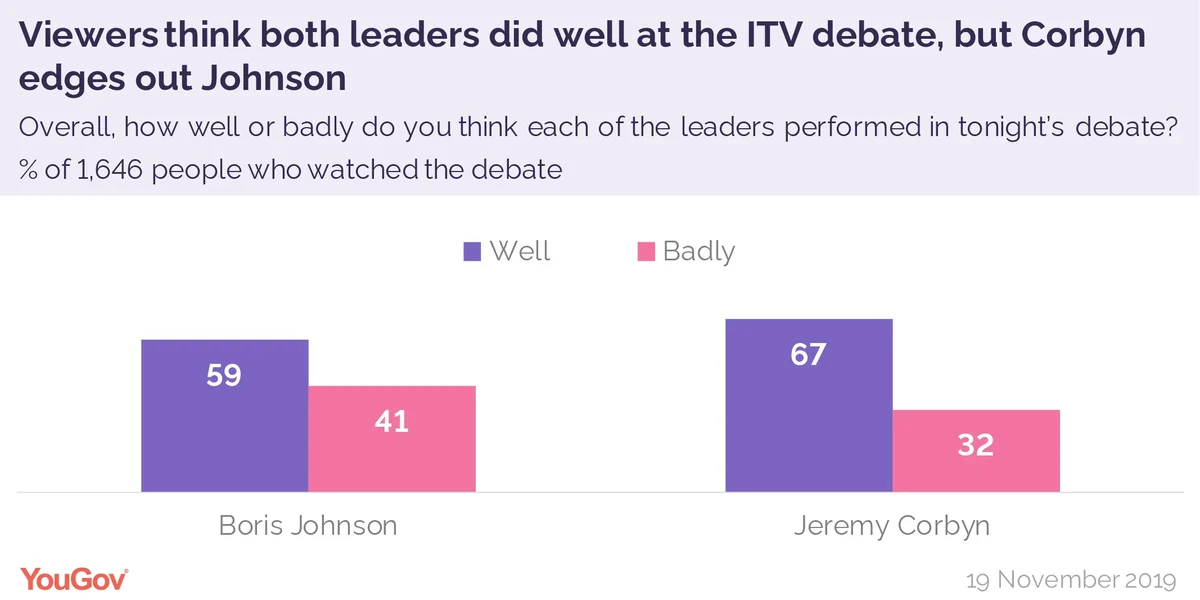 Johnson seen as more Prime Ministerial and likeable, Corbyn as more in touch and trustworthy
In terms of characteristics the two participants displayed during the debate, Corbyn beat Johnson among viewers on "in touch trust with ordinary people" (by 59% to 25%) and "trustworthy" (by 45% to 40%).
Boris Johnson, for his part, came across as more "Prime Ministerial" (54% to 29%) and "likeable" (54% to 37%).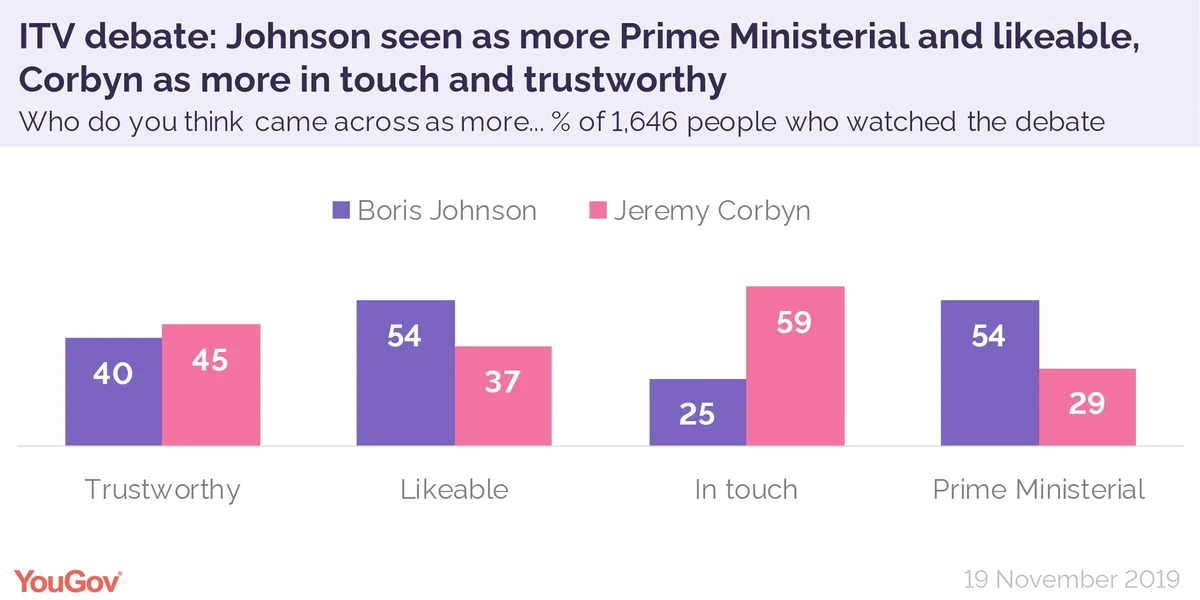 With the Prime Minister clearly attempting to tie every part of the debate back to Brexit – even offering to leave a copy of his Brexit deal under Jeremy Corbyn's Christmas tree – he will be pleased to find he is seen as having performed better on the topic of Brexit, by 63% to 27%. Among Leave voters his lead is 87% to 9%, and although among Remain voters he comes behind Corbyn it is not as far behind as he might have worried at 39% to 45%.
Corbyn for his part was keen to play on safe Labour ground of defending the NHS, and he too will be pleased to see this rewarded by the audience. By 54% to 38% the Labour leader was seen as being better on the NHS.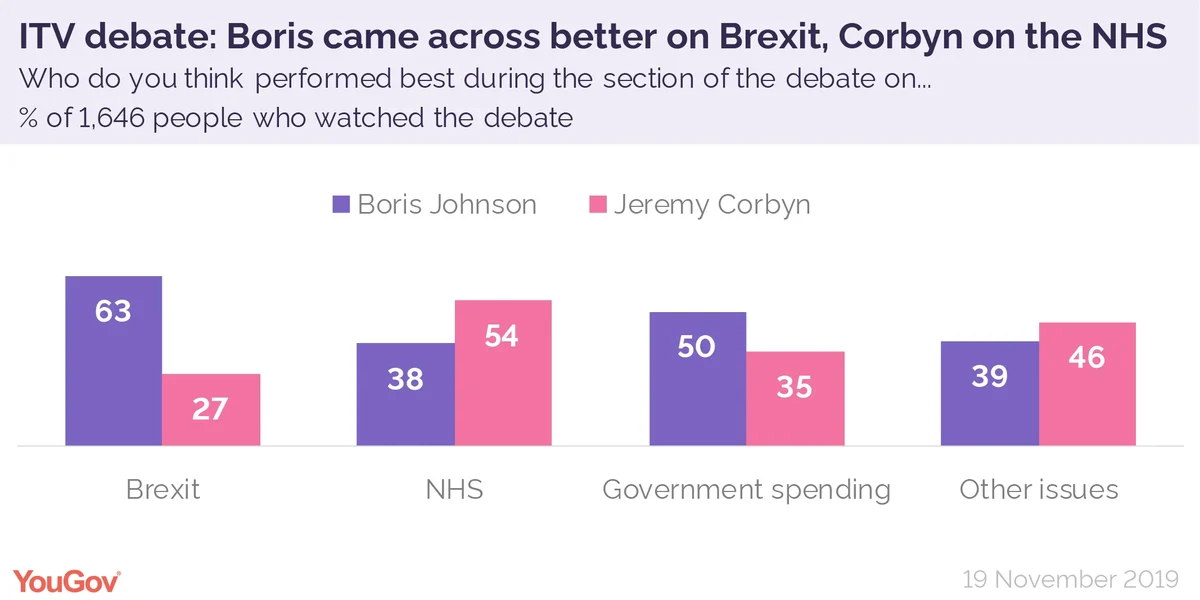 Most viewers come away from the debate feeling frustrated
Nevertheless, the abiding emotion emanating from the audience is one of frustration. With both leaders avoiding answers on key questions, fully 58% of viewers chose the word "frustrating" when asked to choose up to three words to describe the debate.
Slightly more hearteningly the second most common sentiment was that the debate was "interesting" (45%), followed by "engaging" on 35%.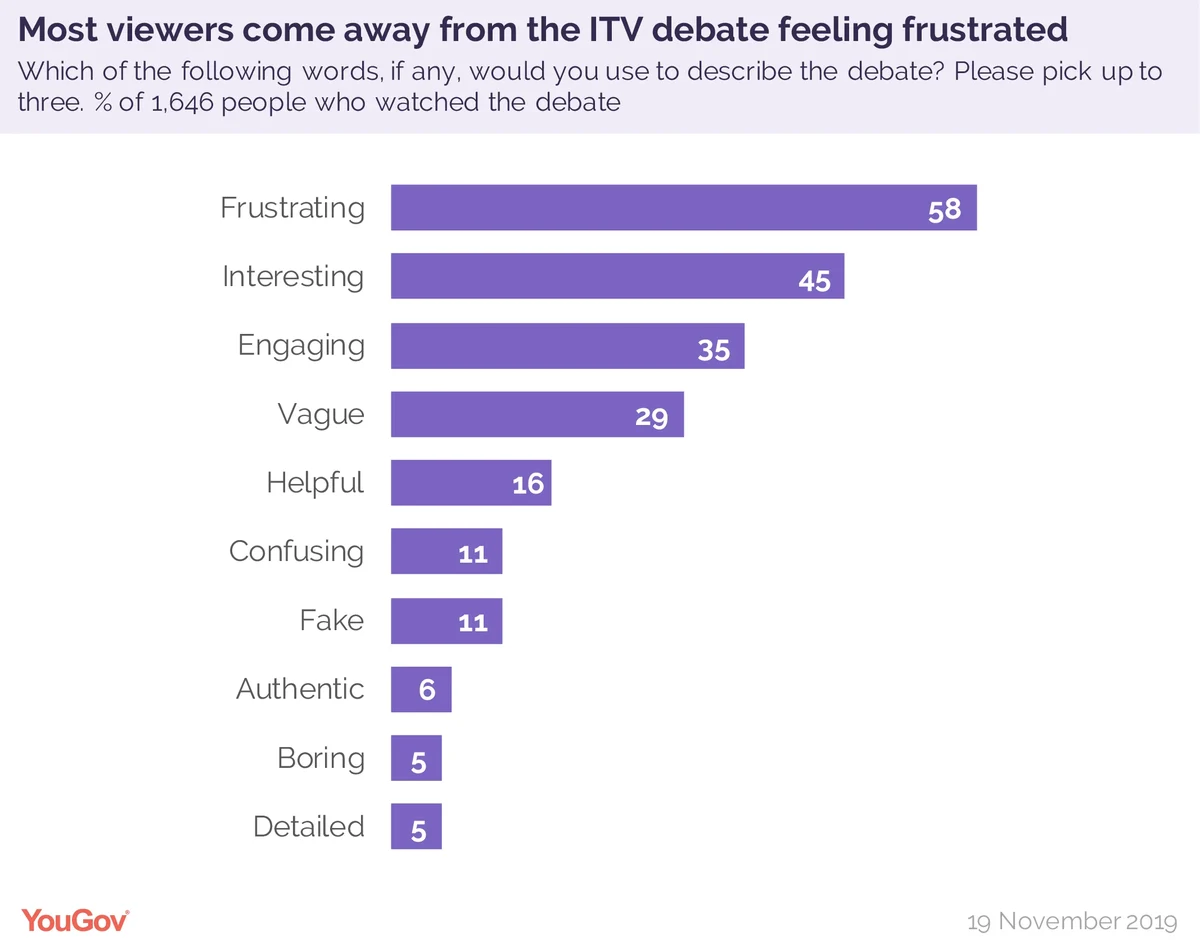 A preliminary survey published this morning showed that the public expected Boris Johnson to perform better by 37% to Jeremy Corbyn's 23%. You can read more about that survey here.
Photo: ITV