Close to half of Britons believe the Duke of York's response has damaged the monarchy
Following Prince Andrew's car-crash interview over the weekend, a new YouGov poll finds that a mere 6% of Britons believe the royal's account of his friendship with convicted sex offender Jeffrey Epstein.
By contrast, fully half of people (51%) say they don't believe him. The remaining 43% are unsure.
The lack of trust in the Duke of York is consistent across society. Only 5% of 2017 Labour voters believe the prince, as do 8% of Conservatives and 9% of Lib Dems. Men and women are about as unlikely to say they believe him – 7% and 5% respectively – and among age groups the figure varies from 3% to 8%.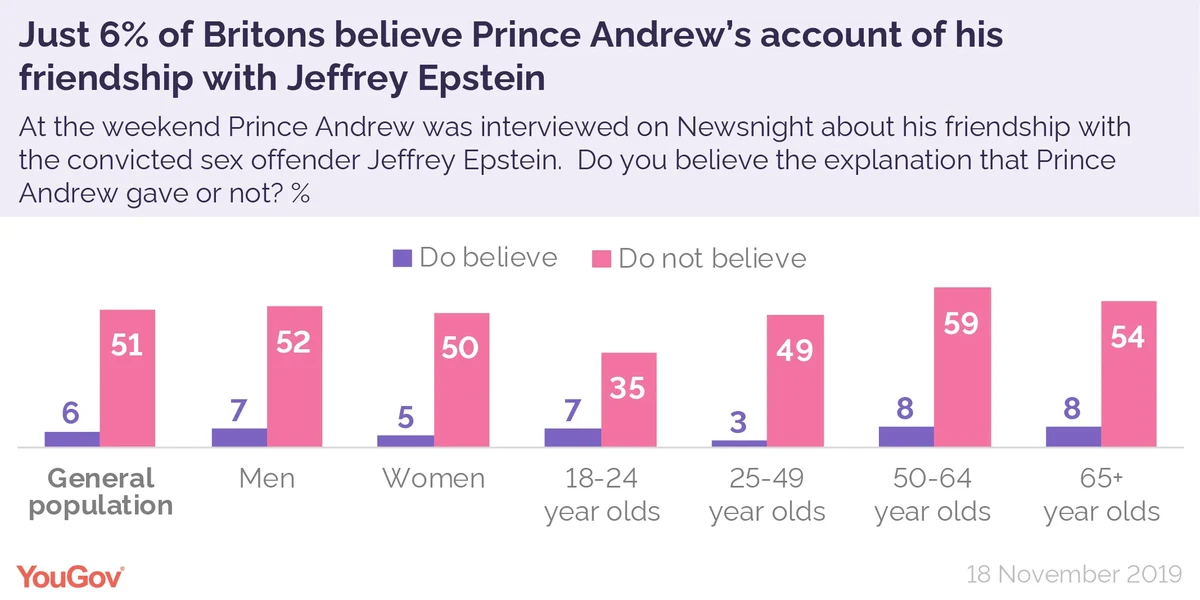 Approaching half of Britons (47%) believe the way Prince Andrew has responded to the allegations has damaged the monarchy. Only a quarter (23%) believe that he has not, with the final 30% responding "don't know".
Again, these figures are broadly consistent across society. The lowest figure for the proportion of people who think the Duke of York's actions have damaged the monarchy is 38% - and that's only because they're more likely to answer "don't know", at 44%. By contrast, 55% of those aged 50-64 think the royal family has been damaged, the highest rate of any social group.
Photo: Getty