Most Britons favour balanced view, saying neither pride nor shame should be taught in schools
British history should be viewed in a measured manner, and schools should neither teach British children to be proud of the nation's past nor encourage them to be especially negative about our historical exploits, our poll of British adults has found. Instead, a balanced view of history is needed, which takes into account the country's finest moments as well as exploring some of its worst, the results show.
British history: positive or negative?
When given a choice of options about how to view British history:
53% felt that 'we have reasons to be proud of the way Britain has evolved…but also reason to be ashamed'
32% were clear that 'we should be proud of the way Britain has evolved…and have more reasons for pride than the citizens of any other major country'
9% thought that 'we have more reasons for shame than pride'
Ideal British history teaching
Similarly, a significant majority (79%) thought that British history teaching should contain 'a mixture of the positive and negative…with no attempt made to persuade pupils to be either proud or ashamed'.
Just 15% thought that teaching should 'concentrate mainly on positive aspects' and teach pupils to be 'proud', and a tiny 1% thought that teaching should 'concentrate mainly on the negative' so pupils 'grow up well aware of where Britain has gone wrong'.
Split on current teaching
Asked about how history is currently generally being taught in schools, regardless of how they think it should be, more of a split emerged.
While 44% confessed that they didn't know about history teaching these days, a quarter (25%) of people did feel that it currently contains a 'mixture of positive and negative aspects', with no 'attempt made to persuade pupils to be either proud or ashamed
Compared to around one in five (21%) who thinks that teaching today concentrates mainly on positive aspects of the past
And just 9% who say that history teaching today concentrates mainly on the negative
The main issues in Britain's own history often centre on the country's once-global empire, which, most now accept and our poll suggests, was behind certain practices and events that give us as a nation reason to be ashamed.
Apologising for the past?
Indeed, oppressive practices in many of our past colonies, such as 'Jewel in the Crown' India, Burma and Australia to name but a few, have often been the subject of national apologies: in February 2010, then-Prime Minister Gordon Brown said 'sorry' for the part played by the UK in sending over 100,000 children to former British territories, including Australia, while former PM Tony Blair has also formally apologised for atrocities committed in Ireland and later Northern Ireland in Britain's name.
On the other hand, the nation's victory in major conflicts such as World War II is among those events still widely popularised as a source of national pride and patriotic stoicism in times of struggle. This may help explain, for example, phenomena such as the current explosion of the 'Keep Calm and Carry On' slogan ‒ which was originally seen on propaganda posters in the war-stricken 1940s, which also bore witness to the much-applauded Battle of Britain and Churchill's 'we shall never surrender' speech.
Teaching the past
History teaching itself can be an especially contentious issue, with debates regularly surfacing over what should and should not be on the curriculum. Controversial figures such as historian David Starkey (left) often polarise opinion, while Education Secretary Michael Gove recently re-ignited the debate when he criticised British teaching for 'trashing our past' and stressed that more 'narrative' was needed in classrooms.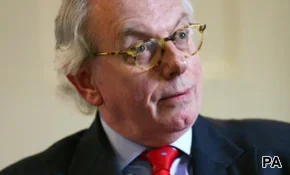 The inspectorate Ofsted said that it was a 'myth' that not enough British history was taught in schools, but a report stated that more effort was needed to enhance pupils' 'chronological understanding'.
'Teaching within context'
While historian, broadcaster and MP Tristram Hunt agrees with the need to teach chronology as a foundation for learning, historical author Amanda Foreman points out that 'teaching pride' doesn't 'mean ignoring the bad', but 'teaching within context, with imaginative sympathy'.
Another well-known figure to have weighed in on the public debate is broadcaster and journalist Jeremy Paxman, whose recently published book 'Empire: What Ruling the World Did to the British', ostensibly aims to address his personal (and itself debated) belief that 'no one has much to say about [it]' these days. Seeking to highlight the Empire's often patchwork history, Paxman states, his book aims to 'explain' with necessarily drawing definite conclusions.
Indeed, as our poll results suggest, the debate over current teaching practices still very much continues.