With Parliament now back in session following the Supreme Court's decision that prorogation was unlawful, new YouGov research shows that Britons are split on the impact it will have on the Brexit process
Two in five Britons (41%) think that the unanimous decision by the country's most senior judges will make it harder to reach a Brexit deal by October 31st, but a similar proportion (37%) don't think it will change things.
Following the ruling, Britain's senior judges are trusted by half of Brits (50%) to make decisions in a fair and just way; only 42% of Conservatives trust decision-making by judges, around half the proportion of Labour (68%) and Lib Dem (77%) voters. Overall, two in five (40%) do not share this view.
Nearly half of Brits (47%) agree with the ruling made by the Supreme Court on Tuesday. Around three quarters of Remainers (76%), 2017 Labour (72%) and Lib Dem (71%) voters all backed the decision. One in three (31%) disagreed with the ruling overall, as did the majority of Conservatives (59%) and Leavers (62%).
Public split on whether Queen was misled
The initial prorogation of Parliament was permitted by the Queen following advice from Boris Johnson. Now that the move has been ruled illegal, Britons are generally split on whether the Queen was misled: 38% think she was, and 34% think she wasn't.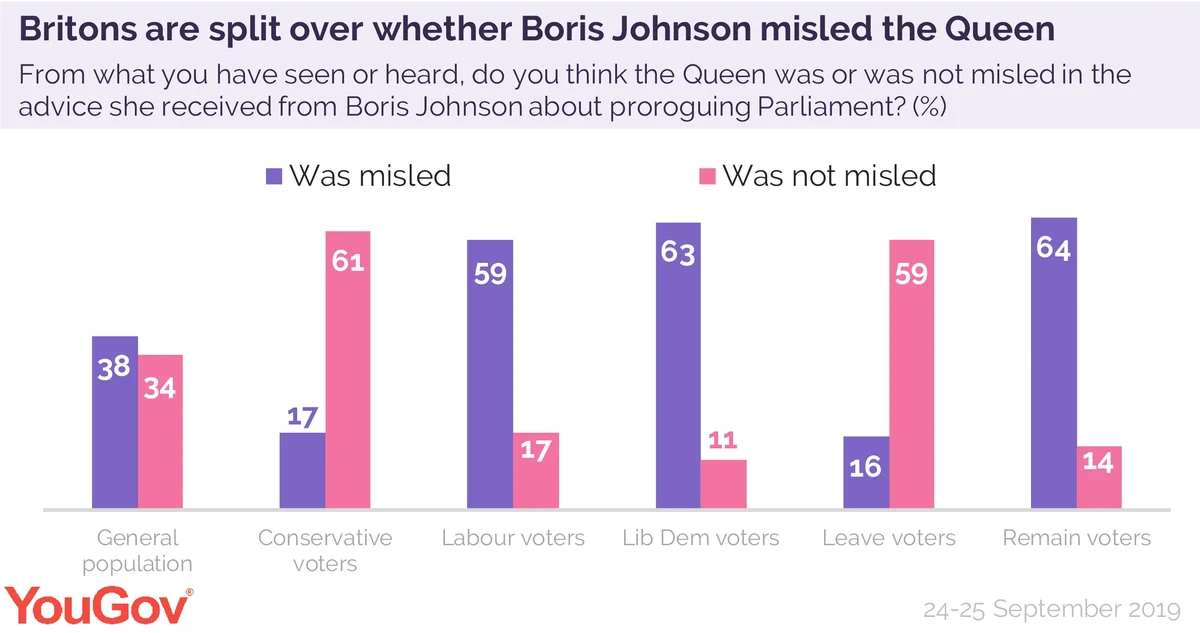 According to the Court ruling, Boris Johnson can now prorogue Parliament again to hold a Queen's Speech and set out the Government's policies – but only as long as it does not stop Parliament from carrying out its duties "without reasonable justification".
Two in five (41%) would oppose Boris Johnson proroguing Parliament again before October 31st, including a majority of Labour and Lib Dem voters (64% and 66% respectively). A third of Britons (32%) would support another round of prorogation, including two-thirds (64%) of Conservatives.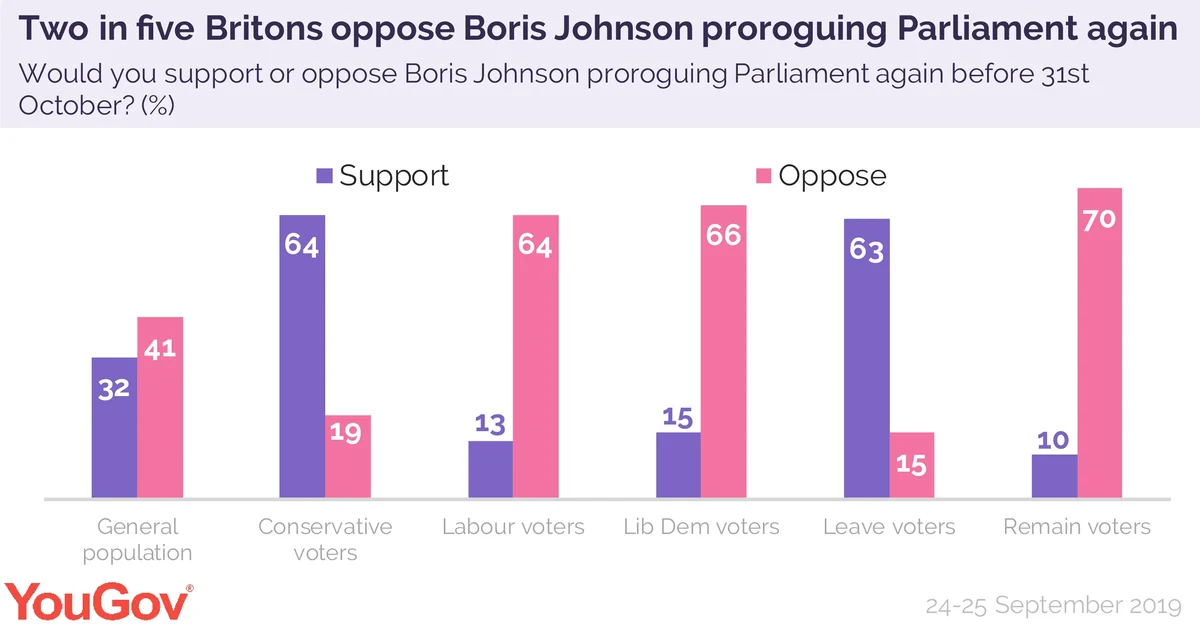 How has this impacted Boris?
YouGov polling conducted after the verdict shows no discernible change in voting intention; at this stage it's too early to tell what long-term impact the ruling has.
However Boris Johnson's character traits have suffered in recent weeks. Whilst he tends to be seen as a decisive and strong leader, there is a five point increase in the proportion of people who see him as incompetent (50%, up from 45% at the beginning of the month) and people are now four points more likely to see him as dislikeable (up from 41% to 45%). Half of Brits now think he is dishonest (52%), putting on an act (50%) and out of touch with ordinary people (56%).
Image: Getty