Latest YouGov favourability data also finds that Lib Dem leader Jo Swinson is now much more recognisable to the public
While Boris Johnson has been mostly making headlines for his struggles against Parliament, new YouGov polling reveals that the ongoing Brexit chaos hasn't adversely affected the PM's favourability figures - which are, in fact, slightly higher now than they were when he first moved into Downing Street.
Currently 38% of Brits say they have a favourable view of the Prime Minister, compared to 54% with an unfavourable opinion of him, giving a net score of -16.
This is an improvement from the net score of -21 he received when the same survey was conducted on 23-24 July, just as he had been announced as having won the Conservative Party leadership contest and would therefore be the next Prime Minister.
By contrast, Labour leader Jeremy Corbyn languishes far behind on a net score of -49, with 21% of Britons holding a positive opinion of him and 70% a negative one.
Since becoming Prime Minister, Johnson has experienced a boost of 21 points among Conservative voters (from a net score of +29 on 23/24 July to +50 now) and a 16 point increase among Leave voters (from +30 to +46).
At the same time, he has only experienced very modest declines among other parts of the electorate; a decrease of 4 points among Labour voters and Remain voters (to -65 and -75, respectively).
Jo Swinson is now more well-known – but is she any more well-liked?
With the Lib Dem conference wrapping up today, leader Jo Swinson will be pleased to see her profile has been raised among the general public.
When we first polled her favourability in early June, 62% of people answered "don't know" when asked their opinion of her, indicating that substantial sections of the population didn't even know who she was.
By the time Swinson was elected leader of the party, this figure was still as high as 50%. As of today it has closed to 37%, a comparable figure to that her predecessor Vince Cable during his last days as party leader (33% in mid-July).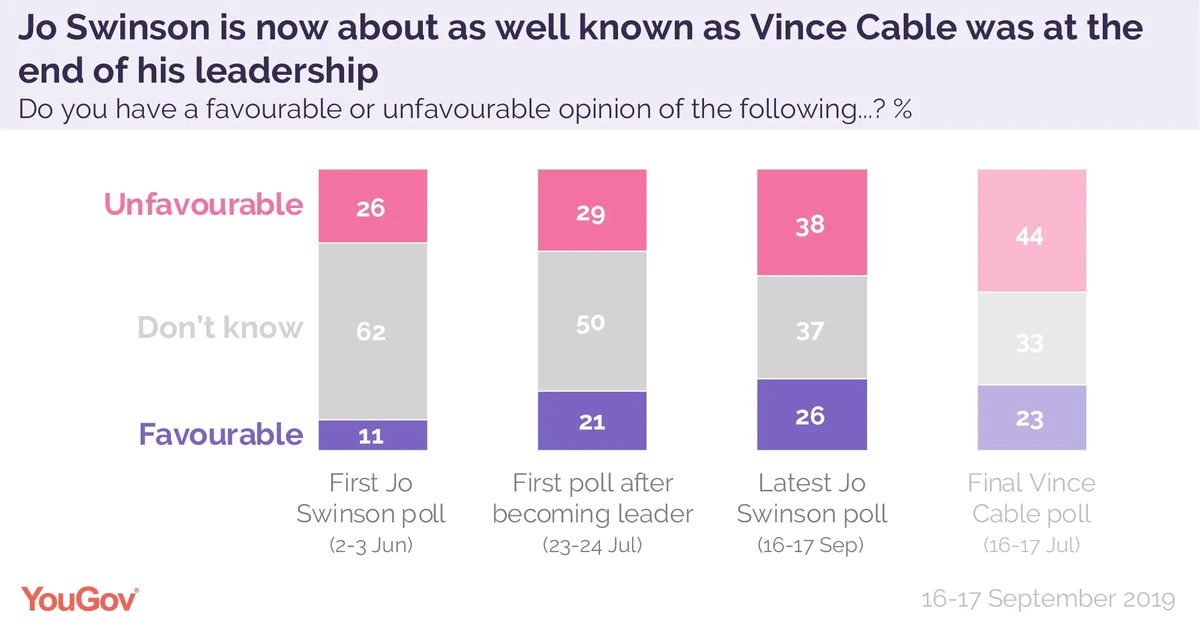 Unfortunately for Swinson, being more well-known hasn't translated to becoming more well-liked in net terms. Currently 26% of Britons have a favourable view of the Lib Dem leader, but 38% have an unfavourable view, giving a net score of -12, a score broadly similar to the -15 she started out on.
She is, however, substantially more popular among Remain voters than Jeremy Corbyn. While the Labour leader holds a net favourability score of just -24 among this group, Swinson stands at +29, and that is still with 31% of Remain voters not knowing who she is. Whether that popularity can be redeemed for Lib Dem votes at the forthcoming general election is another matter.
Photo: Getty