The new Prime Minister has a woman problem
Boris Johnson appears to have been gifted a significant bounce in the polls during his first fortnight as Prime Minister. YouGov's latest voting intention figures put the Tories at 32%, up from 25% in the final poll before he took over.
To analyse this trend a bit deeper we have interviewed over 8,000 people about their views on Boris Johnson. A third (34%) of the population has a favourable view of the new leader, compared to 55% who have an unfavourable view - giving him a net favourability score of -21.
But the large sample size allows us to look beyond these topline numbers and dig a lot deeper into the types of people that like and dislike the new Prime Minister, and the makeup of the "Boris Coalition".
Johnson's core audience voted Leave and Conservative in 2017
Our data shows that the PM's core supporters are, as you would expect, clearly Conservative Leave voters. Amongst those who backed the party at the last general election, and Leave in the referendum a year earlier, Boris has a far higher net favourability of +61 (78% favourable, and 17% unfavourable).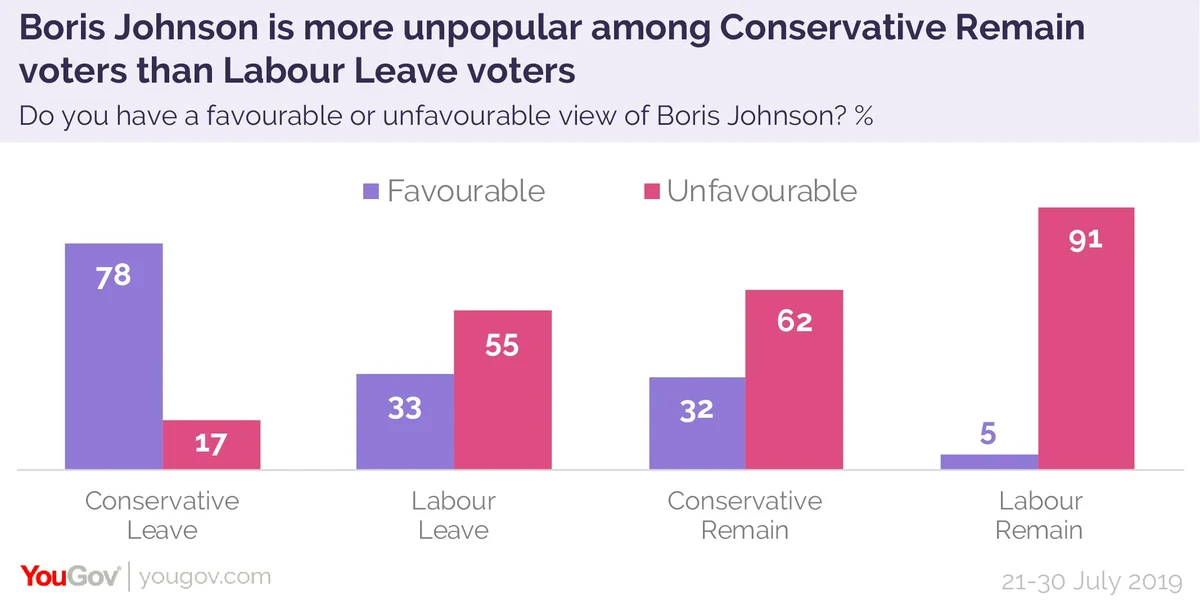 He is least popular amongst the reverse of this group, with a net favourability score of just -86 amongst those who voted Labour and Remain in 2017.
It also appears that Boris divides more along Brexit lines than he does along party lines, and he is less popular amongst Remain voters who supported the Tories back in 2017 (net score of -30), than he is amongst Leave voters who supported Labour (net score of -22).
This is where most of the "Boris bounce" has come from in the recent opinion polls, with those Conservative Leave voters (who had previous abandoned the Tories for the Brexit Party after the UK's exit from the Union was delayed in March) moving back into the Conservative fold.
In our final poll before Boris took over, three in ten (30%) of those who voted for the party in 2017 said they would support the Brexit Party, but this has now dropped to just 18%.
In terms of geography, this means that the areas which have the highest proportion of Conservative Leave voters tend to also have the most favourable view towards the new Prime Minister. So Boris Johnson is the most popular (or, at least, the least unpopular) in the East of England (net score of -7) and the South West (net score of -8).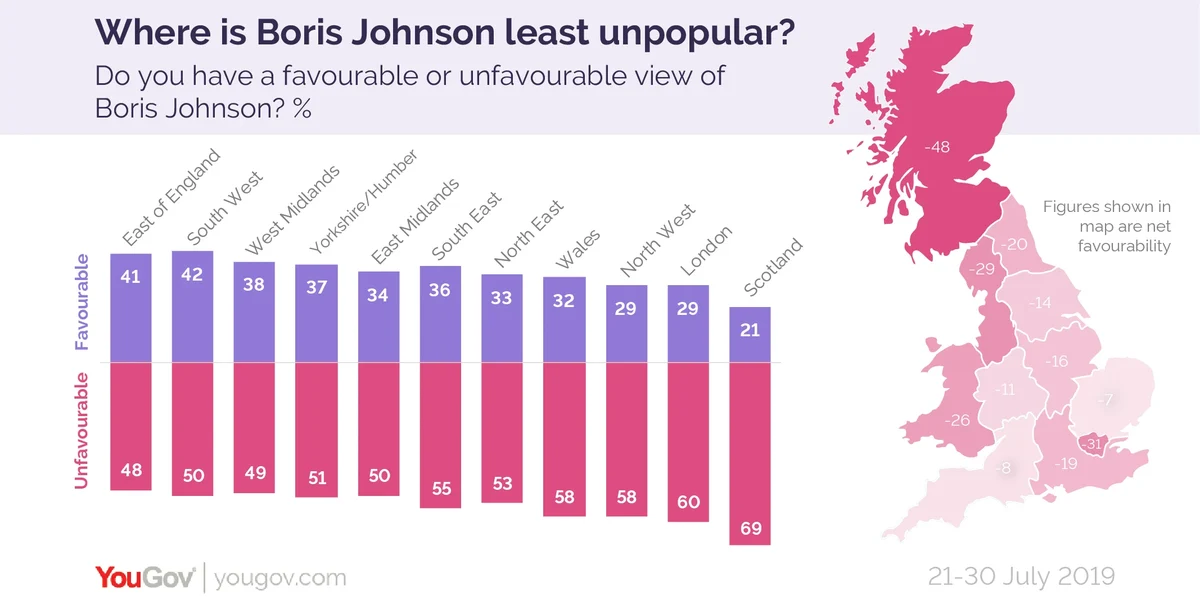 He is least popular in the areas where the Conservatives have been weak in recent years, such as in London, the city he ran for two terms, where he has a net score of -31, or where they have been more reliant on Remain voters, such as Scotland, where he has a net favourability of -48.
Does Boris Johnson have a gender problem?
In addition to struggling to reach out beyond the Conservative and Leave base, Boris also appears to be much stronger amongst male voters than he is amongst female.
Amongst men the new Prime Minister has a net favourability of -17 (38% favourable, 55% unfavourable) whereas amongst women he has a significantly lower score of -25 (30% favourable. 55% unfavourable).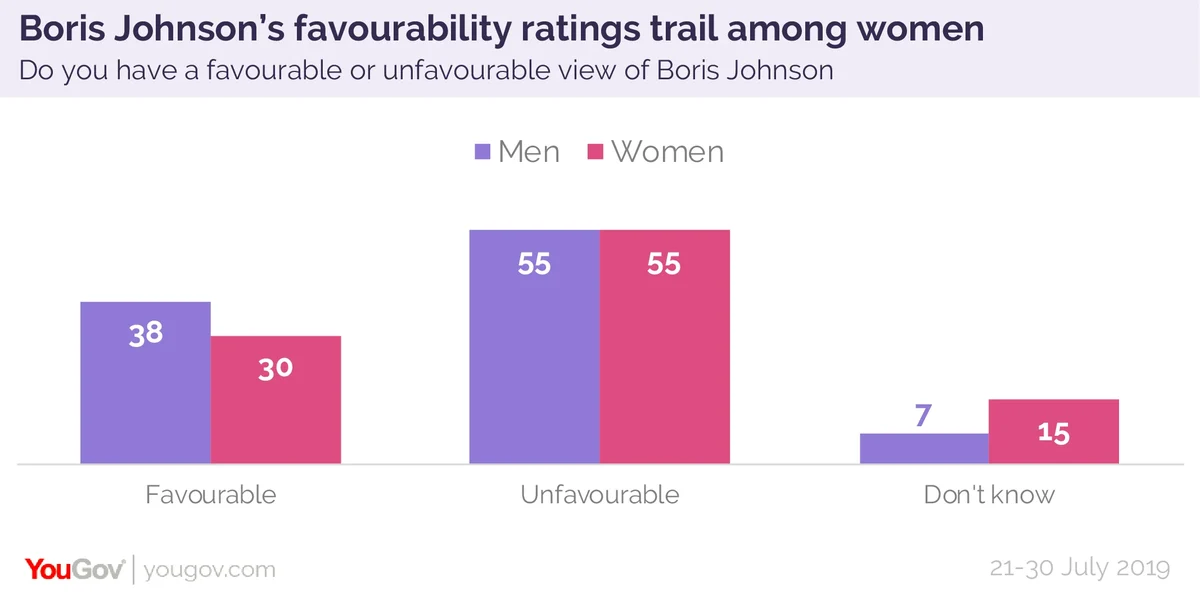 This is still true when accounting for the slight gender split in past voting habits (both the 2017 election and EU referendum). For example, amongst male Conservative Leavers Boris has a net favourability of +68, whereas amongst females in this group he has a net favourability of just +56.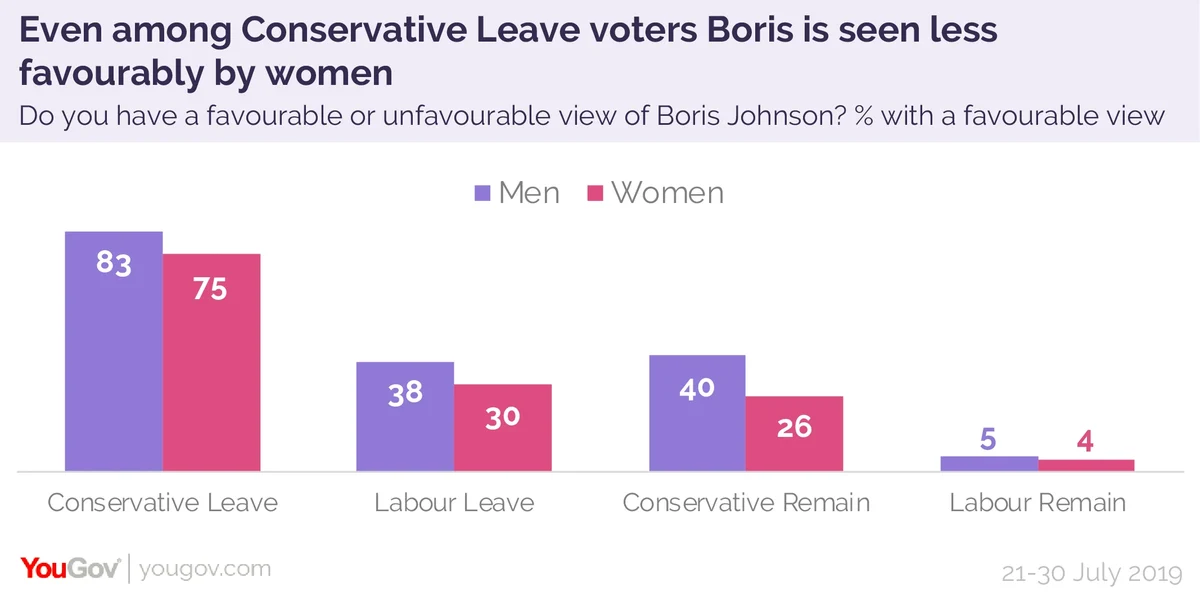 This gap is most stark amongst Conservative Remain voters, with males in this group having a much warmer view of him (net -15 favourability) compared to females (net -41).
Part of this might be because, whilst there wasn't a dramatic gender divide on how the public voted in the EU Referendum, there is a gender divide on whether people now think it is acceptable to Leave without a deal. Our Brexit MRP model previously showed that men are more likely than women to first preference No Deal (31% to 24%) whereas female voters are more likely than male voters to prefer a deal (30% to 23%).
Boris is doing nothing to bring young voters over to the Tories
Age became one of the biggest dividing lines at the last election, with the Conservatives having a difficult time winning over younger voters. The party won the support of just two out of every ten voters under the age of 24, compared to over six in ten of those aged over 65. It doesn't appear that the new Tory leader is currently doing much to reverse this trend.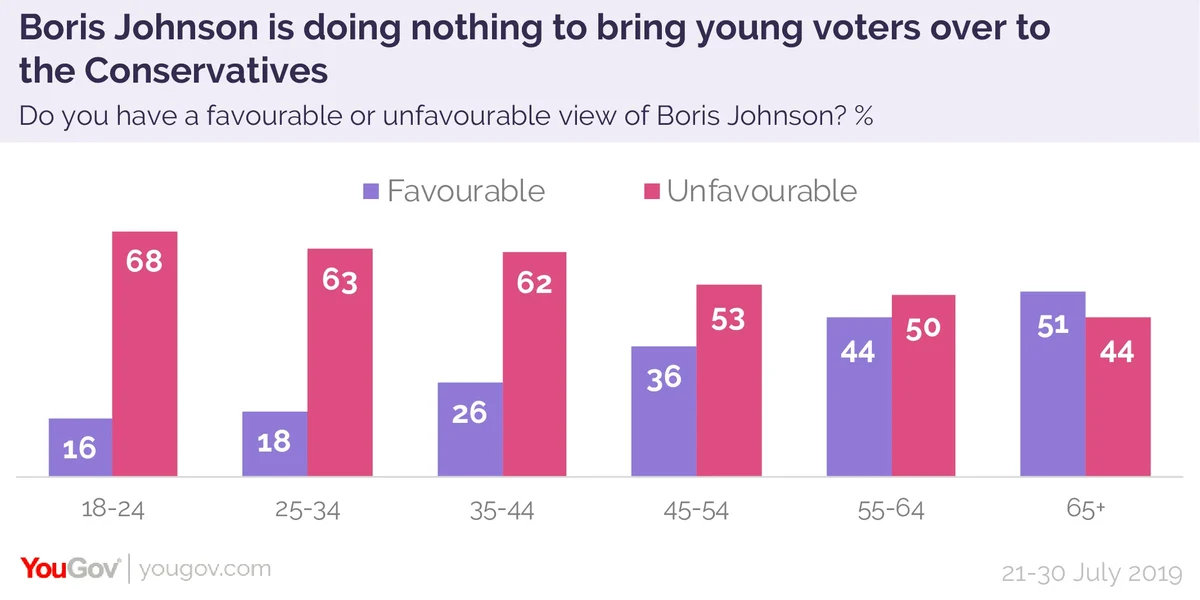 Amongst 18 to 24 year olds he has a net favourability of -52, whereas those over 65 are the only group to have a net positive view of him, with a favourability score of +7. This is quite a steep age gradient, where a voter who is 10 years older is approximately 7% more likely to have a favourable view of Boris Johnson. The crossover point, where a voter becomes more likely to have a favourable view of Boris Johnson than an unfavourable view, is around 69.
So whilst we are still very early into his premiership, we can already see the outlines of the "Boris Coalition". It is a coalition that is skewed towards Leave and more male than Theresa May's, but still dramatically tipped towards older voters.
The key challenge for the new Prime Minister is that his support is almost wholly reliant on Leave voting Conservatives, many of whom have already flirted with the Brexit Party in recent months. With the October 31st Brexit deadline fast approaching he will need to make sure he keeps them onside if he wants to make his premiership a success.
Photo: Getty