The Conservative leadership frontrunner ranks first among not just party members, but also voters and the wider public
A new YouGov survey of Conservative Party members provides a further boost to frontrunner Boris Johnson today, showing that three quarters (77%) think he would make a good leader - the highest for any candidate.
Dominic Raab comes in second place on 68%, followed by Sajid Javid on 61% and Jeremy Hunt on 56%. Members are somewhat split on Michael Gove, with 50% thinking he would make a good leader but another 45% believing he would do a poor job.
Rory Stewart is the only candidate left in the race who Tory members tend to have a negative view of, with 50% saying he would make a poor leader and only 31% a good one.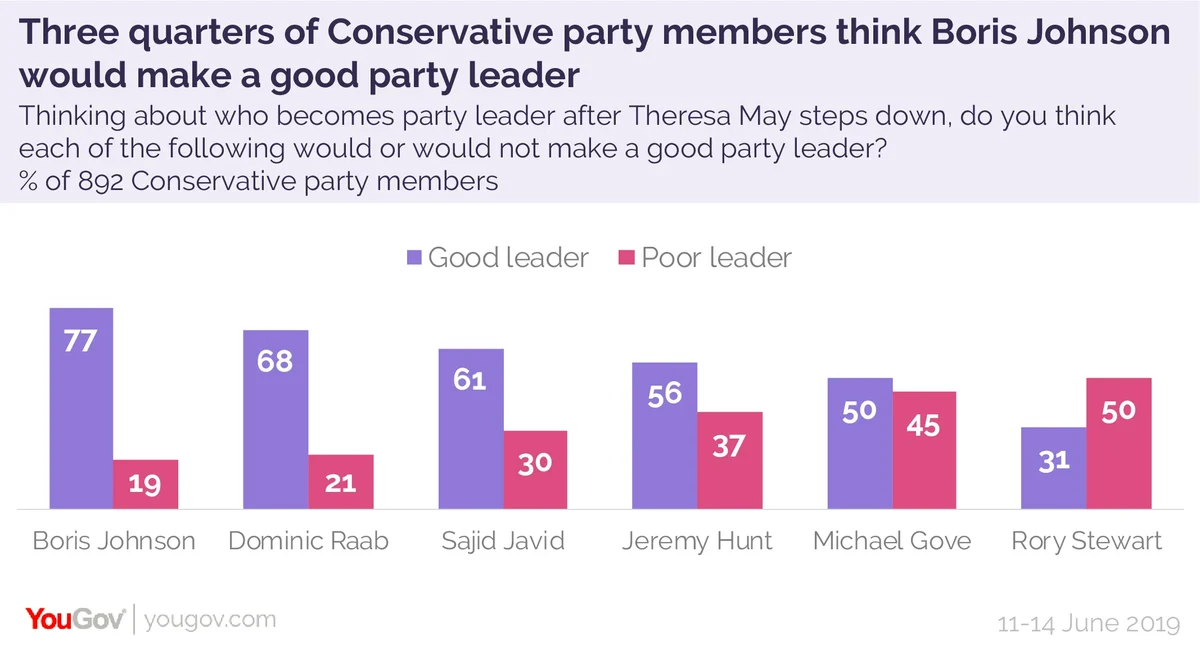 The story is the same in the wider country, with Johnson the most likely to be seen as a good Prime Minister by 61% of those who intend to vote Conservative and 31% of the general public. Again, these are highest figures seen for any candidate.
Although part of the former Mayor of London's higher score has always been down to his more prominent profile, Johnson remains in the top spot once you account for those who answered "don't know enough about this person to say".
Johnson's good Prime Minister score of 74% among those who currently back the Brexit Party also far surpasses that of other candidates (between 8% and 30%).
It is worth noting that despite being second most well-regarded within the party membership, among prospective Conservative voters Dominic Raab drops down to fifth place in the good Prime Minister stakes on only 26%. He is beaten by Jeremy Hunt on 45%, Sajid Javid on 38% and Michael Gove on 37%.