Theresa May's resignation has sparked a long-awaited Tory leadership election, but who does the public want to see in Number 10?
More of the public thinks Boris Johnson would make a good Prime Minister than any other candidate. Just over a quarter (28%) say that he would be a good bet for the top job, with 11% saying he would do a very good job.
This echoes similar results from polling in March among the general public, and a survey of Conservative party members earlier this month.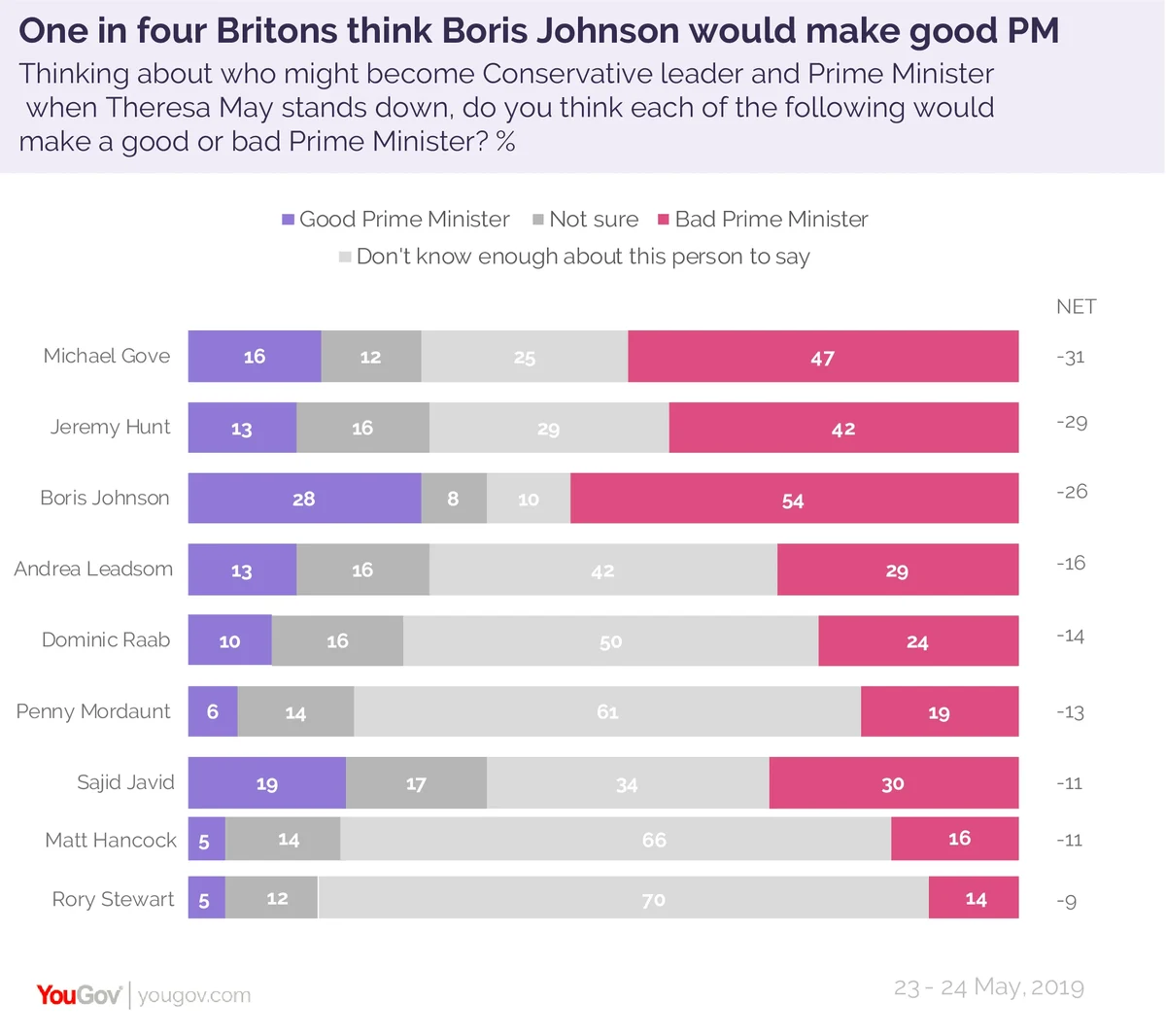 His closest rivals in this most recent polling data released today, hours after Theresa May resigned as Prime Minister, are Sajid Javid, on 20%, and Michael Gove, who 12% of the public believe would be a good candidate.
Johnson also came top of the table when we asked the public who would do a bad job. More than half (55%) of respondents think he would be a bad Prime Minister, which beats Gove (52%), Javid (32%) and all other potential candidates we listed.
Bottom of the table in terms of lowest "good" scores were Matt Hancock and Rory Stewart, both on 5%. But each candidate also scored low on "bad" with 16% and 14% respectively - likely down to their lower recognition among the general public.
If we turn to YouGov Ratings we can see that Matt Hancock is known by 30% of the public, and Rory Stewart is known by just 24%. Boris Johnson, on the other hand, is known by 97% of Britons (but disliked by 46%)
Net scores change the landscape
If we calculate net scores - subtracting those who believe a candidate would be a bad Prime Minister from those who think the opposite - then a different picture emerges.
Here, Rory Stewart (who didn't feature in our March survey) emerges the victor, despite being bottom of the tables in terms of the size of his positive backing. Just 5% think he would do well, but he also has the lowest bad score, giving him the highest (but still negative) net score of minus 9%.
Close behind on this measure are Matt Hancock and Sajid Javid, both on minus 11%. Johnson, Hunt and Gove make up the bottom three in our table with minus 26%, 29% and 31% respectively.
General election
Britons also have more faith in the charismatic former Foreign Secretary Boris Johnson to win a General Election than any of the other potential Tory leaders we listed. Almost a third (32%) said that Johnson could sway an election, while just 19% believed in Javid and 16% felt the same of Gove. But no candidate had a net positive result here: 37% of respondents said that Johnson wouldn't be able to win an election. Even 22% of those who voted Tory in 2017 didn't believe he would be able to keep the Conservatives in Downing Street.
When we asked the public who they would vote for if they had to pick one candidate from the list, Johnson was again top, with 21% of the vote - some way ahead of the next most popular, Javid, on 10%.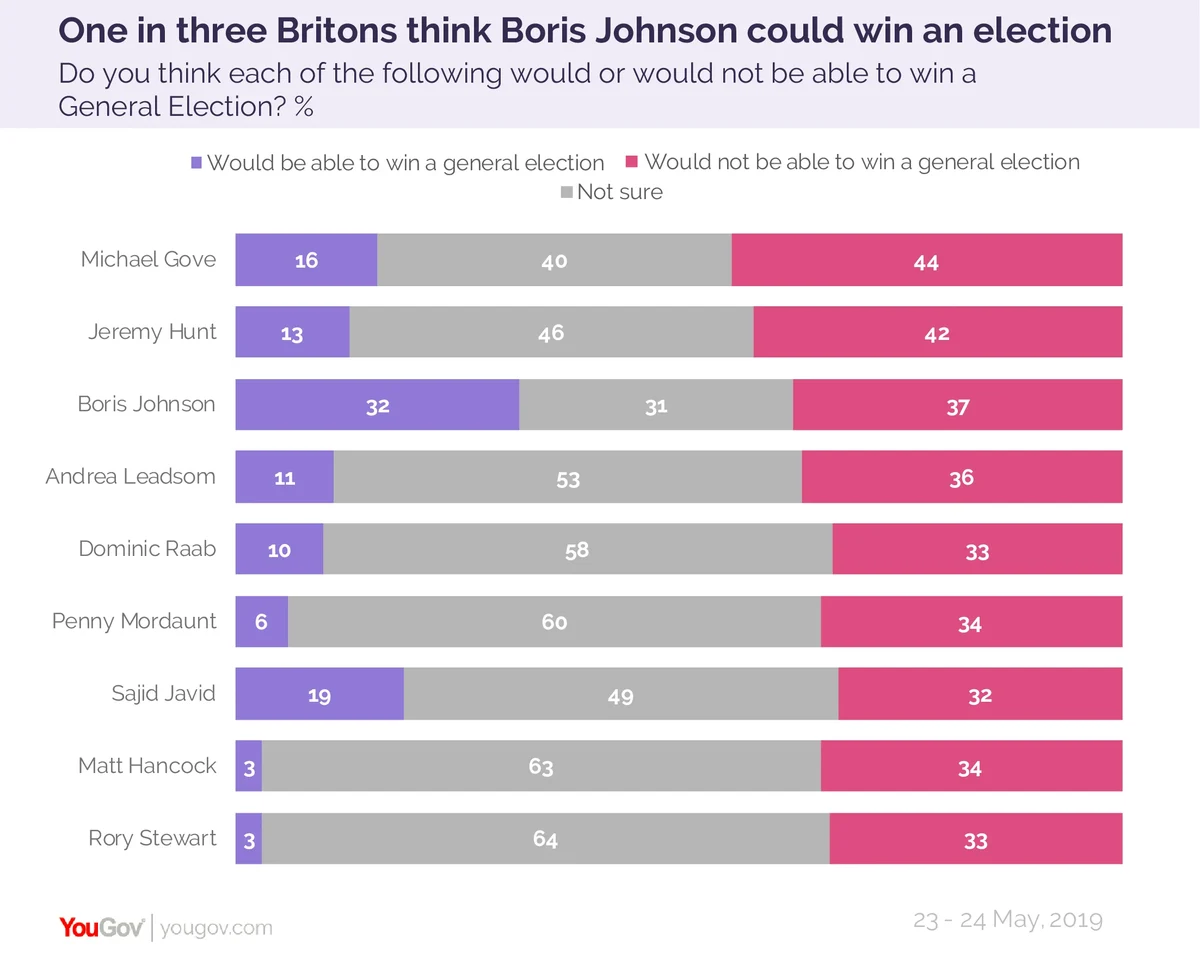 Brexit ability
By far the biggest task laying ahead for the next Prime Minister is securing an acceptable deal on Brexit. We asked the public whether each candidate would do a good or bad job on this, and Johnson seems to have secured more confidence than anyone else.
Almost a quarter (23%) of Britons say that he would do well, which is significantly higher than Gove (10%) and Javid (8%). But again, Johnson also scores highest here on "bad", with 43% saying he would handle negotiations poorly.
Image: Getty