More Brits support than oppose the US President's upcoming visit, but increasingly believe ministers should distance themselves from the controversial politician
In two weeks the Queen will host US President Donald Trump on an official state visit. As with Trump's 2018 working visit, many Britons have objected to his arrival because they disagree with his politics or policies.
Nevertheless, YouGov data reveals that Britons tend to think the trip should go ahead, by 46% to 40%.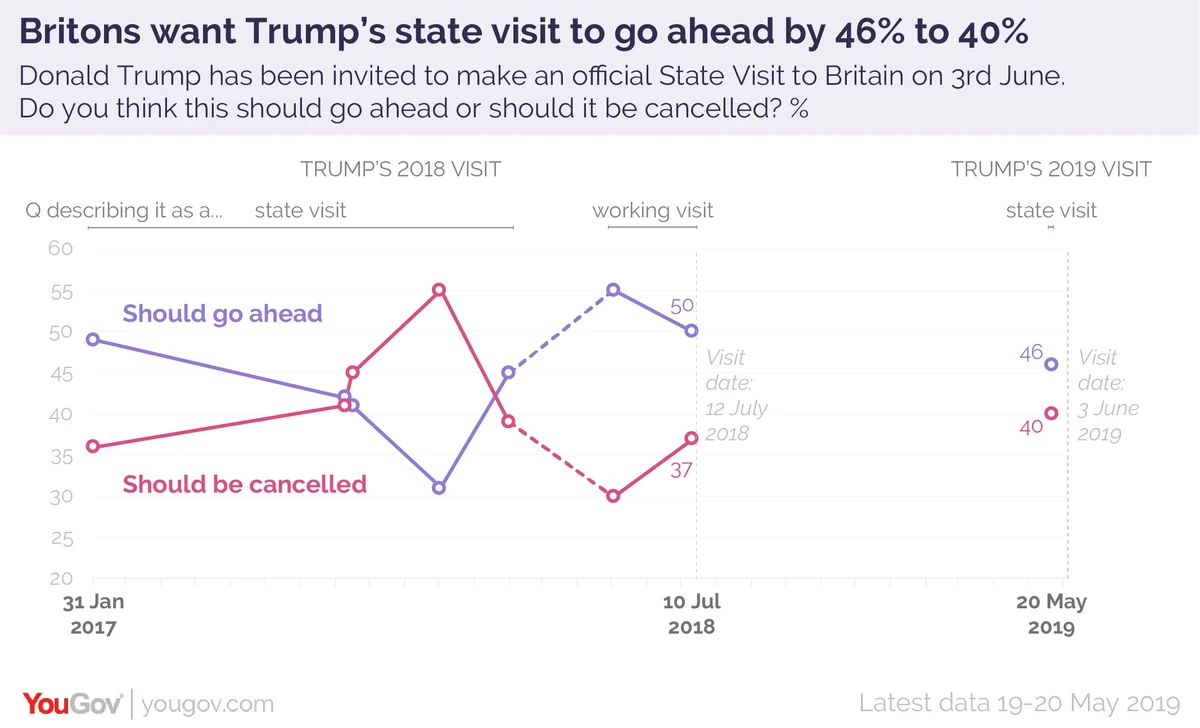 These figures largely echo the survey we conducted prior to Trump's 2018 visit, when 50% thought it should go ahead and 37% wanted it cancelled.
The results also show that Britons are now more likely to think that the Queen should meet Trump. In our last survey Britons thought the Queen should keep her distance by 49% to 35% - now those figures stand at 42% and 41% respectively.
It's worth noting that the last time we asked was in the context of a working visit, while the upcoming trip will be a state visit – one at which the head of state is hosting. This could explain part or all of the change in the results.
Britons split on whether the government should try and work with Trump
Visits such as this are a way for nations to affirm their friendship and forge new ways of working together. However, the data shows that Britons are becoming increasingly put off by the controversial American leader.
In our first survey of the series in January 2017, YouGov found that half (51%) of Britons thought the Government should try and work with Trump, compared to only 32% who wanted ministers to try and distance themselves. A little over two years later the number of people who want us to work with the US president has fallen to 40%, and are now matched by 41% who want the government to distance itself from him.
Photo: Getty