But the vast majority of Britons (72%) think milkshakes are for drinking, not flinging at politicians
Yesterday Nigel Farage joined the growing list of right-wing politicians to have been 'milkshaked'. While on a walkabout in Newcastle the Brexit Party leader found himself coated in a banana and salted caramel shake, by someone who presumably doesn't support his policies.
Former English Defence League leader Tommy Robinson and UKIP's Carl Benjamin found themselves similarly saturated recently, and police have become so concerned that officers in Edinburgh asked a branch of McDonalds to refrain from serving the drinks while a rally was going on nearby.
The recent spate of dairy drenchings has caused intense debate, with the obvious glee coming from some of Farage's opponents being countered by criticisms that it represents a low-key form of political violence, or feeds a sense of victimhood on the far right.
Now a new YouGov survey, conducted today, reveals that one in five Britons (18%) consider throwing milkshakes to be an acceptable form of protest. By contrast, the vast majority (72%) think it is unacceptable, with the remaining 10% unsure.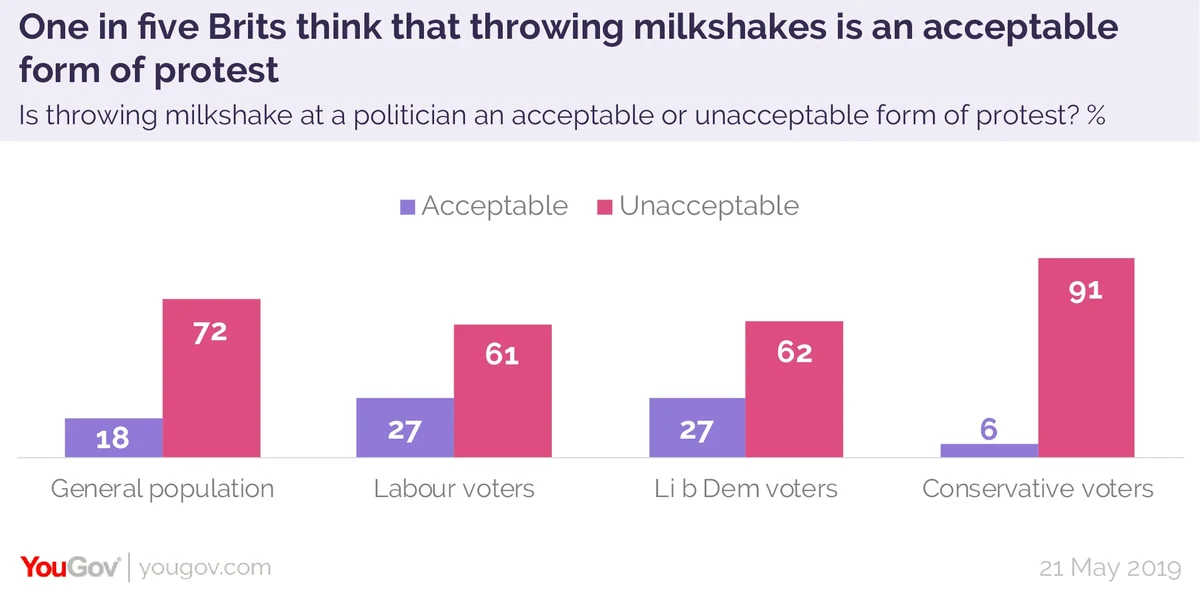 The results are almost certainly partisan. Those who have found themselves bombarded by beverages are all on the political right, and the results show that supporters of left wing parties like Labour and the Lib Dems are more likely to think it is acceptable (27%) than those on the right (6% of Conservative voters). Were the situation reversed and left wing politicians were finding themselves assailed, we expect the same question would find the opposite results.
Photo: Getty