YouGov asks the public which of the main parties will still be a force in British politics in 10 years
The upcoming European parliament elections will be the first outing for two brand new parties: Change UK – The Independent Group and Nigel Farage's Brexit Party. Both will be fighting for political survival in an increasingly crowded field. A poor performance is likely to send them to an early grave.
As things currently stand, the public don't think either of these two new parties will still be standing in a decade's time. The majority of Britons (56%) think Change UK "will eventually fade from politics, and probably not be a force in British politics in 10 years".
Just one in ten (10%) think the opposite, that "they are here to stay and will likely remain an important part of British politics for the next 10 years".
The public are even more pessimistic about the Brexit Party, with 63% thinking it will fade over the next decade, compared to just 13% who think it's here to stay. Surprisingly, given how much worse they are performing in the voting intention polls, UKIP's prospects are just as gloomy as their newer rivals': 61% think it will fade and 13% think is here to stay.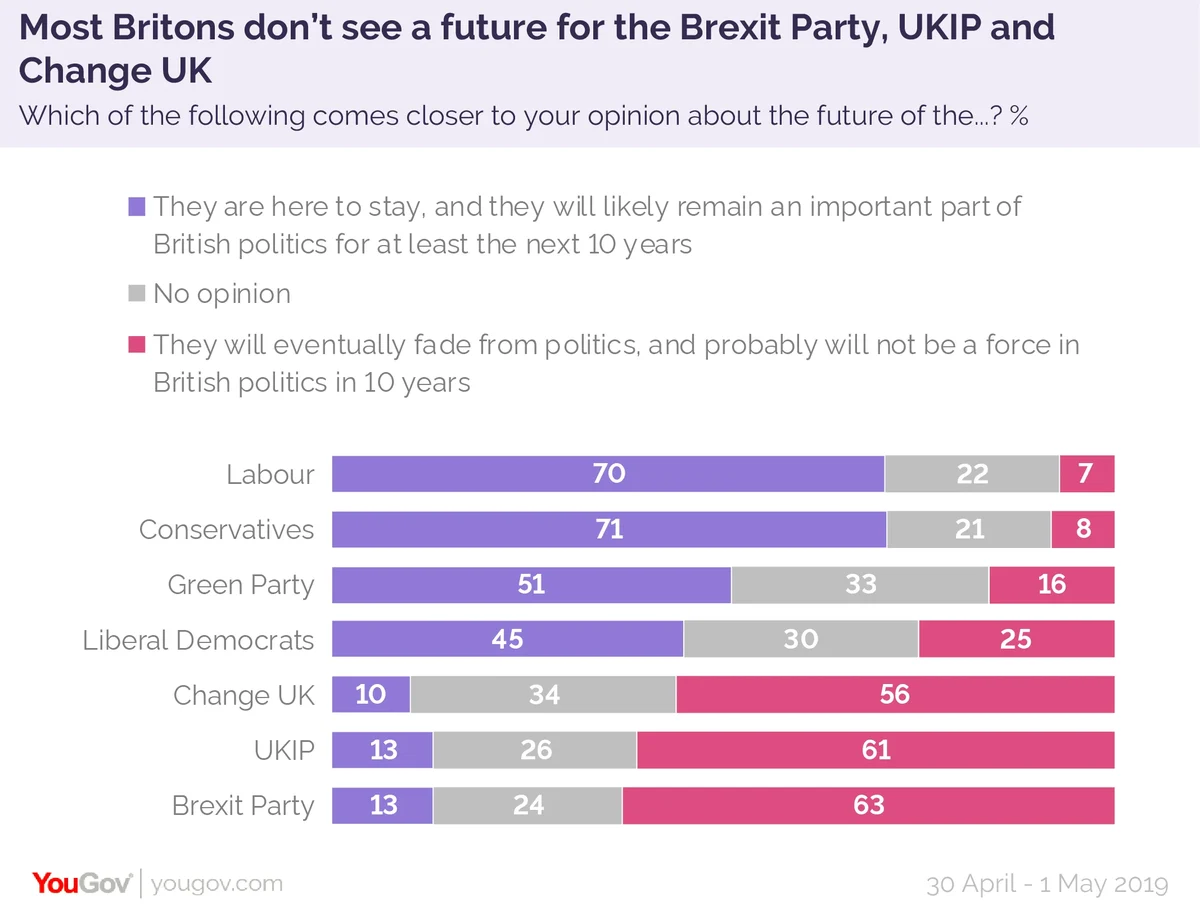 Despite the turmoil wracking the two major parties, with both being subject to claims that their current leaders could cause their destruction, the vast majority of Brits still expect to see Labour and the Conservatives survive the next decade. Seven in ten (70%) think Labour will still be around in ten years, with a near identical number (71%) saying the same of the Tories.
The Green Party are seen as the third most likely to still be around come 2029. Half the nation (51%) anticipate the environmentally-minded party to still be a force in years to come, compared to only 16% who expect them to have faded away.
While the Lib Dems have had a tough time following their decision to go into coalition with the Conservatives in 2010, it seems like they may now be over the worst of things. In our most recent polling nearly half the public (45%) thought they were here to stay, compared to just a quarter (25%) who thought they would eventually fade.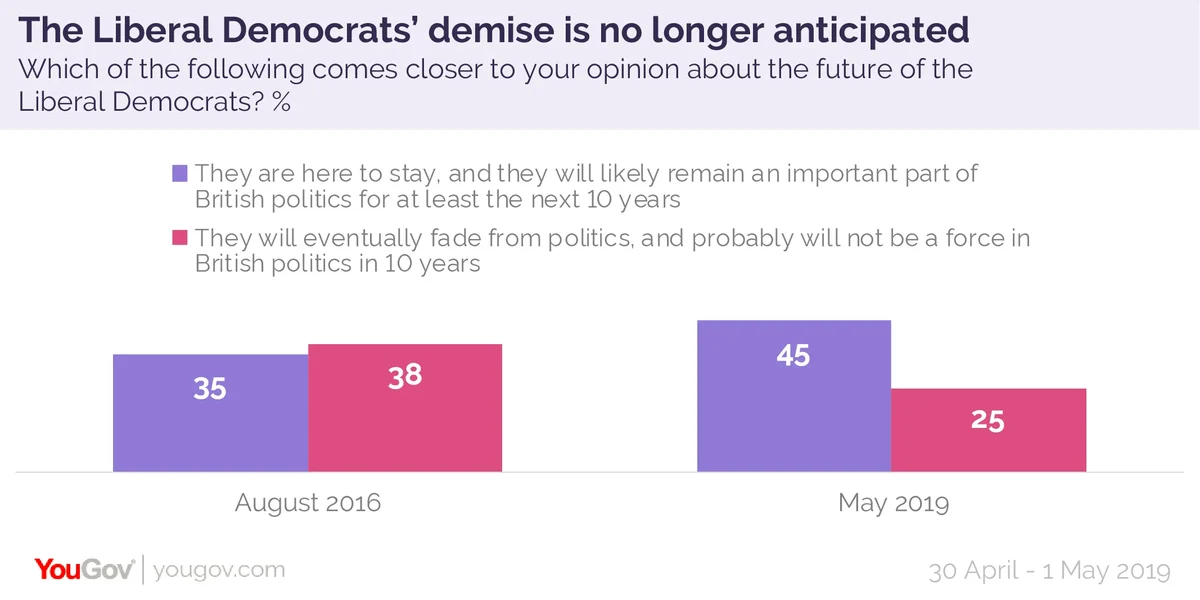 This is up slightly from when we last asked about the party earlier this year, when just 40% thought they were here to say. It is also up significantly since August 2016, which was the first time we asked following their dreadful performance in the 2015 general election where they fell to just eight seats. In that poll just 35% of the public thought they would survive the next decade, compared to 38% who thought they would eventually fade from British politics.
It is worth noting that these results were taken before last week's local elections, when both the Liberal Democrats and the Green Party performed well, gaining around 700 and 200 seats respectively.
Photo: Getty