Snap YouGov poll finds Britons unwilling to leave the EU without a deal
Following on from Theresa May's unsuccessful attempt to pass her Brexit deal in the House of Commons last night, MPs will be asked again today to vote on whether or not the UK should leave the EU without a Brexit deal.
The aversion of most MPs to a No Deal Brexit has been widely reported, so it's highly likely that this bill - which would veto the outcome as an option - will be rejected by a wide majority. If it passes MPs will vote tomorrow on whether or not to delay Brexit and create time to explore further options.
A snap YouGov poll conducted today finds that the public wants MPs to vote down the prospect of a No Deal Brexit by 46% to 33%.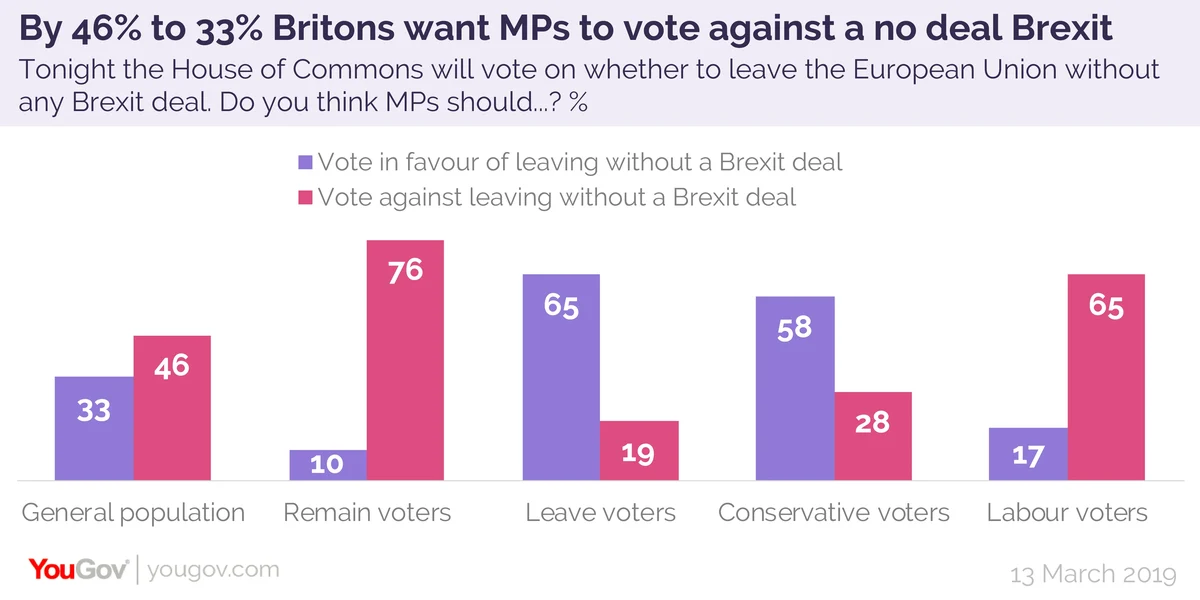 Unsurprisingly, Remain voters are the most opposed to a No Deal Brexit, with 76% saying they wanted MPs to vote against it. Leave voters are overwhelmingly receptive, with 65% wanting MPs to take Britain out of the EU without a deal, and only 19% want them to prevent such an outcome.
Results from a separate YouGov survey, conducted yesterday and today, find that only 20% of people think that a No Deal Brexit would be a good outcome – a figure which includes 38% of Leave voters. A further 15% of Britons think it would be an acceptable compromise (although virtually none of them are Remainers – only 6% of those who wanted to stay in the EU hold this view, compared to 26% of Leavers).
By contrast, half the population (50%) think that a No Deal Brexit would be a bad outcome, including 82% of Remain voters and a quarter (23%) of Leave voters.
A No Deal Brexit is, however, one which Britons are most likely to believe would respect the result of the referendum. Approaching half (45%) of the public feel this way, including two thirds (65%) of Leave voters and a third (34%) of Remain voters.
By contrast, only 30% of people think that a soft Norway-style Brexit would respect the referendum result, and just 34% think the same of Theresa May's Brexit deal. Unsurprisingly, just 22% of people think that staying in the EU after all would respect the 2016 referendum decision.
A No Deal Brexit would prove divisive in the minds of the public, however. Almost half (48%) think that it would make the country more divided. Three quarters (74%) of Remain voters hold this view, although Leave voters are much more divided on its divisiveness – 27% think it would tear the country apart further, 29% that it would help bring us all back together and 25% think neither.
Second referendum expectations are up, belief a deal will be passed is down
Today's snap poll also asked Britons what they expected the long term outcome of Brexit to be. The Prime Minister's failure to convince the Commons to vote in favour of her Brexit deal could be behind the increase in the number of people who expect a second referendum, since the last time we asked this question at the end of February.
On the 27th and 28th February 19% of people thought a second referendum was the most likely eventual Brexit outcome, but this figure has now risen to 28%.
Over the same time period, the proportion of people expecting some form of deal to be passed has dropped from 31% to 18%, while those who expect a No Deal Brexit has remained essentially unchanged (from 24% to 26%).