Each year International Women's Day (IWD) highlights the social, economic, cultural and political achievements of women across the world. This year's celebration specifically calls for an acceleration of gender equality.
With this in mind, YouGov asked Brits whether they think equality has been achieved or whether further progress is needed in eight different areas, ranging from workplace representation to equal household responsibilities.
More needs to be done in all areas but equal pay is the most pressing
Across all fields, a majority think that more needs to be done; the largest figure was the 71% who feel that there's still some way to go in achieving equal gender pay in Britain.
Four in five (80%) women have this opinion compared to 62% of men. In addition older people are more likely to think more action is required (78% of those aged 65 and over, compared to 59% of 18 to 24 year olds).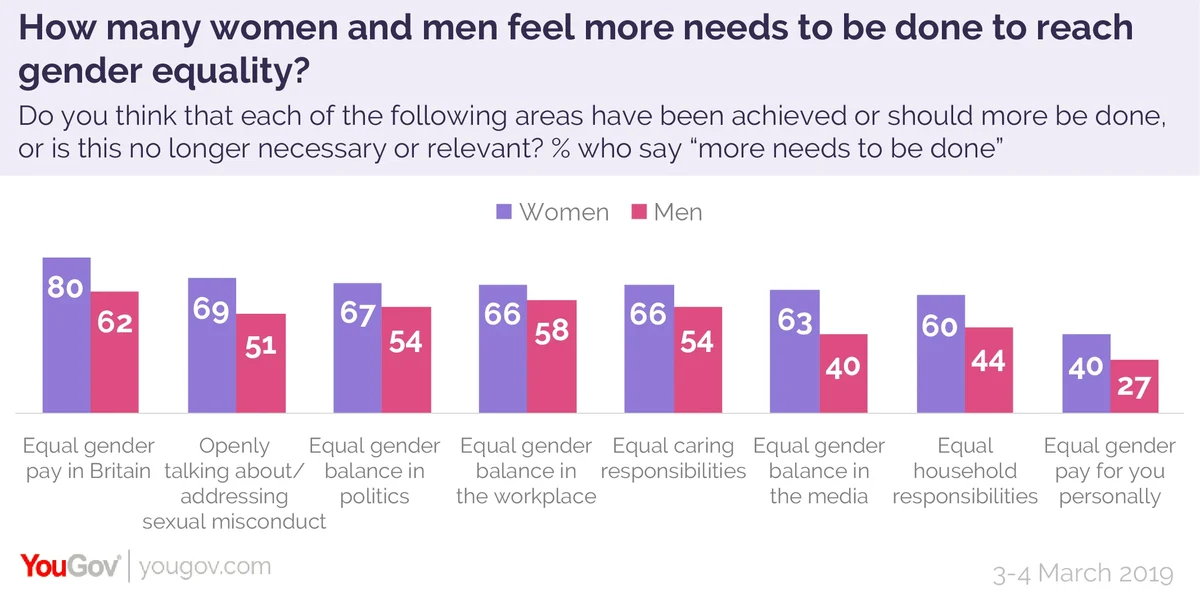 When asked whether they felt equal gender pay had been achieved for themselves personally, 40% of women said progress was still required in this area, compared to 27% of men. A plurality of Londoners (42%) also appear to want more to done compared to a third or less in other regions of Britain.
The public sphere
When it comes to public figures, half of Brits (53%) think more must be done to address the equal gender balance in the media, while 18% think balance has been achieved. Women are more likely than men to think more work is required by 62% to 47%.
Even more Britons (61%) think progress is still needed to reach gender parity in British politics, including two thirds of women (67%) and a majority of men (54%).
A similar proportion (60%) say further action is required in order to reach an equal gender balance in the workplace, with women again substantially more likely to hold this view than men (69% versus 51%).
The home front
Even at home gender equality is still lacking. The majority of Brits think that more needs to be done when it comes to equal caring responsibilities (60%) and equal household responsibilities (52%). In fact, the single biggest difference in attitudes between men and women was over the need for more action when it comes to household duties – 63% of women, compared to 40% of men.
Approaching sexual misconduct
While the #MeToo movement has thrust sexual harassment into the public conversation these last 18 months, three in five Brits (62%) still think more needs to be done when it comes to openly talking about or addressing sexual misconduct. Two in three women (66%) would like to see more action compared to 58% of men.
Notably, this area also has the smallest proportion of people (5%) who think that addressing misconduct is no longer relevant or necessary.
What's closest to being achieved?
Only 23% of Britons felt that equal gender pay for themselves had been achieved, and this was the highest figure for any of the eight categories. This is also notably the only personal category of the eight – the rest all referred to society or industries in general, and for these only between 11% and 19% of people (and just between 6% and 18% of women) feel that gender equality has been achieved.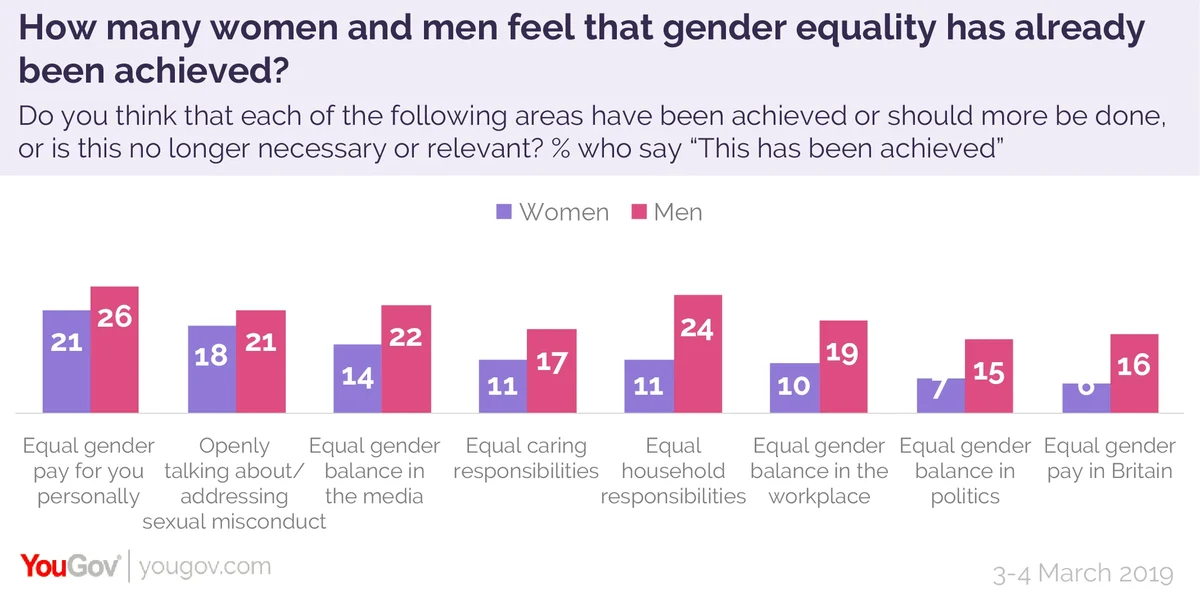 These results highlight that more still needs to be done within all areas to effectively tackle gender parity in a meaningful and visible way.
Photo: Getty