She remains more popular than rival Jeremy Corbyn
With Conservative MPs set to declare whether or not they have confidence in their party leader tonight, new YouGov data shows that public perception of Theresa May has taken a hit over the last week.
A survey conducted over Wednesday and Thursday last week found that 32% of Britons had a favourable view of the Prime Minister, while 57% had an unfavourable view.
However, less than a week later, the Prime Minister has seen her net favourability score knocked down from -25 to -31, with only 28% of people now saying that they have a favourable view of her and 59% now expressing a negative view. This study was conducted over Monday and Tuesday of this week - just after it was announced that the vote on the deal would be delayed - and fieldwork was completed before the first rumours emerged that the 48 letters required to trigger a no-confidence vote had been received.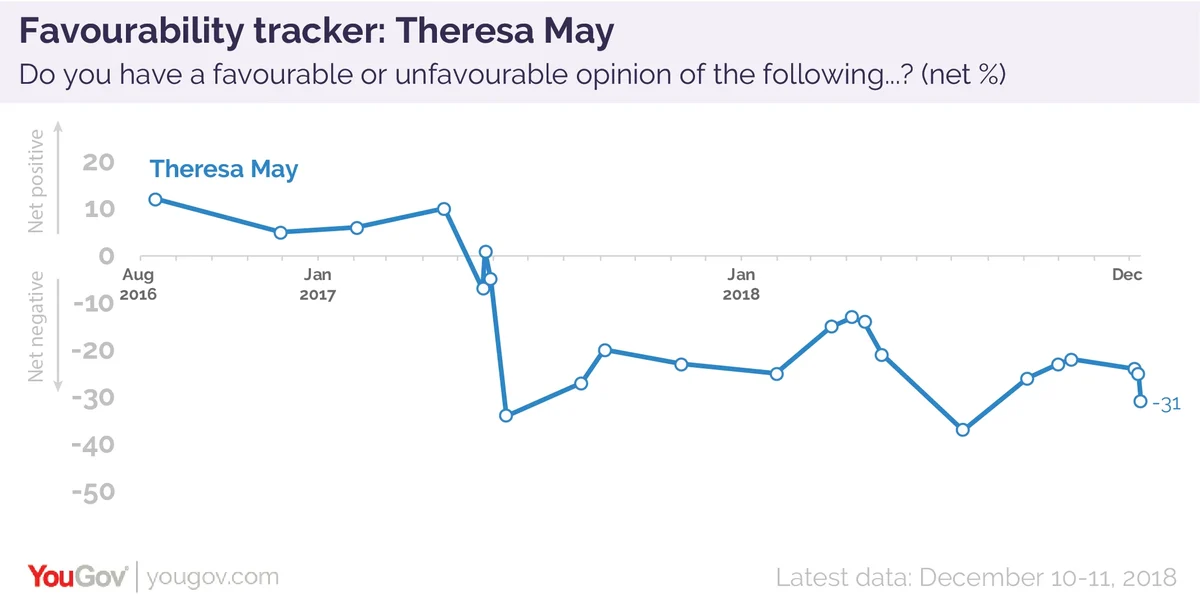 Among Conservative voters May's net favourability score has fallen over this time period from +27 to +19. While it has remained steady among leave voters (-11, from -10), among Remain voters it has plummetted from -34 to -47.
Despite these setbacks, the Prime Minister remains marginally ahead of rivals Jeremy Corbyn in the favourability stakes. The Labour party leader is held in high esteem by 26% of Britons and low esteem by 61%, for a net favourability score of -35.