The Prince of Wales celebrates his 70th birthday today, but he won't be celebrating YouGov's new royal popularity data
Birthdays can be a contemplative time, and as Prince Charles celebrates his 70th today his mind will surely drift to how he has become a septuagenarian before starting the job he was born to do. But new data from YouGov Ratings will provide yet more food for thought. It shows that the next in line to the throne is even further from the top spot when it comes to public popularity.
Only around half of Brits (48%) have a positive opinion of the Prince of Wales, putting him in seventh place in the royal family popularity table. A further 20% have a negative view of him, while 30% have a neutral opinion.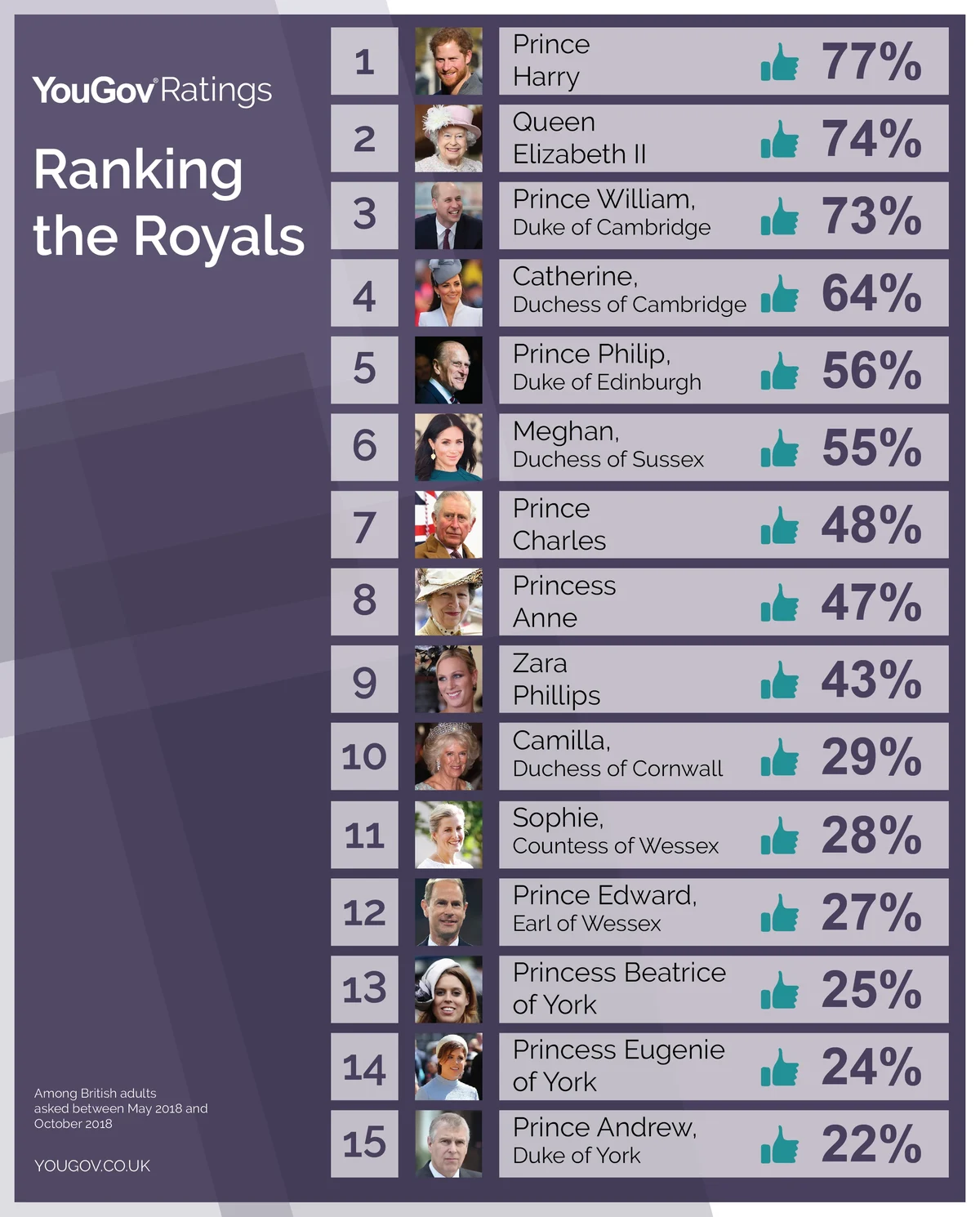 While Charles is most popular with Baby Boomers (53% like him), he lags behind among Millennials (43%) and those in Generation X (47%). A crumb of comfort for the future king is that he does rate above all of his siblings.
Prince Harry, who served in Afghanistan and later launched the Invictus Games, is liked by 77% of Britons and therefore takes top spot. A mere 7% have a negative view of him. Second in line to the throne Prince William occupies third place with 73%.
Queen Elizabeth II, who was the first British monarch to ever celebrate a sapphire jubilee (65 years) last year, comes in second between her grandchildren at 74%.
In seventh place Charles also comes behind his daughters-in-law Catherine (64%) and Meghan (55%), as well as father Prince Philip (56%).
Charles's wife Camilla is even less popular than he is. Only 29% of Brits have a favourable view of the Duchess of Cornwall, putting her 10th on the list of 15. In fact, the 36% of people who say they dislike her is the joint-highest of any member of the royal family (alongside Prince Andrew).
Who likes the top royals but dislikes Prince Charles?
Republicans aside, who tend to disapprove of each individual royal, there remains a substantial section of the population who like the main royal family members, but dislike Prince Charles. Who are they?
Using YouGov Profiles we examined two groups: one in which people like the Queen, Prince Harry, Prince William and Prince Charles, and a second who like the Queen, Prince Harry and Prince William but dislike Prince Charles. The kind of people who are more numerous in the second group than they are in the first will be an indicator of who Prince Charles seems to have put off.
Examining the more than 240,000 variables in YouGov Profiles, one factor proved to be particularly strong: gender.
The gender split among people who like all four members of the royal family matches that of the population as a whole (51% women, 49% men). However, those who dislike Prince Charles are much more likely to be female (63%) than male (38%).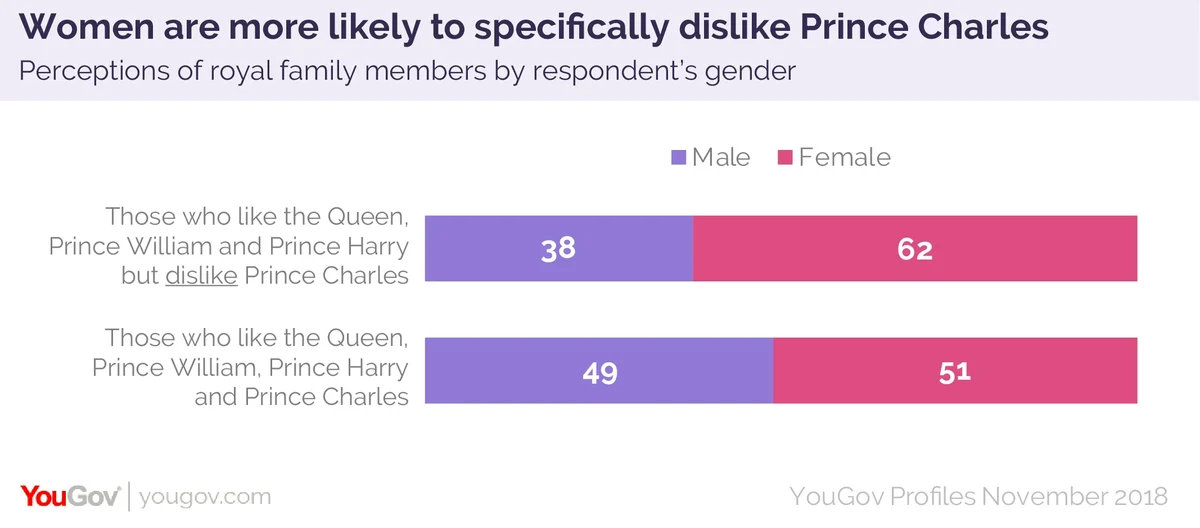 Another key variable is income. Among those who provided details of their household income, there is a clear tendency for Brits on low incomes to dislike Charles. Only 17% who like Charles have a household income of less than £15,000, but among those who dislike him this figure rises to 27%. Those earning more than £30,000 a year were equally well-represented among both groups.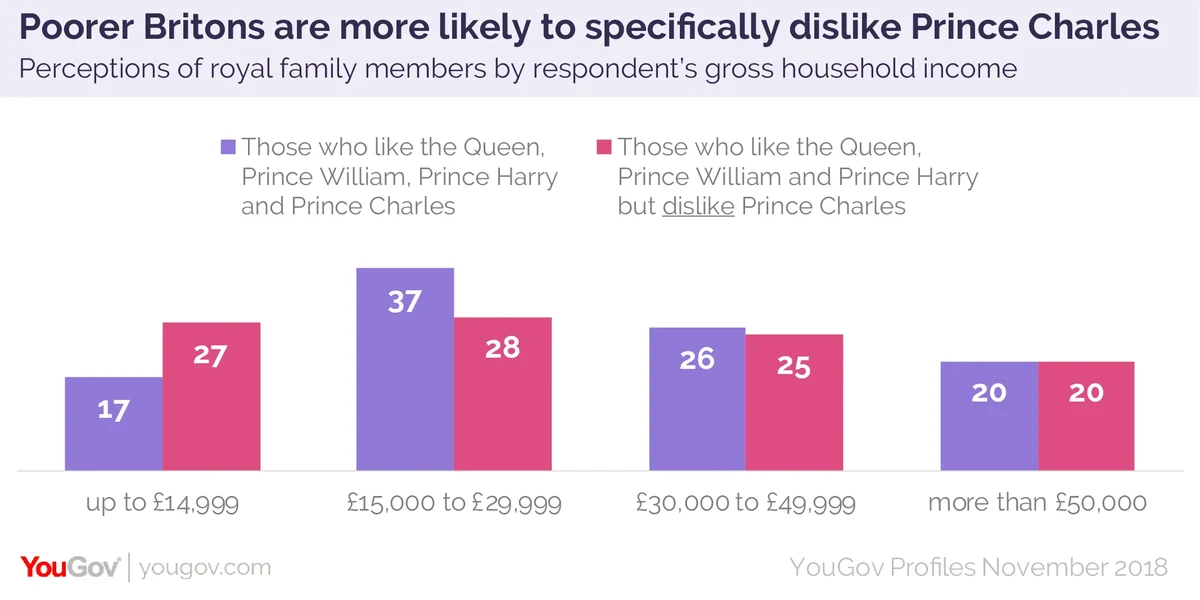 Support for the monarchy is weaker among those who specifically dislike Prince Charles
While support for the monarchy is strong in both groups, the group who dislike Charles does contain more members who are lukewarm in their support for the monarchy. Among those who like Charles, 80% say they strongly support the monarchy and 15% say they slightly support it. However, among those who dislike Charles the number who strongly support the monarchy drops to 65%, with the proportion who slightly support it increasing to 26%.