Results are marked by lack of awareness
With Universal Credit gathering headlines today, new YouGov research reveals that the public tends to have a negative view of the policy – which replaces six other benefits in one payment but which critics say will leave many people worse off than before – but also that many people seem to know little about it.
Close to four in ten Britons (38%) oppose the introduction of Universal Credit, compared to 27% who are supportive. The data is also notable for the seeming a lack of awareness of the policy it reveals however, with 37% of Britons responding "don't know".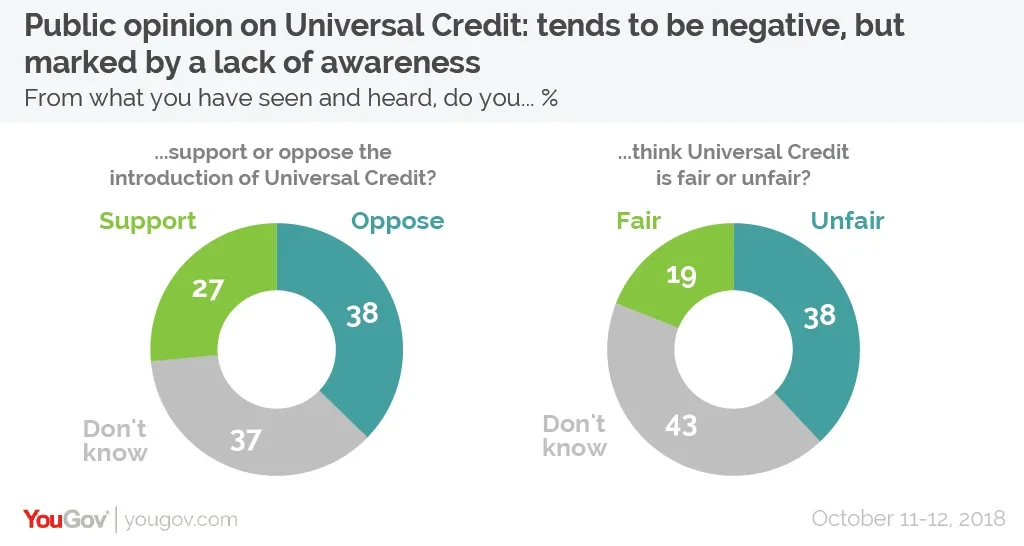 The proportion of "don't know" responses climbs even higher when asked whether or not they think Universal Credit is fair, to 43%. On this measure the number of people who disapprove of the policy remains the same, with 38% saying it is unfair, while the proportion with a positive view drops to 19% saying it is fair.
Labour voters are the most negative about the policy – 50% oppose its introduction and 55% think it is unfair. By contrast, Conservative voters tend to be in favour of Universal Credit – they support it by 37% to 26% and they think it is fair by 31% to 25%.
Working class people are noticeably more likely to oppose the policy's introduction than middle class people – 42% of people in the C2DE socio-economic category compared to 33% of those in ABC1.
Photo: Getty