Four in ten Brits would be happy to have one of the two in charge
This article originally appeared in The Times
Speaking on the Political Thinking podcast earlier this month, Tony Blair speculated that "I don't think the British people will tolerate a situation where, for example, the choice at the next election is Boris Johnson versus Jeremy Corbyn ... I just don't believe people will find that, in the country as a whole, an acceptable choice."
To test how far the former Prime Minister had accurately assessed the political landscape, YouGov has put the choice to the British public.
In fact, four in ten Brits feel that the Boris vs Corbyn contest provides a candidate they would feel happy with as Prime Minister: 21% would choose Corbyn and be happy doing so, while 19% say the same for Boris.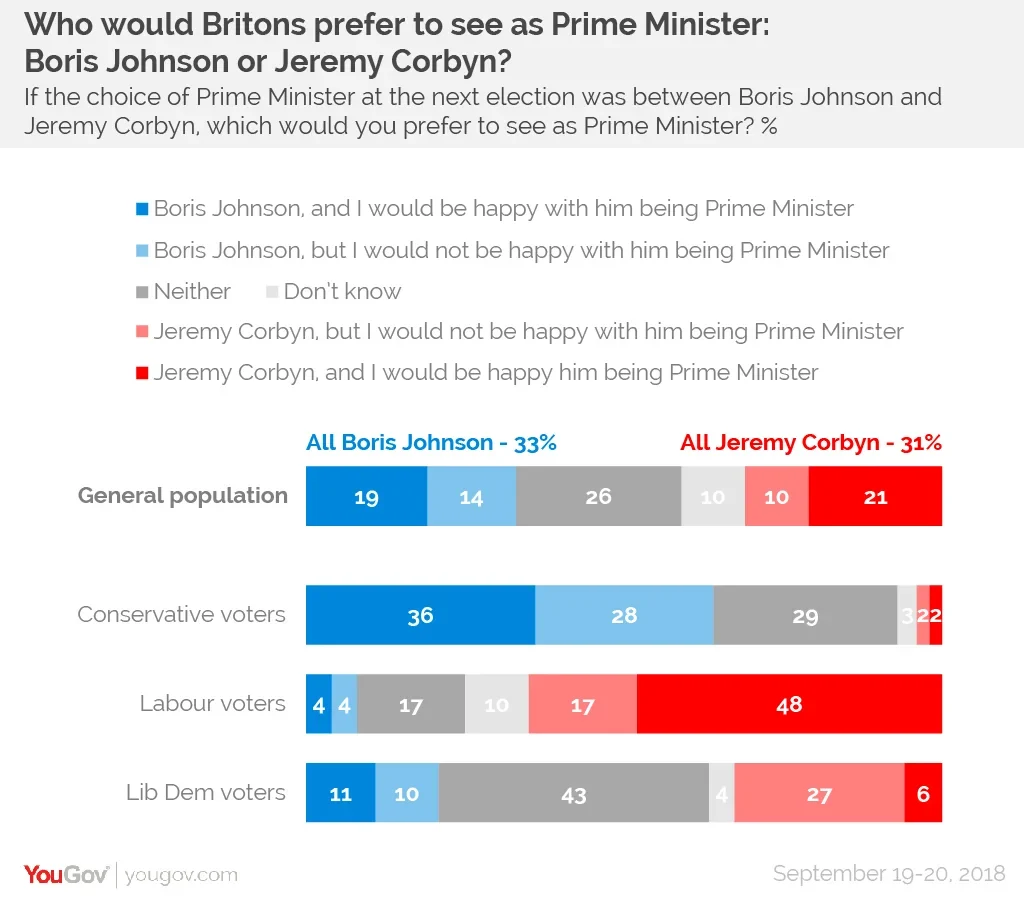 A further one in four Brits can pick between the two, but are holding their nose while doing so: 14% would choose Boris while not being happy to have him as PM, 10% say the same for Corbyn.
This leaves the backing for each candidate essentially tied: overall 33% would choose Boris and 31% Corbyn.
Blair only seems to be speaking for the one in four Britons (26%) who couldn't bring themselves to choose a candidate and answered "neither". The remaining 10% of the public answered "don't know".
Party preferences
Corbyn receives a warmer reception from 2017 Labour voters than Boris does among Conservative voters, with 48% of Labour voters saying they'd be happy to see their party leader as Prime Minister compared to only 36% of Tory voters.
Part of this will be due to the fact that Corbyn was party leader at the last election, which will improve figures in his favour as many voters will have specifically decided to back Labour on the basis of his leadership while others will have refused to vote for the party for the same reason. Such considerations will not apply to Boris Johnson.
In any case, including those who would begrudgingly choose one candidate over the other brings the two politicians to parity within their own electorate, however – overall 64% of Conservative voters would back Boris and 65% of Labour voters would prefer Corbyn.
Photo: Getty