Half of Britons mistrust that the majority of asylum seekers are genuinely fleeing war or persecution
Exact figures of how many people are granted refugee status in the UK every year are difficult to come by. Cases can be carried over several years, for example, or withdrawn, appealed, and re-opened.
That being said, the Home Office, as well as relevant charities and lobbying groups, estimate that approximately half of those who apply for asylum are successful. This figure varies slightly year to year – for example, 26,547 people applied for asylum in the UK in 2017, and 14,166 were granted asylum (meaning they were given refugee status).
Yet YouGov research reveals that the British public tends to overestimate the number of asylum seekers who choose to come to the UK in comparison to other EU countries, and hold highly variant perceptions of the amount of applicants to whom asylum is granted. Further, polling found considerable mistrust towards the motivations of asylum seekers, with half of respondents (52%) believing that only 40% or less of those applying for asylum are genuinely fleeing war or persecution.
The UK is less popular among asylum seekers than we think
In a ranking of which countries in the EU received the most applications for asylum in March 2017-2018, the UK comes fifth after Germany (179,000), Italy (121.400), France (102,900), and Greece (50,000).
Italy and France receive over three times more applications than the UK – yet 41% of people believe the UK receives more or the same number as Italy, and 47% believe the number is more or the same as France. While Greece received approximately 20,000 more applications than the UK, 43% of Brits believe the UK receives more or the same level.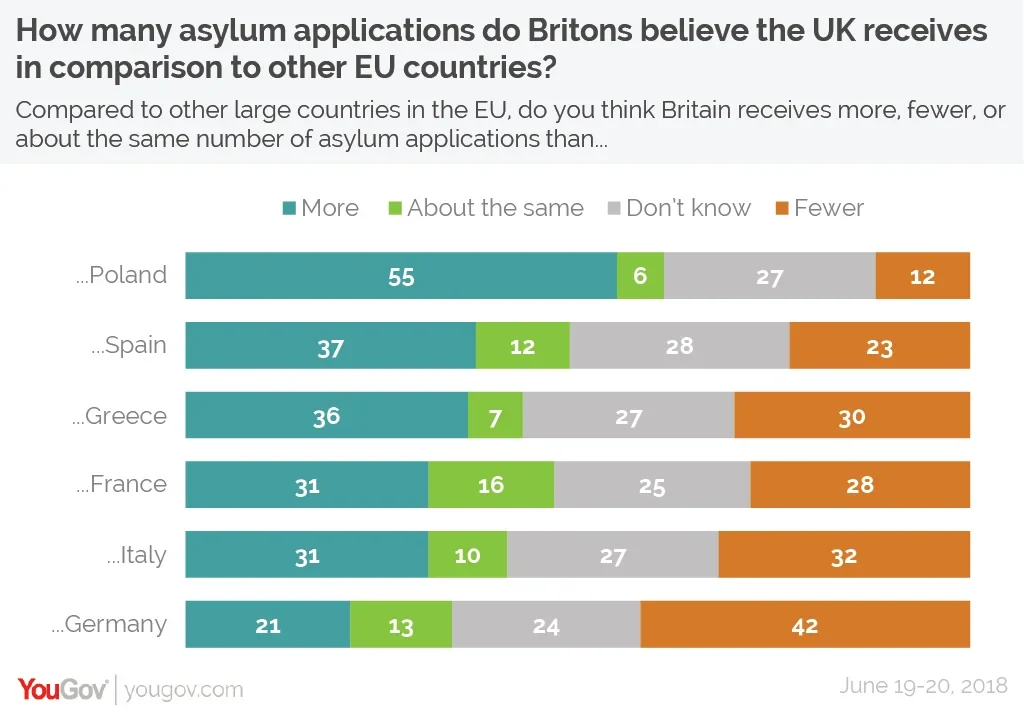 Germany is the only nation which more Britons correctly said gets more asylum applications than we do - 42% were correct, compared to 34% who believe we receive more or similar numbers of applications. In fact, Germany received five times as many applications as the UK last year.
Perceptions vary on how tough the UK immigration system really is
Around half of those who apply for asylum in the UK have their applications accepted.
Yet nearly one in three Britons (29%) assume the proportion of successful applications is 60% or more. One in six (14%) think 80% or above are successful, with the same proportion believing under 20% are successful.
Leave voters are twice as likely as Remain voters to think that a majority of asylum applications get accepted, with 40% estimating that 60% of applications or above are successful, compared to 21% of Remain voters.
Half of Britons don't trust that the majority of asylum seekers are truly fleeing persecution
A question on what proportion of those applying for asylum are "genuinely fleeing war or persecution in their own countries" reveals widespread skepticism among the British public towards asylum seekers' true reasons for coming to the UK. Half (52%) of respondents think that around 40% or less of those applying for asylum are genuinely fleeing war or persecution. Only 3% believe that all, or almost all, genuinely are.



Mistrust towards the motivations of asylum seekers runs significantly higher among Leave voters, 72% of whom believe that 40% of asylum seekers or fewer are truly fleeing war or persecution, compared to 37% of Remain voters. Among those who voted Conservative in 2017, 72% of whom believe the same proportion are genuinely fleeing war or persecution, compared to 35% of Labour and 32% of Lib Dem voters.

See full results here