YouGov Profiles reveals how fans of the respective Spice Girls differ in their attitudes
With the forthcoming Spice Girls reunion now revealed to be for an animated superhero movie, YouGov has asked more than 31,000 Brits who their favourite member of the band is.
Thanks to YouGov's Profiles tool, not only do we now know who the most popular band member is, but also how fans of the respective Spice Girls differ in their attitudes.
Baby Spice is the most popular Spice Girl
Of those who picked a favourite, Baby Spice was the most popular, at 37%. Sporty Spice comes in second on 23%, followed by Ginger on 19% and Posh on 12%. Scary Spice proved the least popular of the group, with only 9% saying they thought she was the best member.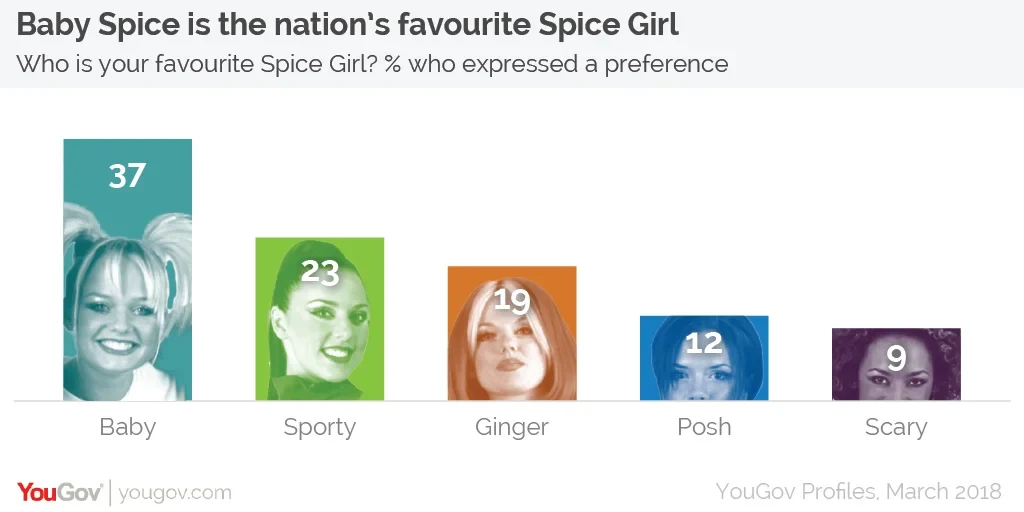 Girl Power is strongest among those who say Scary Spice is their favourite
The Spice Girls were all about Girl Power, and none more so than fans of Scary Spice. While 83-90% of those with a favourite Spice Girl believe in gender equality, only a minority would describe themselves as "feminist". (As previous YouGov research has shown, this is a common attitude). However, it is those who favour Scary Spice who are the most happy with the term, at 31% (compared to 15-20% for fans of the others).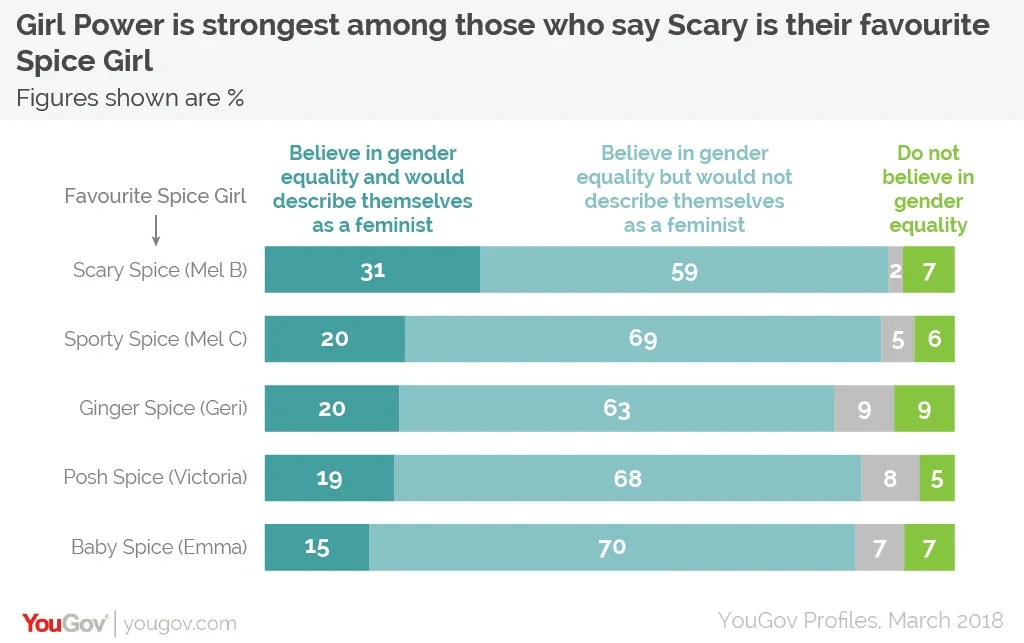 Gotta get with my friends – friendship is most important to those who favour Posh Spice
The importance of friendship was a key theme emphasised by the Spice Girls, most notably in their hit Wannabe. This resonates most with Posh Spice's fans, who are the most likely (75%) to agree with the statement "my friendship group is a really important part of my life". The least likely to agree are those who favour Sporty Spice, at 62%.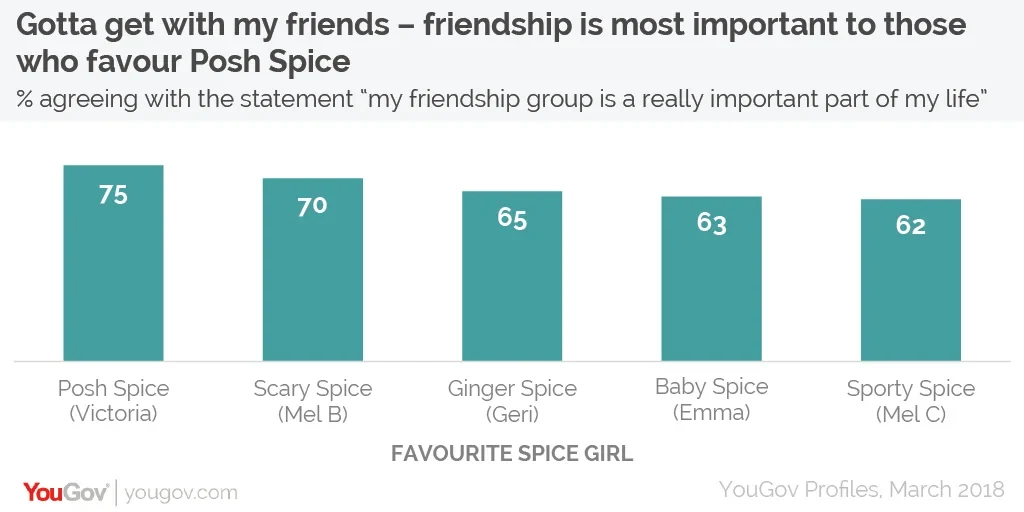 Posh also has the most fashionable fanbase
Given Victoria Beckham's post-Spice career as a clothes designer, it is not surprising to see that her fans are notably more fashion-conscious. Half (50%) of Posh Spice's fans say they keep up to date with current fashion trends and four in ten (38%) say they spend a lot of money on clothes, compared to 29% and 16% respectively of those who prefer one of the other band members.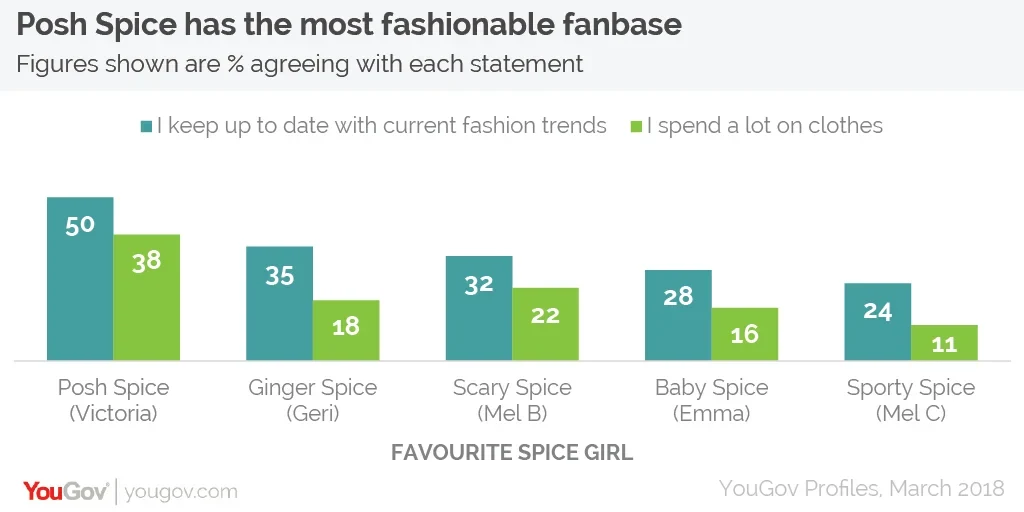 Scary Spice's fans are the biggest music lovers
Almost one in five (18%) of Scary's fans describe themselves as a "music obsessive", more than twice as many as those who prefer another band member. They are also the most likely to describe themselves as a "music lover", at 51%.
Scary's fanbase are also the most likely to say that the 90s is their favourite music era, at 27%.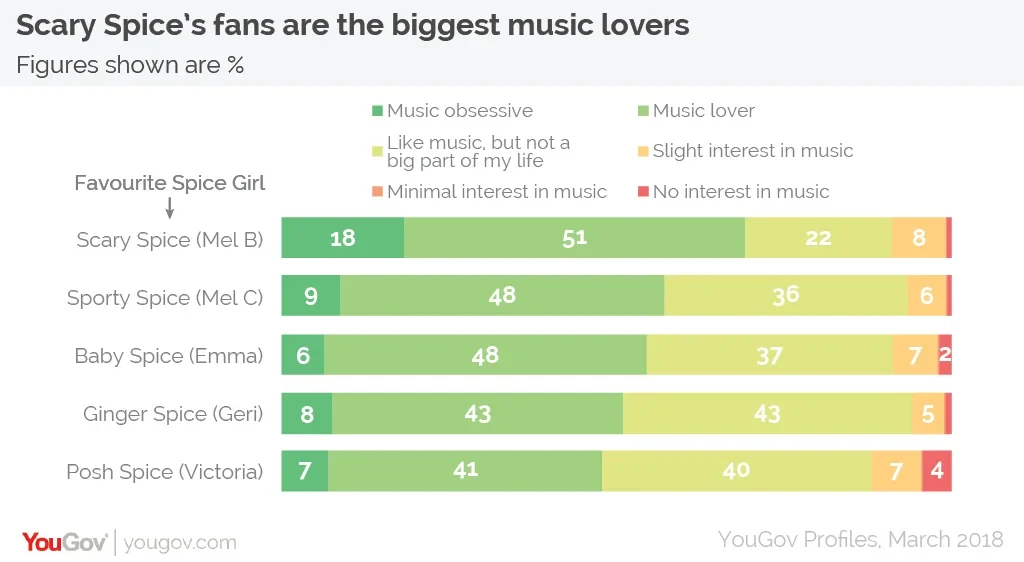 Posh Spice has the poshest fans…
Those who say that Victoria Beckham is their favourite Spice Girl are the most likely to be middle class, with those in the ABC1 socio-demographic group accounting for 61% of Posh's fanbase. She also has the highest proportion of the most well-to-do fans, with 19% living in a household where the chief income earner is in a higher managerial, administrative or professional occupation (that is to say, is an 'A' on the ABC1C2DE scale).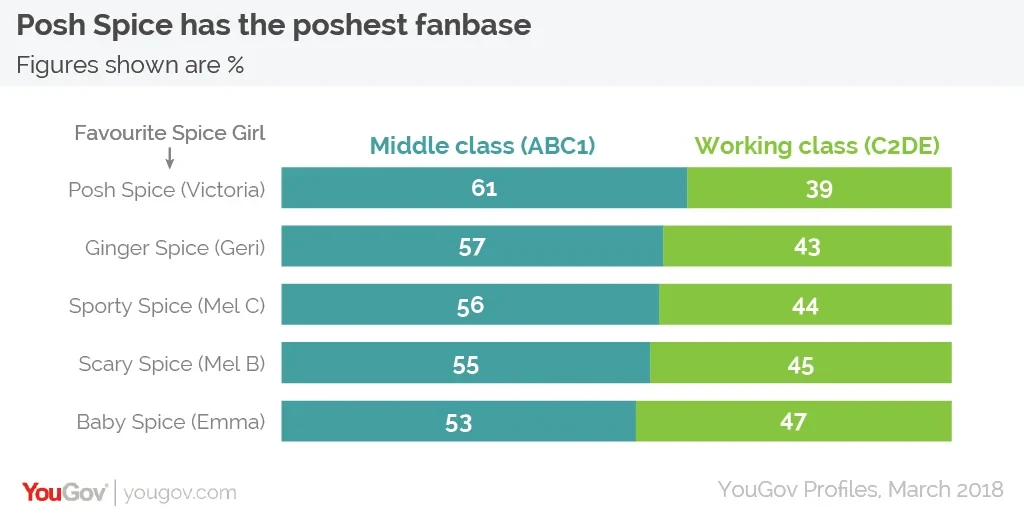 …but fans of Sporty Spice aren't any more sporty
By contrast, fans of Sporty Spice are not noticeably more interested in sport than fans of the other Spice Girls. Four in ten (42%) of those who favour Mel C say they are either "sports mad" or "follow sports closely", putting them in the middle of the range for all Spice Girls fans (37-46%).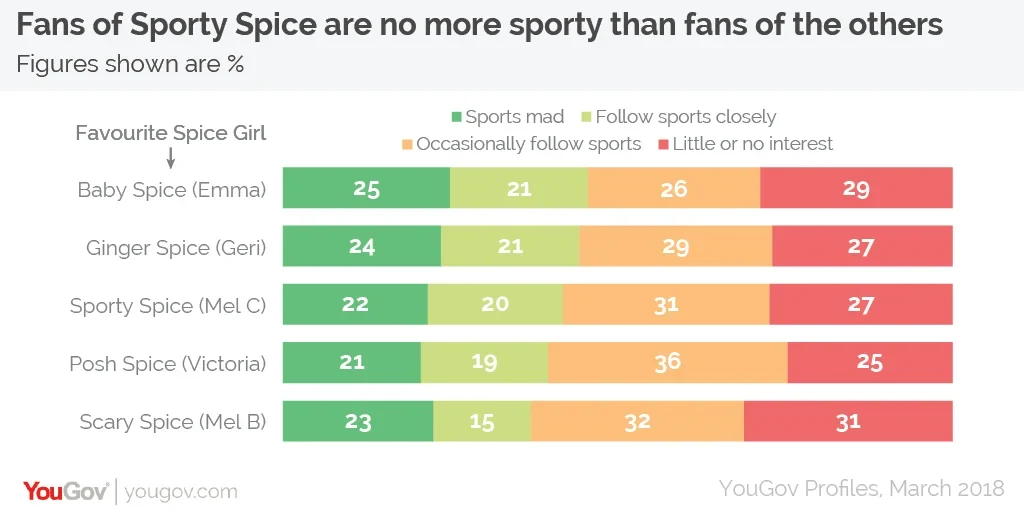 Ginger Spice's fanbase is the most male
Geri has the most male fanbase, with 60% of those choosing her as their favourite Spice Girl being men. Fans of Baby Spice are also more likely to be male than female (56% vs 44%). Posh Spice has the most female-dominated fanbase, with 57% being women and 43% men.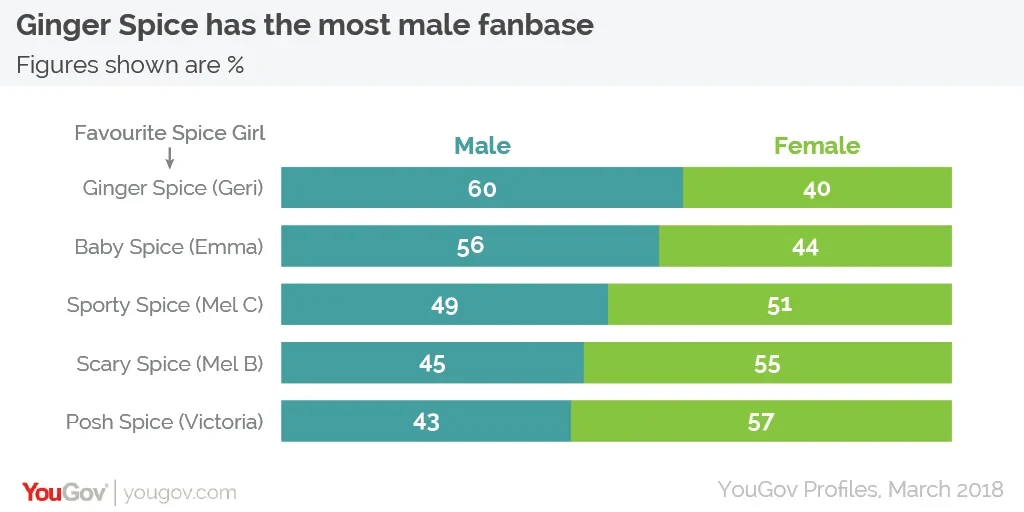 Posh's fans are the youngest
Posh also has the youngest set of fans. Four in ten (40%) who pick her as their favourite Spice Girl are aged 18-34. By contrast, only 20% of Sporty Spice's fans are in the same age bracket – Mel C's fans tend to be the oldest, with 61% being aged at least 45.