YouGov reveals the events, people and entertainment that Britain liked most in 2017
With 2017 drawing to a close, YouGov has asked Britons to consider their favourite events, people and forms of entertainment from across the past year. Here's what we found.
In all cases, respondents gave answers in their own words, which we then categorised in the charts and tables below.
Best film of 2017
Christopher Nolan's Dunkirk, which premiered in July this year, is the public's best movie of 2017 with 19% of those with an opinion backing the war epic. The more family-friendly Paddington 2 came in second place, on 14%.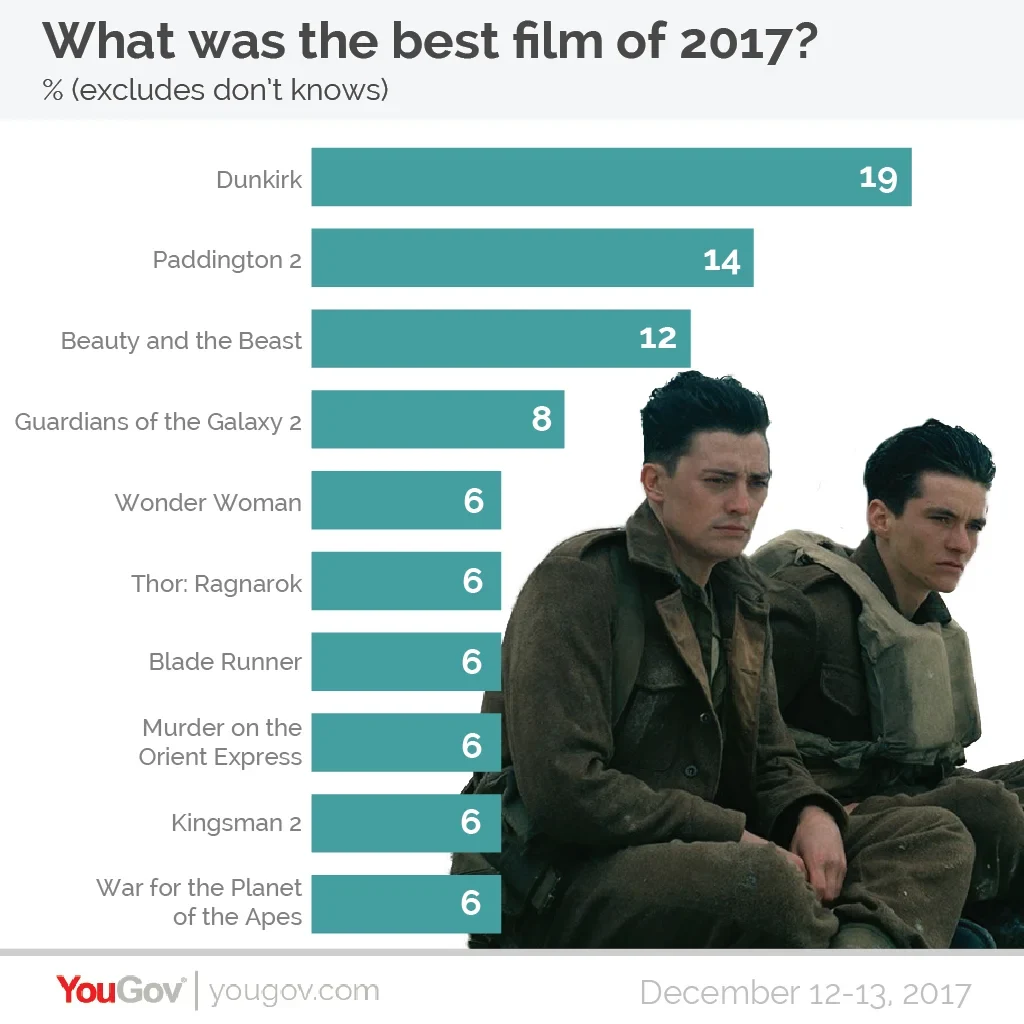 Best actor of 2017
Fittingly, given Dunkirk's clinching of the best movie title, one of the film's biggest stars is also seen as best actor of 2017. Tom Hardy, who has also reprised his role in acclaimed TV series Peaky Blinders this year, is seen as the year's finest actor by 22% of Brits.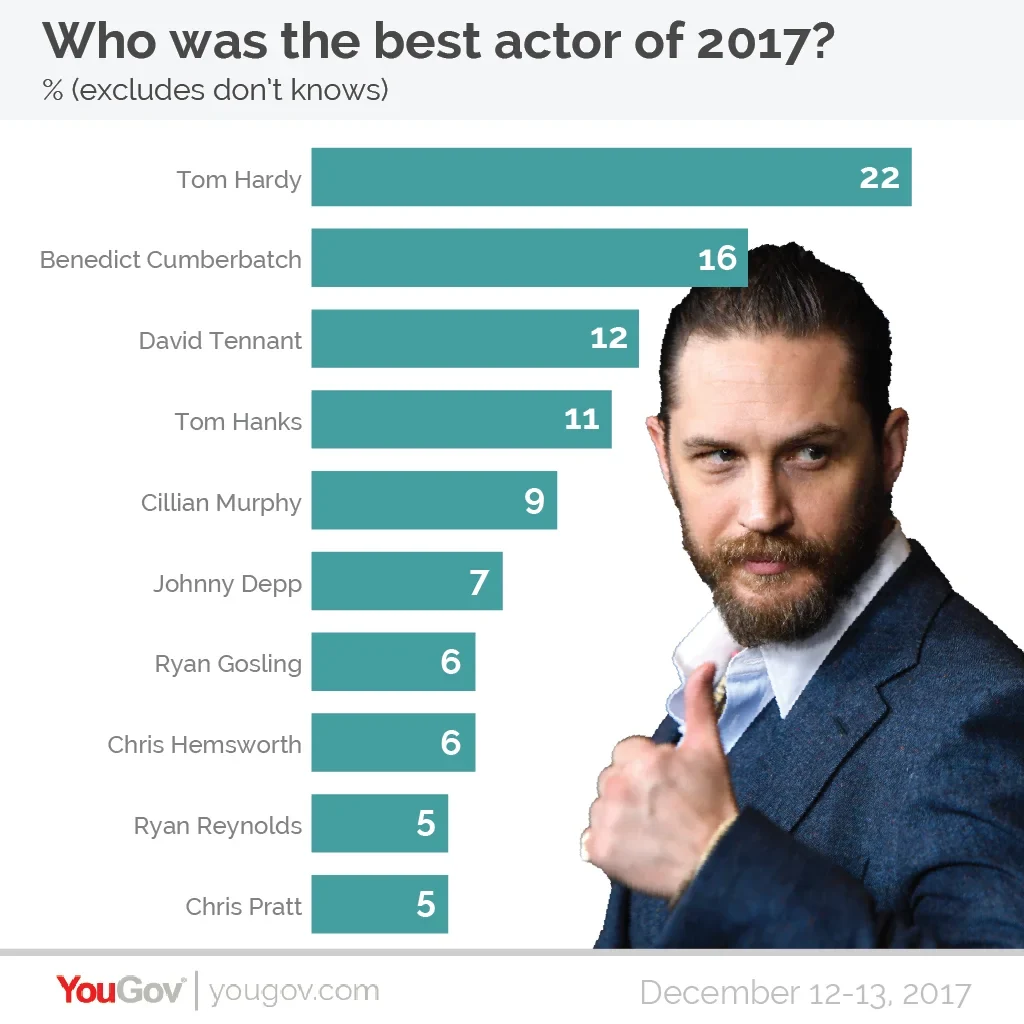 Best actress of 2017
National treasure Dame Judy Dench is seen by the public as this year's best actress. Dench, who has starred in three films this year, including the film adaptation of Agatha Christie's Murder on the Orient Express, was the favoured actress of 19% of Brits with an opinion.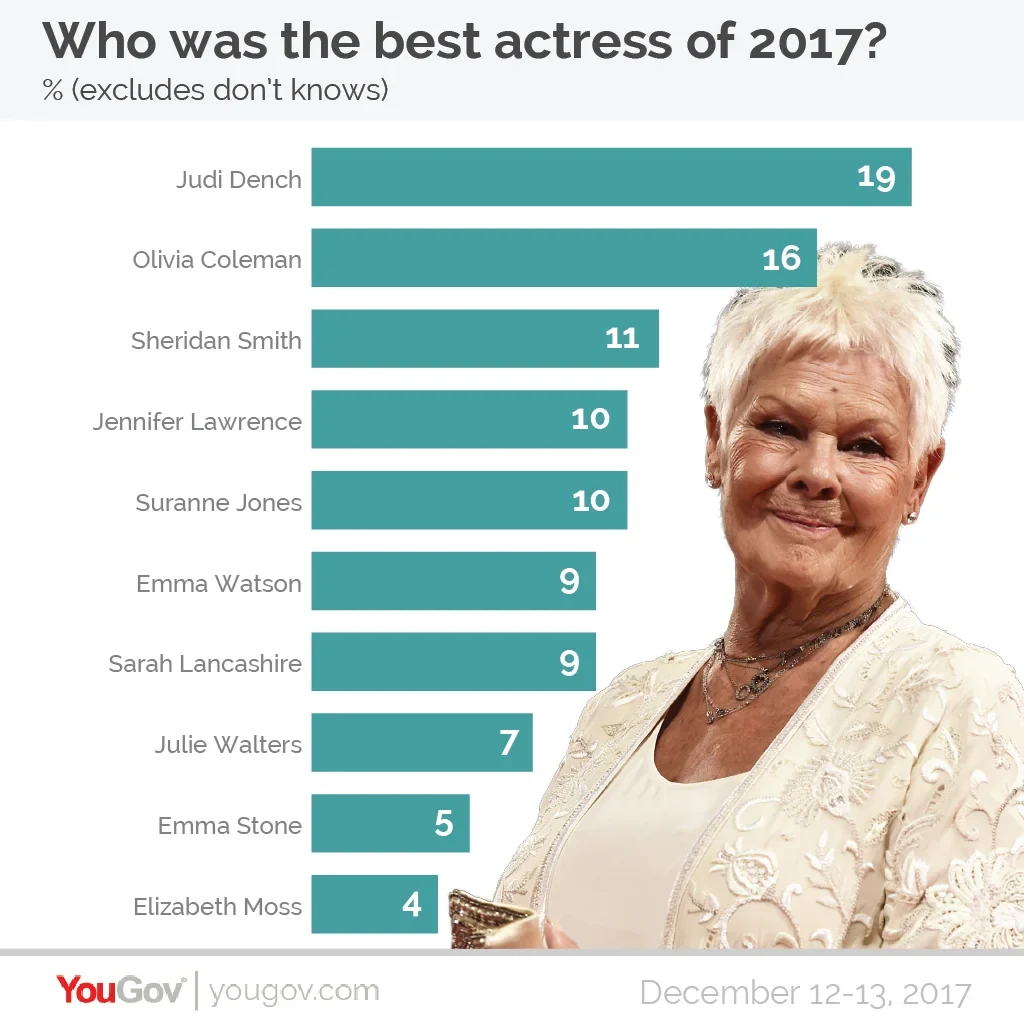 Best music act or artist of 2017
The end of 2017 has been great for Ed Sheeran. Not only has his track Perfect been Christmas number 1 this year (and his pairing with Eminem for River also nabbed the second placed spot), Ed Sheeran is the British public's choice of best artist for 2017, with 29% of Brits with an opinion backing the singer.
Sheeran is followed by Rag'n'Bone Man on 21%, having come away from this year's Brit Awards with gongs for best British Breakthrough Act and the Critics' Choice Award.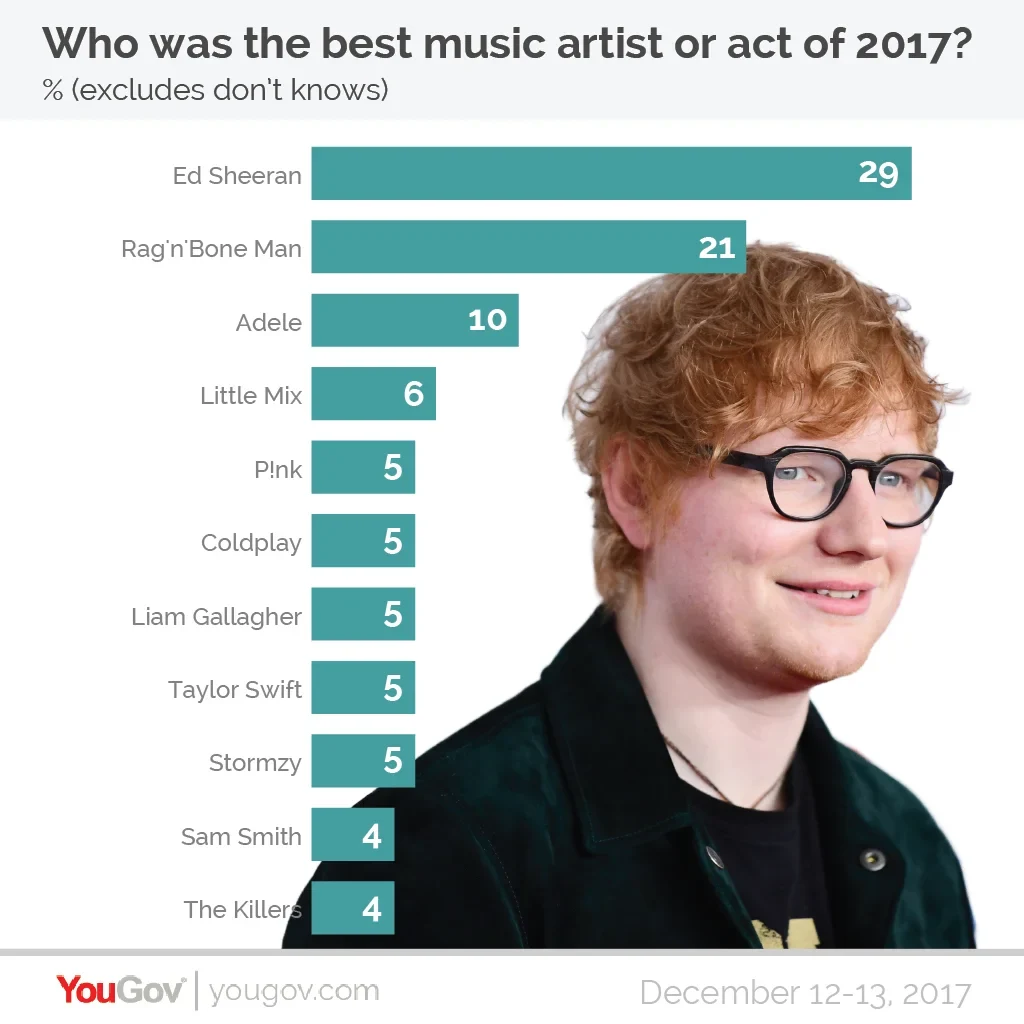 Best reality TV show of 2017
2017 was a great year for reality TV, and this was reflected in the results of the survey. Strictly Come Dancing clinched the top spot, garnering the votes of 23% of people with an opinion, closely followed by I'm a Celebrity: Get Me Out of Here! on 21%.
Despite the misgivings that people had when it was first announced that Great British Bake Off would be moving from the BBC to Channel 4, the show came in a strong third place, at 19%.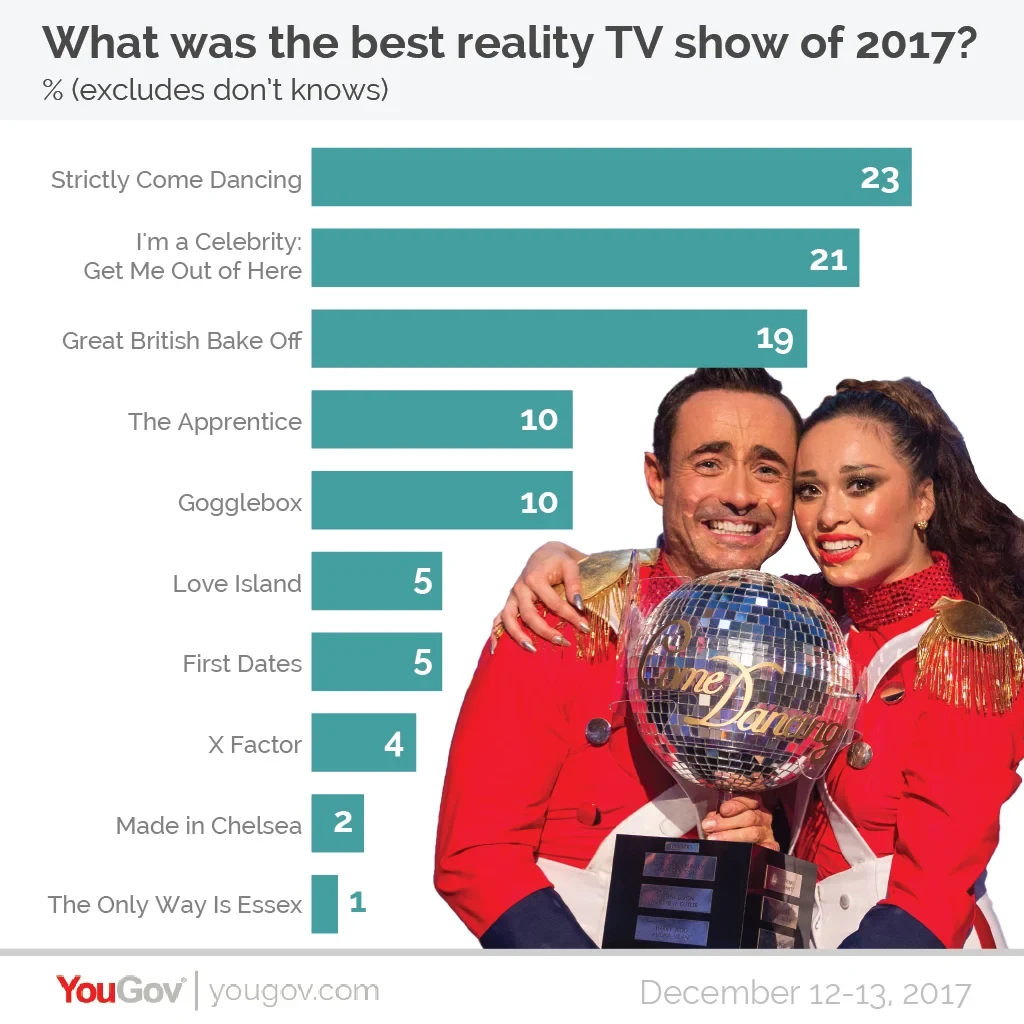 Best TV show of 2017
Just like last year, the best TV show goes to a BBC blockbuster nature documentary series. Blue Planet II finds itself well out in front with the backing of 27% of people with an opinion. In a distant second, once again, is Game of Thrones on 12%.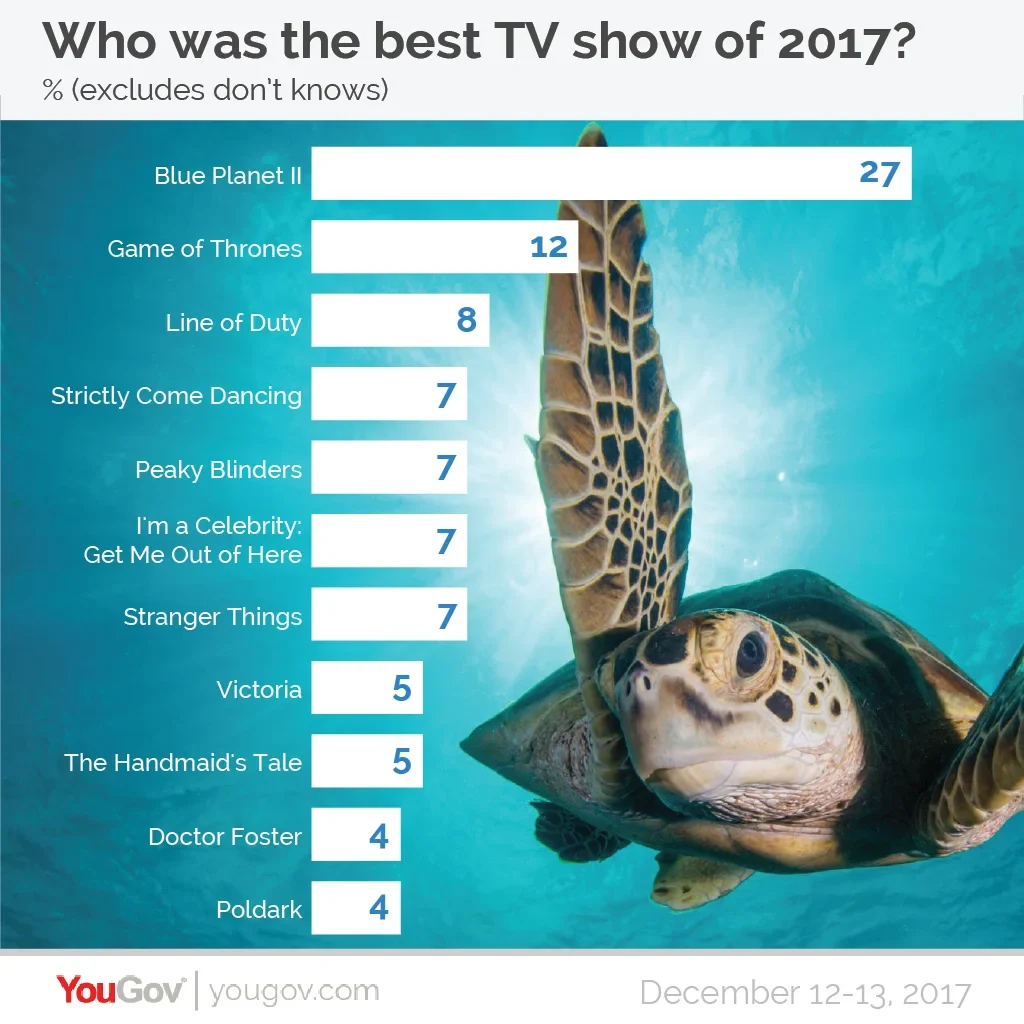 Favourite TV personality of 2017
Likewise, the narrator of the public's favourite TV show once again scoops the favourite TV personality award. National treasure David Attenborough receives 27% of the support of those with an opinion, followed by Ant and Dec on 18%.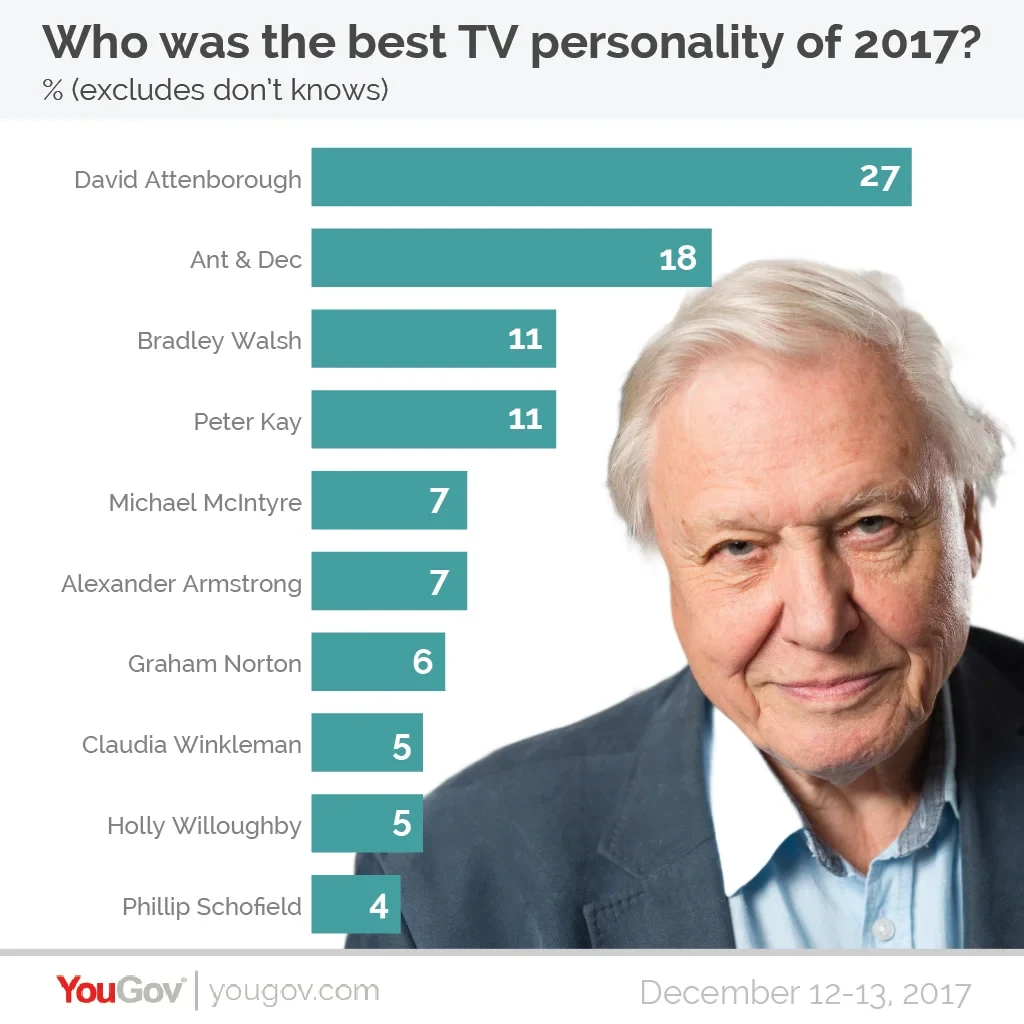 Best event or development of 2017
The continuation of Brexit is Britain's best global event or development of 2017, albeit from a very disparate field (all responses given by 2% of people or fewer have been grouped together in the "Other" category in the chart. A further 24% of people simply said "nothing").
One in ten Brits (10%) said that Brexit and related developments represented the best event or development in the world in 2017. In second place, on 8%, were various developments in science, technology and medicine.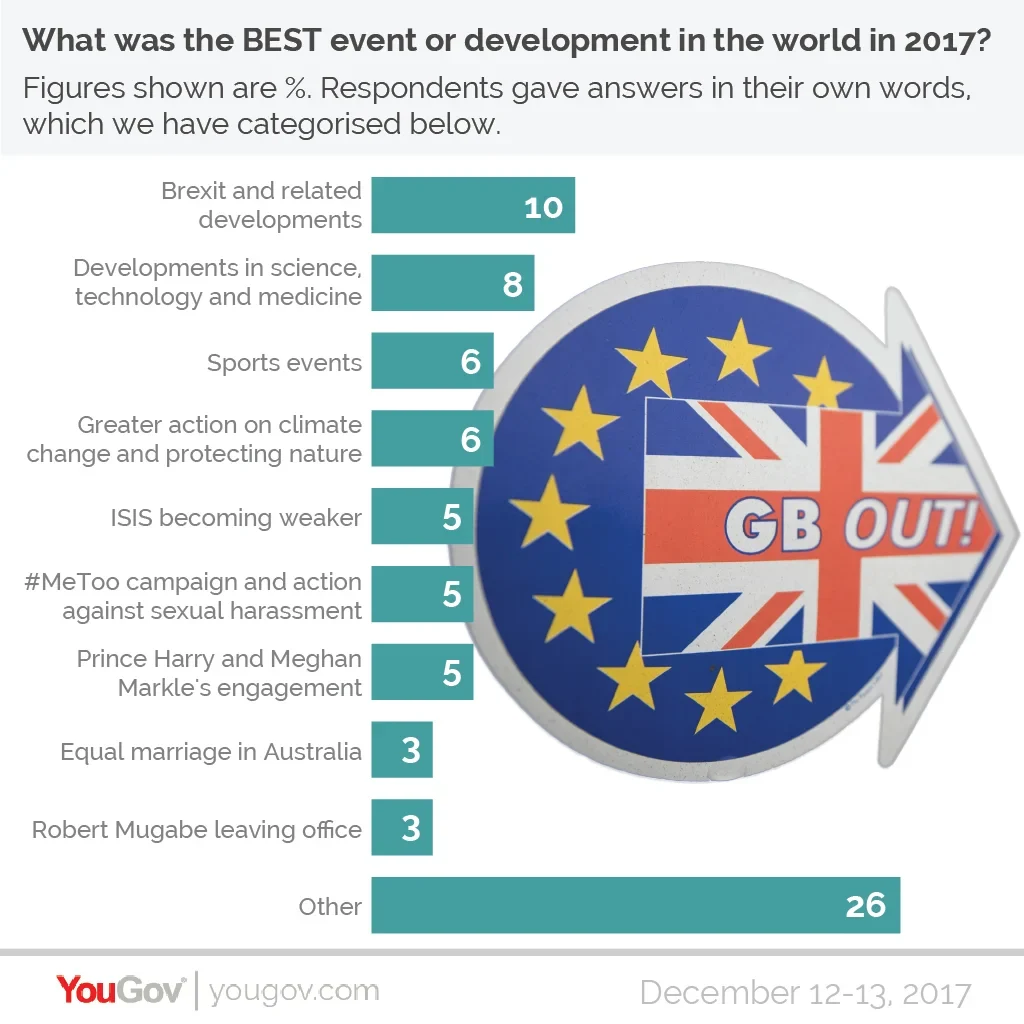 Worst event or development of 2017
Answers relating to Donald Trump make up more than half of Britain's answers to the question "what do you think was the worst event or development in the world in 2017?" Trump becoming president was the world's worst event for 14% of Brits, while a further 13% are most concerned by the tensions with North Korea he has helped stoked, and 3% see his recognition of Jerusalem as the capital of Israel as the world's worst development this year. A further 25% of Brits see his existence in general, or other actions taken by him, as the worst aspect of 2017.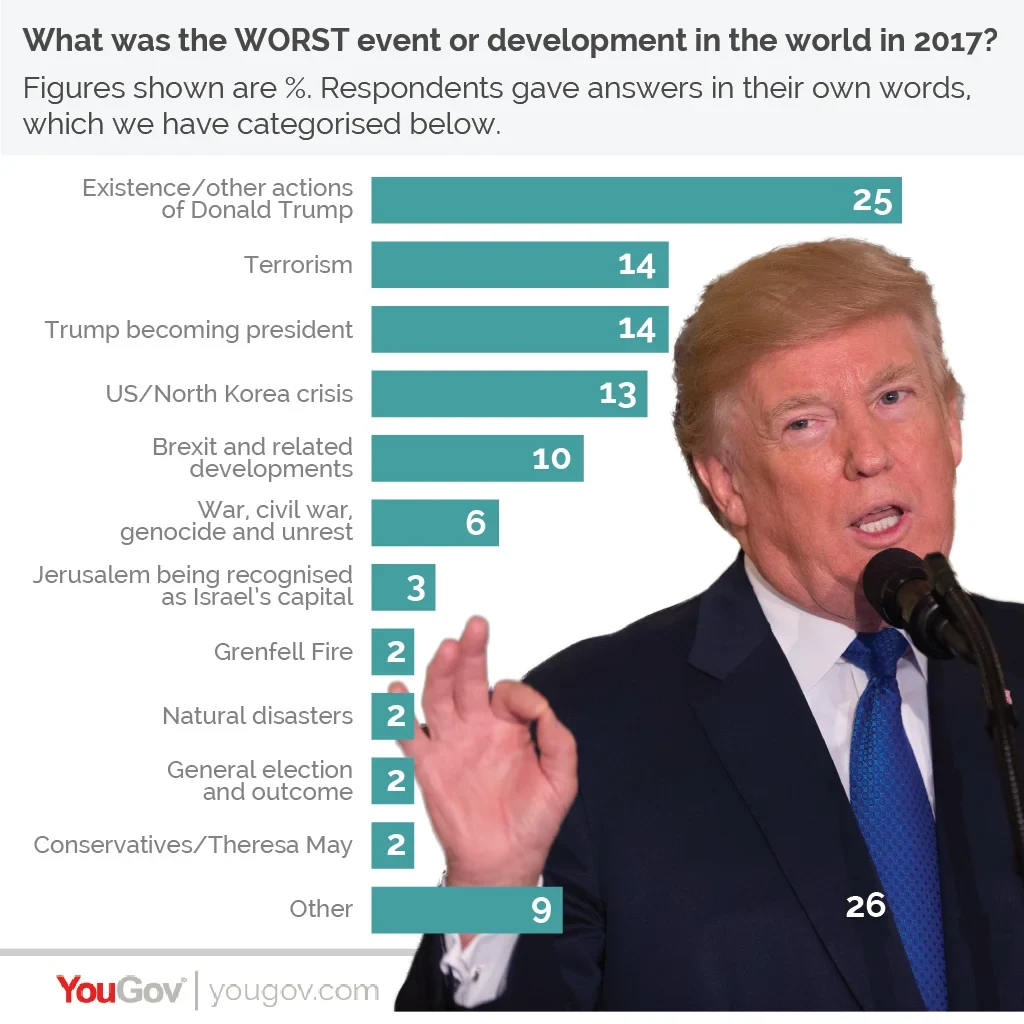 Person who had biggest impact on the world in 2017
Unsurprisingly, given the answers to the previous question, Donald Trump is indisputably seen as the person who has had the biggest impact on the world in 2017. Fully 87% of Brits believe the US president has, for better or for worse, been the person who has made the biggest difference in the world this year.