But employees think that stealing from the company is the thing most likely to lead to disciplinary action
With accounts of sexual harrasment continuing to make headlines, a common feature of many of the stories is the failure of the employers to take action once allegations had been made.
New YouGov Omnibus research looks at the view among working Britons whose boss is accountable to someone (i.e. they report to their own boss or their organisation has a human resources department). It finds that three quarters (76%) believe their employer would take serious action against their boss if they reported that they were sexually harassing them. This includes 79% of female workers and 74% of male workers.
An even higher proportion (89%) are confident that serious action would be taken against a boss who had sexually assaulted them, including 89% of women and 83% of men.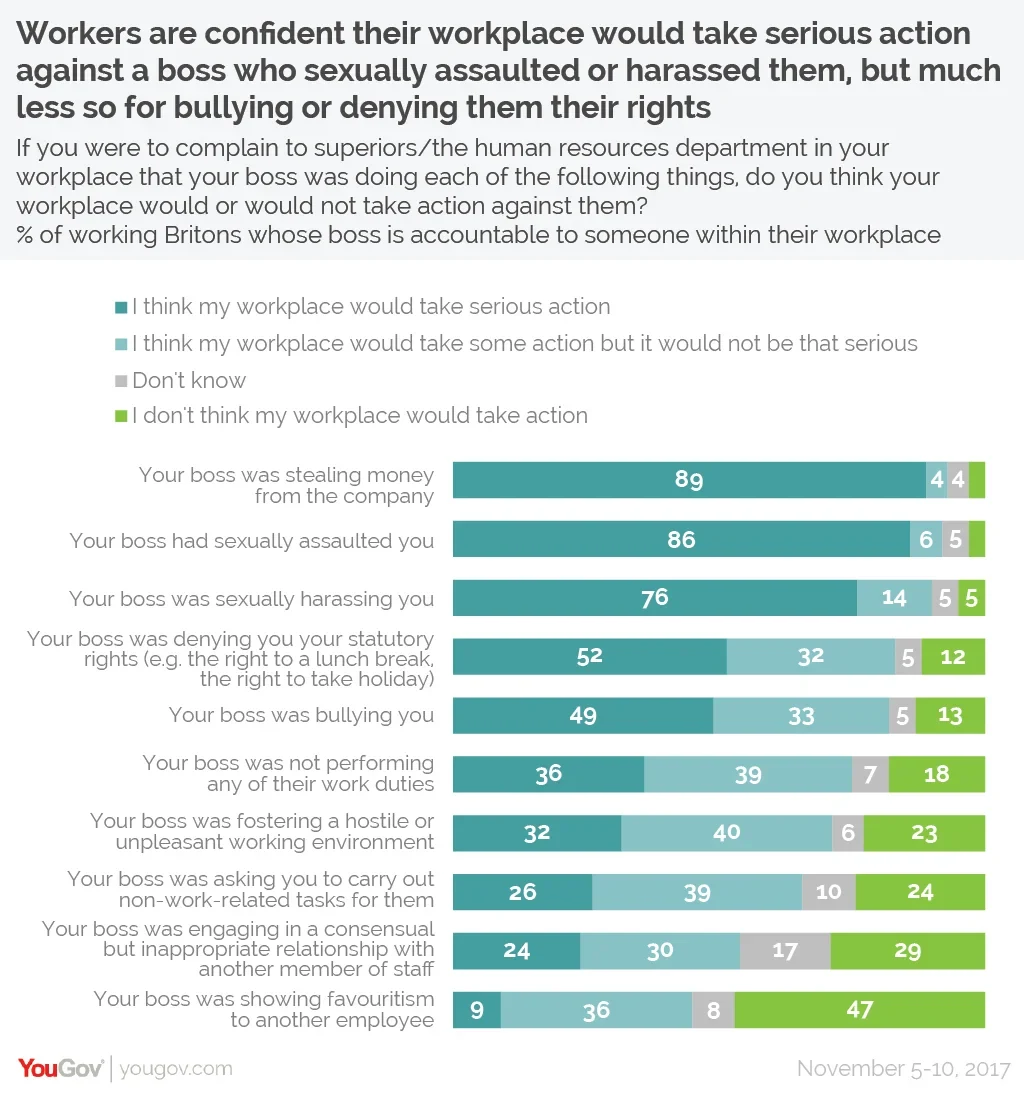 Workers are far less certain that employers will take other unpleasant behaviour by their bosses seriously
However, Britons are less sure that their workplace would take serious action if their boss did a range of other things.
For instance, only half of employees with accountable bosses believe that their workplace would take serious action against a boss who was bullying them (49%) or was denying them their statutory rights, such as the right to a holiday or a lunch break (52%).
In both cases about a third (33% and 32% respectively) think that their firm would take some action, but that it would not be that serious, while one in eight don't think their employers would do anything about their boss either bullying them (13%) or denying them their legal rights as a worker (12%).
Just over a third of workers (36%) believe their workplace would care seriously about a boss that was not performing any of their work duties, and one in five (18%) wouldn't expect them to take any action at all.
Additionally, only one in three employees (32%) think their boss would face serious action for fostering a hostile or unpleasant working environment – 40% think some form of not very serious action would be taken while 22% believe nothing would be done about it.
In fact, there was only one thing which employees believe would be taken as seriously as sexual harassment or sexual assault: theft. Nine in ten workers (89%) are confident that their company would take serious action against their boss if they were stealing money from the company.
Photo: Getty