New YouGov research asks Britons who they consider to be British
With the outcome of the Brexit vote throwing the future of European nationals living in the UK in doubt, the UK has seen an 80% increase in citizenship applications from EU citizens.
While successful applicants will become British by law, new YouGov research on who Brits consider to be "British" highlights the limits to which citizenship itself can confer "Britishness" upon a person.
Only around half (49%) consider someone originally from another country who has gained British citizenship to be "British." By contrast, 37% of Britons do not consider people who have gained British citizenship to be "British" (the other 13% don't know). The research shows half (52%) of those who voted Leave at the EU referendum do not consider those who have gained citizenship to be "British."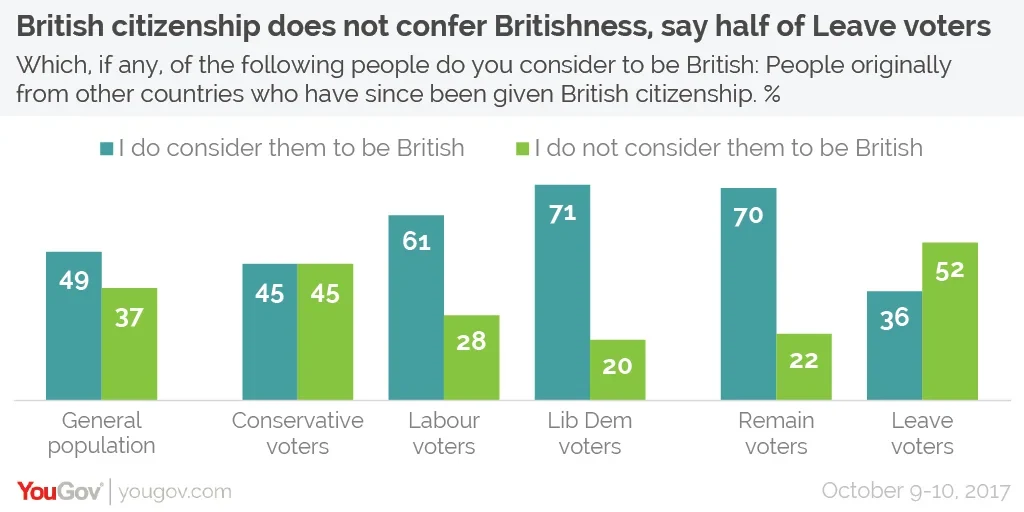 While around half consider someone to be "British" the moment they gain citizenship, just as many (46%) think a person's Britishness ends if they have to give up their citizenship in order to take up citizenship of another country (i.e. one that does not allow dual citizenship. Only around a third (37%) of Brits believe someone remains British even if they give up their citizenship in this way, while a final 17% don't know.
Unsurprisingly, the overwhelming majority of Britons believe that people from the home nations are British: 92% say that people from England are British, as do 84% for people from Wales, 81% for people from Scotland, and 75% for people from Northern Ireland.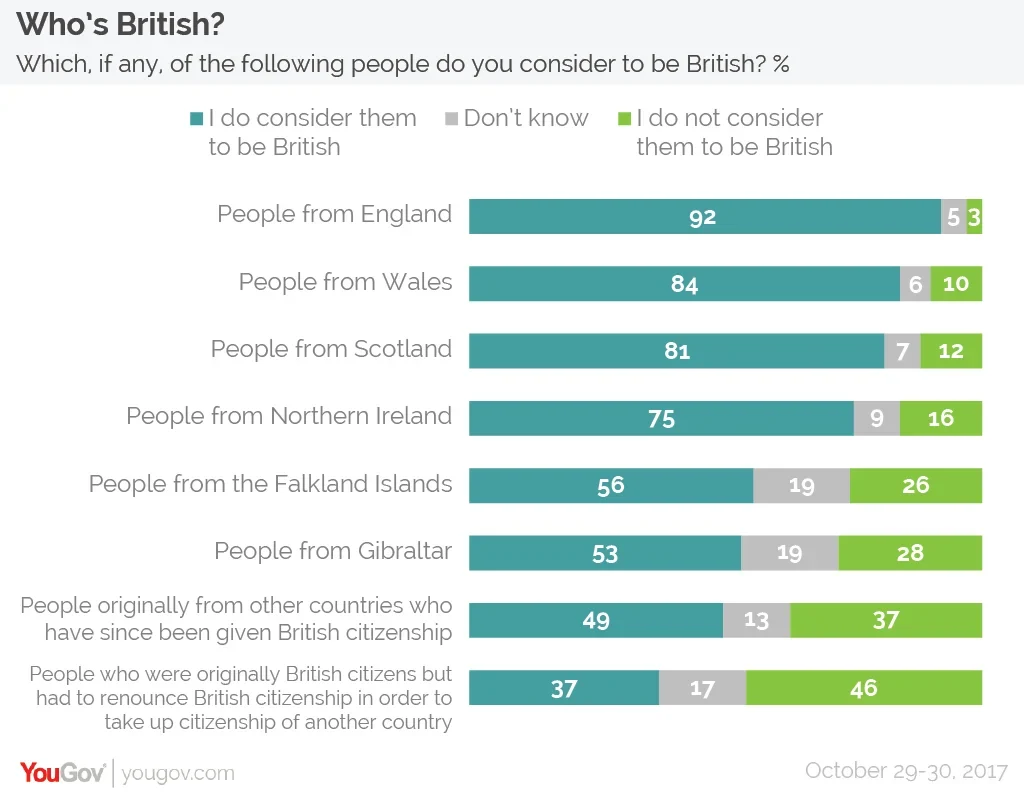 The majority also consider people from two famously disputed territories – the Falkland Islands and Gibraltar – to be "British." Over half say that Falkland Islanders (56%) and Gibraltarians (52%) are British, while only around a quarter (26% and 28% respectvely) do not.
English nationalism and Britishness
The results reveal interesting perceptions on who is British among those who have a stronger English identity (self-describing as either "English, not British" or "more English than British").
Half (51%) of respondents with a stronger English identity believe that someone who has been given British citizenship is not "British." This compares to just over a third (37%) of those who identify as "equally English and British" and over a quarter (27%) of those who said either "more British than English" or "British not English".
Photo: Getty