The English are more confident about their football team, while Wales and Northern Ireland back their rugby side
Qualifying for the 2018 FIFA World Cup is almost complete. Two of the home nations are out (with both Scotland and Wales finishing third in their groups), while England has qualified and Northern Ireland faces a play-off to reach the finals.
Although tournaments might give a relatively objective ranking about which of the home nation's sports teams is the best, how far does this tally with perceptions in England, Scotland, Wales, and Northern Ireland? New YouGov Omnibus research across all four countries reveals which of the home nations' football and rugby union teams they think are the best.
Football
In three of the nations – England, Wales and Northern Ireland – the largest proportion of people think that their own nation has the best football team of the four. Only in Scotland was this not the case. By two-to-one, Scots believe that England has a better team than they do (32% vs 15%).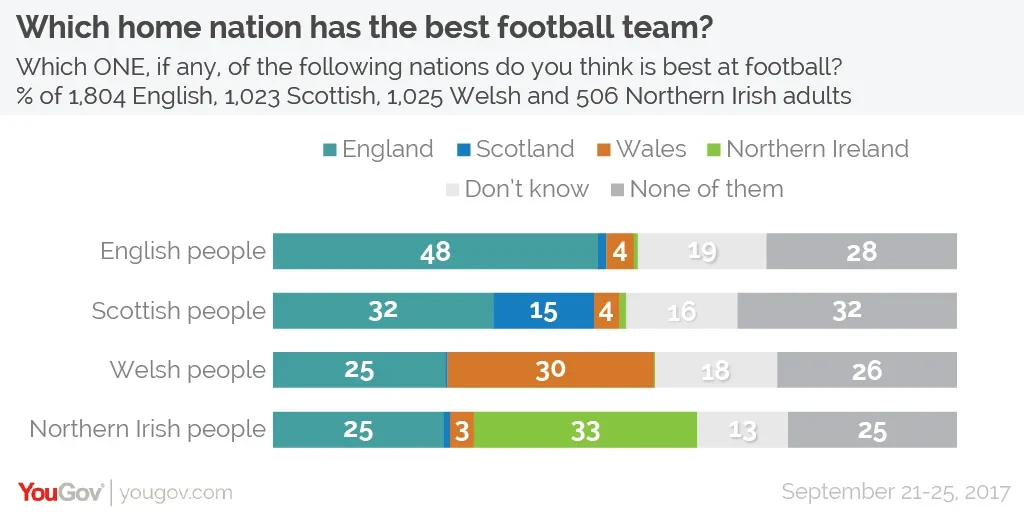 Scotland's recent qualifying record for international competitions is worse than the other home nations. Scotland has not qualified for the World Cup since 1998, and the European Championships since 1996, while England, Wales and Northern Ireland all made it to at least the final 16 at Euro 2016 (with Wales reaching the semi-finals). Earlier this week Scotland manager, Gordon Strachan, controversially said the team's inability to reach tournaments was down to Scots' supposedly inferior genetics.
England's knack of qualifying for tournaments was acknowledged in each of the home nations though, with at least a quarter of people saying that the English national side is the best of the four home nations (25% in Wales and Northern Ireland, 32% in Scotland). None of the other nation's teams were seen so favourably outside their home nation.
Rugby
People in Scotland, Wales and Northern Ireland are more confident about the ability of their rugby union team than they are about their football team. The difference is especially pronounced in Wales and Northern Ireland, with 49% and 48% respectively saying their rugby side is the best.
(Please note, for people in Northern Ireland this refers to the Ireland rugby union team, which is a joint team composed of players from both the North and the Republic)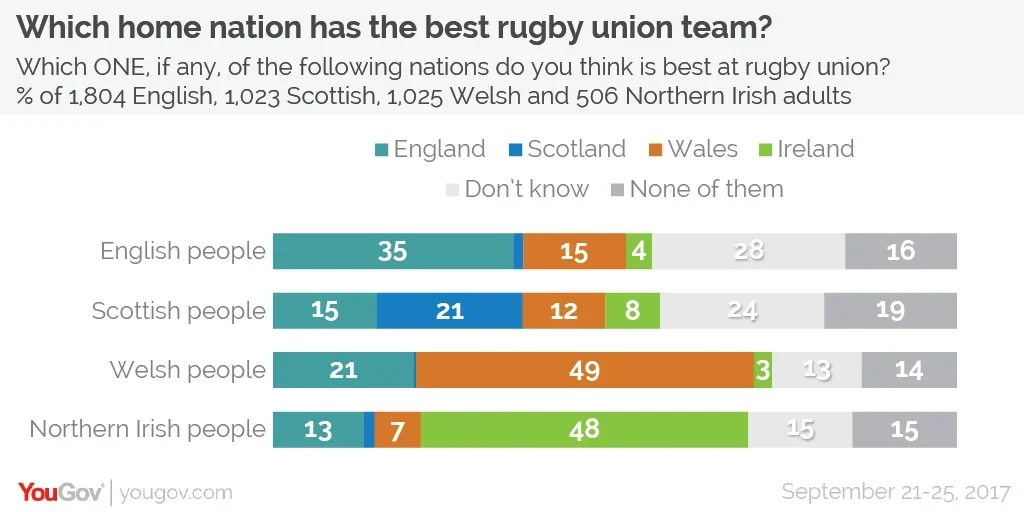 England, meanwhile, are less confident that their rugby team if the best of the four than they are about their football team (35% for rugby compared to 48% for football). Nevertheless, in each of the four nations people are most likely to say that their own team is the best.
As in football, minorities in each other home nation consider England's rugby team to be the best – 13% of Northern Irish people, 15% of Scots and 21% people in Wales. Those in other nations are also more likely to see Wales as a powerhouse in rugby than football (7% of people in Northern Ireland said the Welsh rugby team is the best, as do 12% of Scots and 15% of English people).
Photo: Getty
See the full results here for England / Scotland / Wales / Northern Ireland