Although the Tory MP seems to be more well-known than many of Labour's top team
Despite Jacob Rees-Mogg being at the centre of speculation this summer that he could be a serious future contender for Conservative party leader (and therefore a potential Prime Minister), YouGov's political favourability tracker reveals that most Brits don't yet have a view on him.
The Conservative MP seems to be still largely unknown to many Britons, with 51% saying they "don't know" whether or not they have a favourable view of him. Even among Conservative voters, 44% do not have views one way or the other about the backbencher.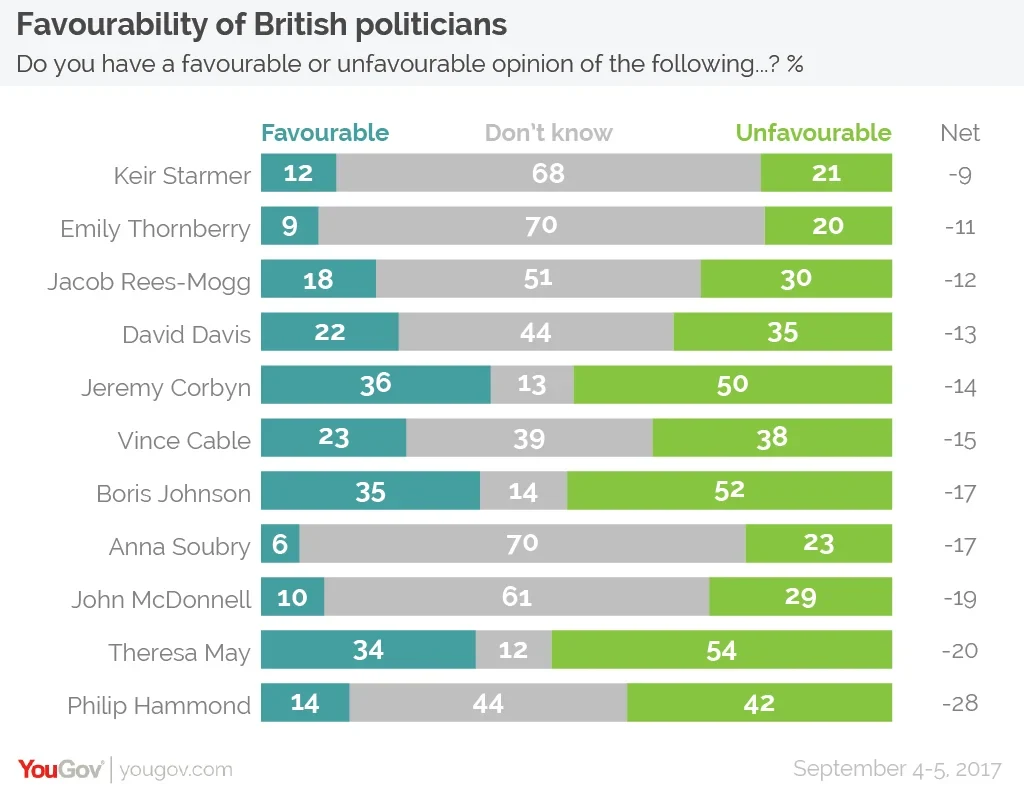 (Please note that fieldwork for this survey was conducted before Rees-Mogg's comments on Good Morning Britain where he said that abortion is morally wrong under all circumstances. Any impact these comments have will be revealed in future editions of the tracker).
Of those who do have an opinion of the MP for North East Somerset, 18% have a favourable view (including 39% of Conservative voters) while 30% have an unfavourable view (17% of Conservative voters). This gives him a net favourability rating of -12 among the general public and +22 among Conservative voters.
Labour's top team are still largely unknown to the public
Nevertheless, the public are still more likely to have a view on Jacob Rees-Mogg than they are on several prominent members of Labour's front bench. Fully 61% of Brits don't know whether they have a favourable or unfavourable view of John McDonnell (the shadow chancellor), rising to 68% for Keir Starmer (the shadow Brexit secretary) and 70% for Emily Thornberry (the shadow foreign secretary).
Their Conservative counterparts tend to be better known. The majority of people have a view on Chancellor Phillip Hammond and Brexit secretary David Davis, while Boris Johnson's profile is on the same top tier as party leaders Theresa May and Jeremy Corbyn, with only 14% of people not knowing how they feel about the foreign secretary.
Philip Hammond has the dubious distinction of being the only minister or shadow minister listed that is seen in net negative terms by his own party's voters. The Chancellor has a net favourability rating of -8 among Conservative voters (and -26 among Leave voters, potentially pointing to his softer stance on Brexit being the reason for his unpopularity among Tories).
May vs Corbyn
Elsewhere, the tracker data shows that the recovery in Theresa May's favourability ratings continues. The Prime Minister now has a score of -20, up from her post-election low of -34. However, her current rating is still far below where she was last year where her net favourability score was +12.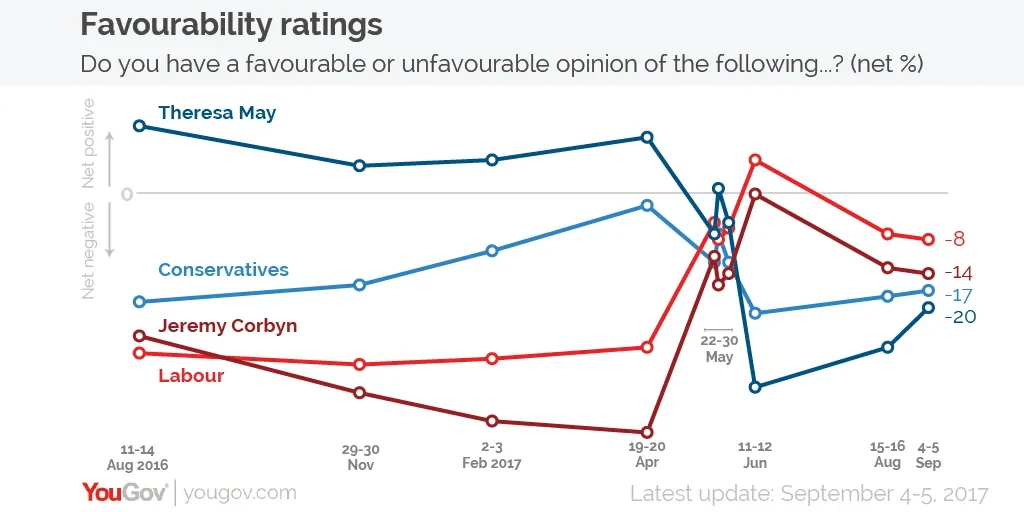 Jeremy Corbyn meanwhile continues to be seen more favourably than the Prime Minister, with a net favourability score of -14 (about the same as the last survey). However, he is down from his post-election high of +0.
The summer recess means that neither the Prime Minister nor the Leader of the Opposition have featured heavily in the news. With Parliament now back in session we will be able to see whether increased exposure will benefit or harm the two leaders.
Photo: Getty