YouGov finds that one in ten Brits have lied on their CV, and that lies about education and qualifications are the most common
Earlier this year Jon Andrewes, a former builder and probation officer, was jailed for two years after it emerged that he had lied about on his CV in order to gain very senior management roles in the NHS that netted him more than £1m over ten years.
Now, new YouGov Omnibus research finds 10% of Brits admitting to having lied on their CV (as well as 2% who told us they would "prefer not to say"). But what porkies are they telling? The results show that, first and foremost, education and qualifications are the most likely parts of a CV to be embellished, with four in ten (40%) résumé embellishers having fibbed about this.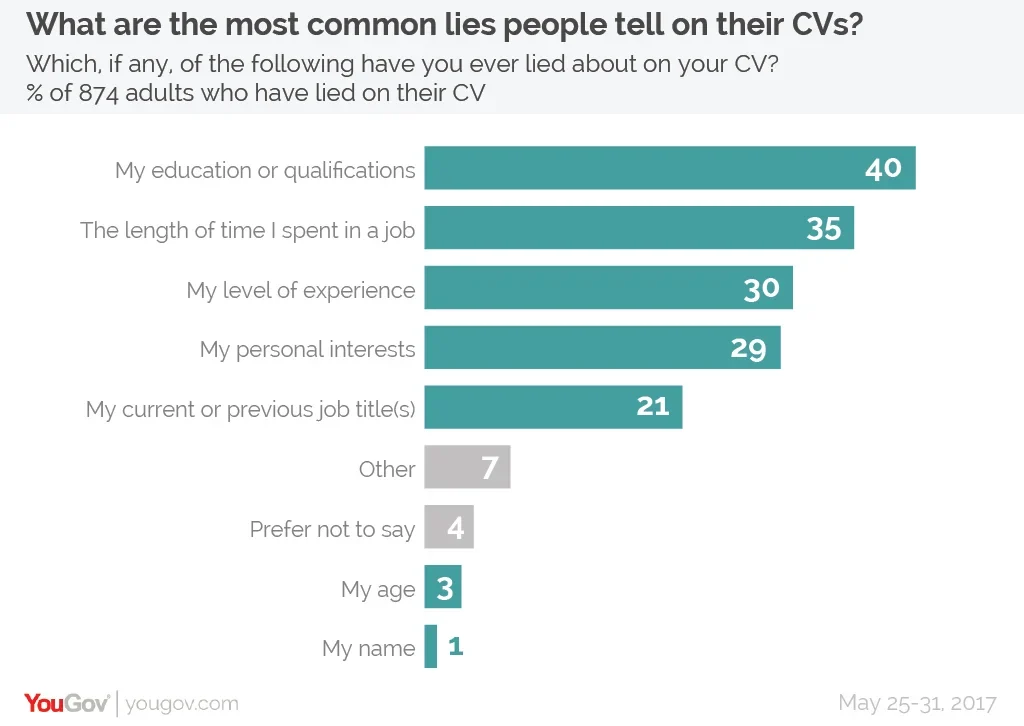 Other common CV lies included how long Brits had spent in a job (35%) and their level of experience (30%). People who worry about not sounding interesting enough in the "personal interests" section of their résumé should note that this too was a fairly common fabrication, with three in ten (29%) CV liars admitting to making up hobbies.
Following a BBC investigation at the beginning of the year which revealed that job-seekers with English-sounding names were three times as likely to be offered a job interview as an applicant with a Muslim name, our research finds that 1% of people who have lied on their résumés have lied about their name.
Similarly, older job applicants might have good reason to want to lie about their age on their CV: an experiment conducted by the think tank Policy Exchange in 2012 found that 25 year old applicants for a job were more likely to received positive responses than equally qualified 50 year old applicants for the same job. According to our survey, 3% of résumé embellishers have misrepresented their age.
The employers' view
But what do employers make of it? We put the same list of CV lies to a panel of 1,109 senior business decision makers and asked the employers to say how serious they thought each of the embellishment was.
Lying about your name on your CV was seen as the worst mistruth, with 72% of employers branding it "very serious" and a further 15% believeing it was "quite serious". Misleading employers about an applicant's education or qualifications - the most commonly committed résumé embellishment among the public - is seen as the second most serious lie. Almost two thirds (63%) of employers see it as a "very serious" falsification, while a further 29% see it as "quite serious."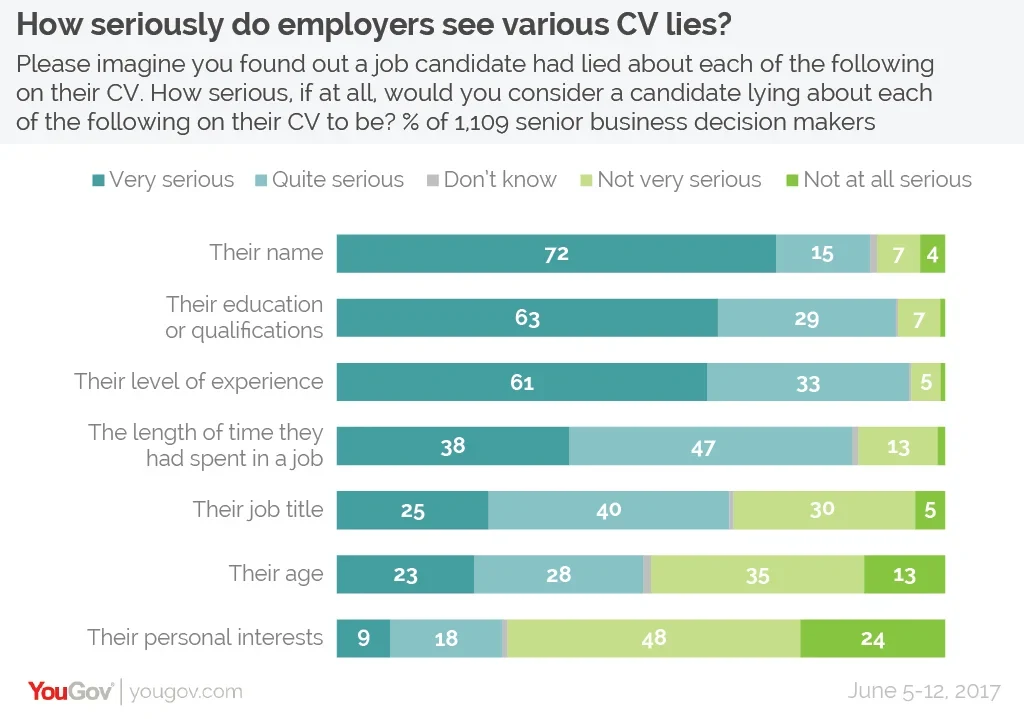 Fortunately for those of us who struggle to find anything exciting-sounding to put in the personal interests section, the majority of employers don't see such fabrications as particularly important, with seven in ten (72%) business decision-makers don't really mind about such fibs.
Photo: iStockphoto
See the full results for CV liars here and employers here
This research was conducted using YouGov's Business Omnibus service