Much has been said about the sharing economy in recent years, as the likes of Uber and Airbnb have entered the mainstream.
But while one of its primary benefits is to make things more economical for people, new research from YouGov suggest that when it comes to the sharing economy and household finances, the picture is quite complex.
The Cost of Living and Sharing Economy Report highlights that people who use sharing economy services are more likely to live beyond their means. When asked to look at how their spending in the last month compared to the cash they had available, over a quarter (27%) of the sharing economy users spent more than they had available. Among those who hadn't used the services, this fell to under one in six (16%).
Furthermore, those who use sharing economy services are more likely to say they have money problems. Nearing one in five (18%) who have participated in the shared economy say they are financially troubled, the figure falls to under one in eight (12%) of the rest of the population.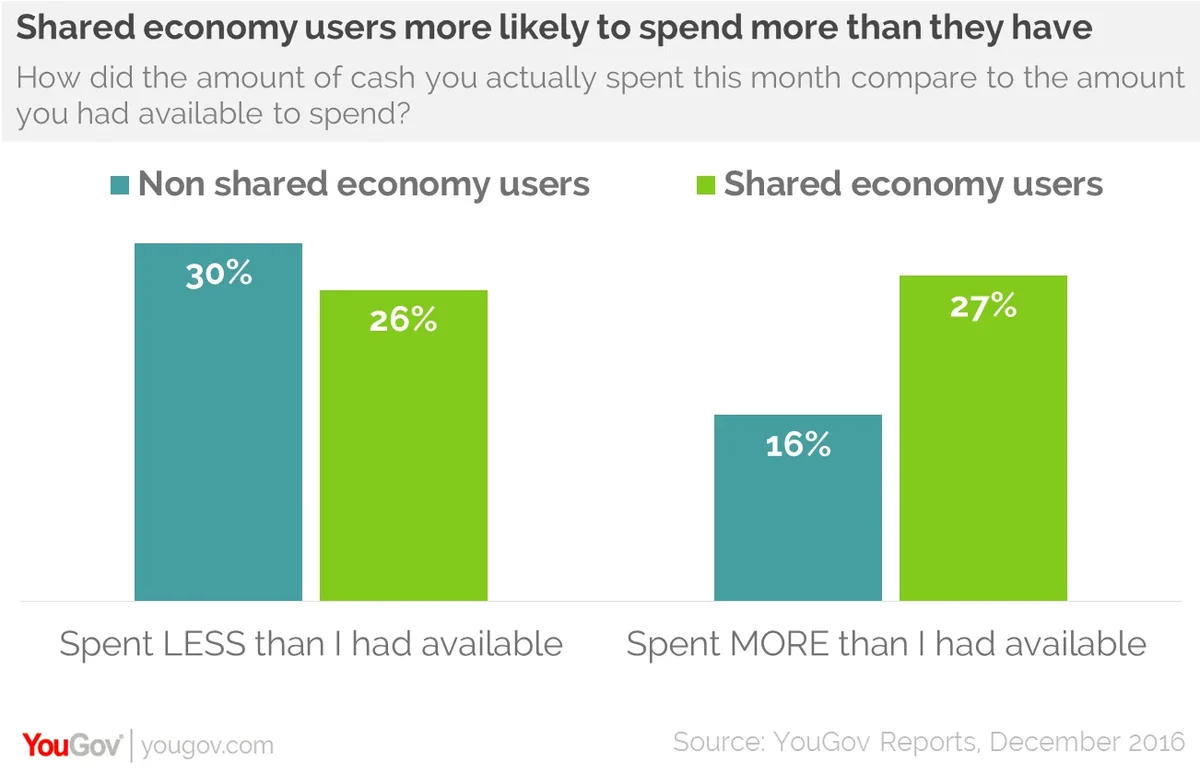 However, the data also highlights that those who have engaged with the sharing economy are more likely to say that their cost of living has fallen and less likely than the rest of the population to say it has increased. Fully 15% of people who have used the services believe their cost of living has decreased compared to just 4% among everyone else.
It is a similar story when it comes to cash for spending. Sharing economy users are more likely to have seen their discretionary income improve over the past year (32% versus 14%), while everyone else's is more likely to say it has worsened (34% to 21%).
So the data shows that those who have used the likes of Uber and Airbnb are more likely to be spending more than they have and to be worried about their finances, yet are more likely to have seen their cost of living fall and to say that their levels of discretionary income have improved. But it is unclear whether these improvements over the last year are because they used shared economy services.
What is clear, however, is that those who are customers of sharing economy businesses are quite a niche group. Overall, just 15% of the population are involved in the sharing economy, a figure which rises to 38% among 18-24 year-olds. Participation is also focussed on certain regions, with approaching three in 10 (28%) Londoners using services compared to just 10% in Wales.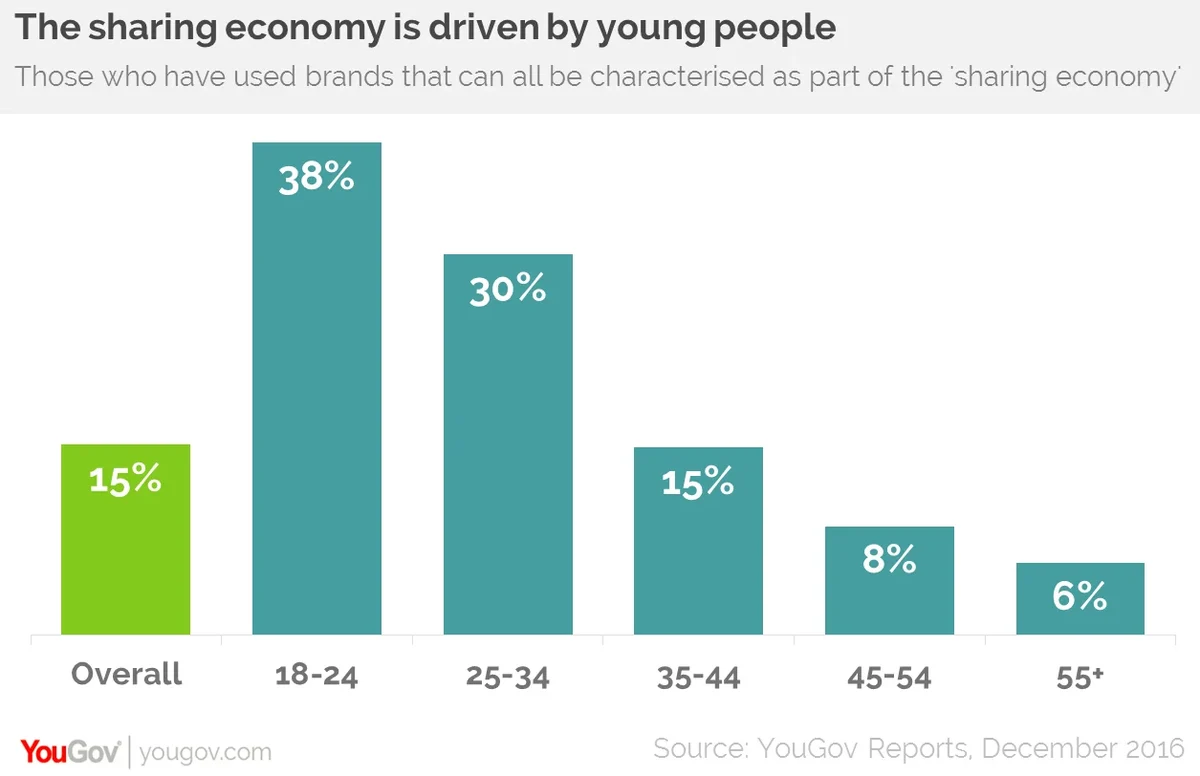 Such grouping of usage may also explain why sharing economy consumers are in a financially weak position but are also much more likely to report seeing improvements in their situations. After all, users skew towards the under-35s - many of whom either have fewer financial commitments and could well be seeing year-on-year improvements in wages.
It seems likely that the economic profile of people participating in the sharing economy is in part being shaped by usage and is in part down to the profile of the users. When we asked why they used the businesses, four in 10 (41%) did it to save money while a third (32%) did it simply to try the services out.
While the sharing economy has created a lot of noise and no little light, besides a couple of notable exceptions much of it has not yet entered the mainstream. Unless brands can escape just being used by people in the capital and break into common use by older age groups, any financial benefits for consumers will not be widely felt.
To learn more about the report, click here
Image iStock